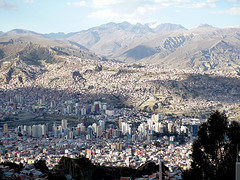 Today in Latin America
Top Story — A landslide triggered by heavy rains on the eastern edge of the Bolivian capital of La Paz has now destroyed more than 400 homes in nine poor neighborhoods.
There have been no fatalities in the slow-moving slide, which began last weekend, but the slides have left more than 100,000 people without running water.
Displaced residents picked through rubble in an effort to recover belongings on Wednesday and some searched for remains of loved ones in a ruined cemetery. Thousands are being housed temporarily in schools and on sports fields.
The Bolivian government declared a national state of emergency due to the torrential rains across much of the country and authorities labeled the disaster as the capital's worst on record.
The Bolivian capital sits below a high-altitude plateau and is surrounded by unstable hills.
Headlines from the Western Hemisphere
North America
Caribbean
Central America
Andes
Southern Cone
Image: twiga269 @ Flickr.