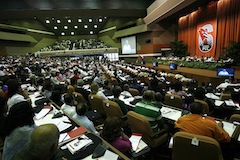 Today in Latin America
Top Story — Cuban head of state Raúl Castro unexpectedly proposed the advent of term limits for the country's politicians on Saturday, and repeated his call for liberalizing the island's communist economic system.
Castro made the comments during a two-and-a-half-hour speech to inaugurate Cuba's Sixth Communist Party Congress, the first such meeting the island has seen for 14 years. Castro convened the Congress to discuss the "Guidelines for Social and Economic Policy" — a document released last year to serve as a roadmap to the modernization of the country's unproductive communist economic system.
The Guidelines recommend sweeping economic changes designed to allow a greater role for private enterprise at the expense of the state, while still maintaining government control of the economy and preventing the accumulation of personal wealth. The document also envisions phasing out some of the particularities of the Cuban economic system, such as the dual currency and the ration card.
Castro, who is known as a critic of Cuba's notorious economic inefficiency, poked fun at what he called "absurd examples" of wasteful government subsidies. He said the Cuban state subsidizes coffee for all Cubans, including newborn children, and until last year distributed cigarettes to the entire adult population, without distinguishing between smokers and nonsmokers.
But he also anticipated the anxiety that many Cubans feel at the possibility the government may cut back on the social spending they depend on without providing the means to make ends meet. "The revolution is not going to leave any Cuban unprotected," Castro said. "Instead of subsidizing products en masse, as we do now, we will switch progressively to a system that supports those without other means."
The most unexpected statement, however, was Castro's proposal to enact term limits.
Observers expected that the Congress may bump Raúl Castro up to the currently vacant first secretary position for the Communist Party. His brother Fidel held that title until 2006, when he fell ill. The replacement for Raúl Castro's position of second secretary might provide an indication of who the Castros envision as the heir to the revolution.
Instead, however, the Congress did not make changes to the upper ranks of the leadership and Raúl Castro proposed introducing a limit of two five-year terms for politicians in order to rejuvenate the party.
"Today, we are faced with the consequences of not having a reserve of well-trained replacements with sufficient experience and maturity to undertake the new and complex leadership responsibilities in the Party, the State and the Government," Castro said.
The Communist Party Congress coincided with commemorations of Fidel Castro's 1961 proclamation of the socialist character of the revolution on Saturday and the victory over the U.S.-led Bay of Pigs invasion.
Just Published at the Latin America News Dispatch
Headlines from the Western Hemisphere
North America
Caribbean
Central America
Andes
Southern Cone
Image: CubaDebate.