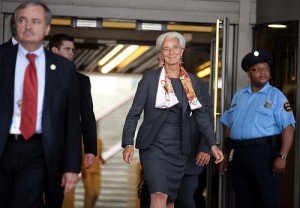 UPDATE: French finance minister Christine Lagarde was named the new head of the International Monetary Fund (IMF) earlier this afternoon.
Mexico's Agustín Carstens, who Lagarde beat out for the post, said he believes that she will "make meaningful progress in strengthening the governance of the institution."
Mexico's central bank chief, Agustín Carstens, put in a good run, but it looks more likely now that France's Christine Lagarde will be the next managing director of International Monetary Fund (IMF) after receiving the backing of the U.S. and Brazil earlier today.
An unnamed Brazilian government source told Reuters on Tuesday that the country was giving its support to Lagarde. This follows a statement by U.S. Treasury Secretary Timothy Geithner endorsing France's finance minister.
Geithner praised Carstens for having a "strong and credible candidacy," but the U.S. endorsement virtually seals a win for Lagarde.
Adding to the two endorsements, Russia's finance minister, Alexei Kudrin, said that Russia would vote for Lagarde's candidacy as well.
If the predictions appear true, Lagarde will fill the position vacated by fellow countryman Dominique Strauss-Kahn, who left his post after sexual assault charges were brought against him in New York. Lagarde appointment would continue the legacy of European control of the IMF.
Since the formation of the IMF after World War II, Europeans have monopolized the highest post at the lending institution, with the United States helming the World Bank as part of a six-decade long "gentleman's agreement."
Mexico and other countries have argued that the selection process should be based on merit and not nationality and Carstens is adamant that the IMF does not need a European to solve the debt crisis in the euro zone.
Brazil's backing of Lagarde seems at odds with its argument that it, along with other emerging economies like China and India, are under-represented in the European-controlled IMF. These emerging markets are beginning to hold more influence over the IMF, especially as their economies show signs of growth, while many developed countries – the United States and European nations, for example — are still trying to start-up their own economic growth after the global recession.
Carstens, who gained the backing Latin American nations like Chile and Peru as well as Australia and Canada, believes that emerging markets need to play a much larger role in setting the agenda of the IMF. He also said that the European dependence on the IMF to bail out several of its members could be a challenge to Lagarde's ability to take a hard stance as the Fund's leader.
However, with the support of powerhouses like Brazil, the U.S., Russia and several major developing countries, Lagarde has more than half the votes needed to win the top job when the IMF board meets later today.
Photo: International Monetary Fund @ Flickr.