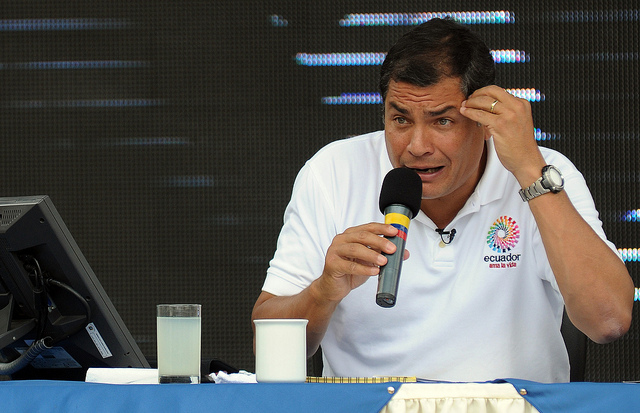 Ecuador's Rafael Correa Joins Twitter
Ecuadoran President Rafael Correa became the latest Latin American leader to join the social media site Twitter, posting his first tweet on Friday evening.
"Hello Everyone, I'm in a meeting more boring than dancing with the mother-in-law, later I'll write, I love you all very much, especially the poisoned ones ("envenenados")!" Correa tweeted, using a disparaging term he has adopted to refer to the political opposition.
The account is named @MashiRafael, which means "Comrade Rafael" in the indigenous language of quichua, the president explained.
The account remains unverified, but it was announced by Ecuador's Office of the Presidency, which also mentioned the launch of Correa's Facebook fan page. The Facebook page link did not work, however, and it was not clear which of the several pages in existence the tweet referred to.
At the time of writing, Correa already had 11,365 followers and was only following two accounts: those of Hugo Chávez (@chavezcandanga) and Argentine President Cristina Fernandez (@CFKArgentina).
Correa joins a growing group of Latin American presidents who cultivate social media, particularly Twitter, as a means of engaging with their supporters directly, without depending upon traditional media channels. Mexican President Felipe Calderón has approximately 828,000 followers, Brazilian President Dilma Rousseff has 721,000, Argentine President Cristina Fernández de Kirchner has 523,000 and Chilean President Sebastián Piñera has 487,000.
But the most popular account from a Latin American leader remains that of Venezuela's Hugo Chávez, with 1.85 million followers. If Chávez is known for excoriating his country's political opposition, who he refers to as "squalids" ("escuálidos"), his exclamation-pointed tweets are invariably upbeat and positive, dominated by shout-outs and "vivas!" to his political allies.
A couple of typical tweets from Hugo Chávez include:
"Oh my daughters and daughters of the Fatherland, all my past, present and especially future life is for you! Socialist Fatherland for our children!"
"Bravo President (of Peru) Ollanta (Humala)! Bravo for the Heroic Peruvian People! Viva UNASUR! viva Peru!"
Correa, on the other hand, has adopted a more contentious attitude toward social media. The following is a sampling of some of Correa's tweets in translation, in chronological order from his first tweet Friday:
"Hello Everyone, I'm in a meeting more boring than dancing with the mother-in-law, later I'll write, I love you all very much, especially the poisoned ones ("envenenados")!"
"Did you read the editorial in the Washington Post? poor gringos, they don't understand anything that happens in our America. Best." The article Correa referred to was an editorial criticizing him for a lawsuit against Ecuadoran paper El Universo (the case is discussed below).
"Now we're even getting insulted by the international maffias, a sign that we're advancing!"
"The conversations about the Assembly elections continue. The more I learn about the men, the more I love my cat!"
"The passion of twitter is dangerous! Now I'm running late to go to Santa Elena!"
"Hi Hugo! I didn't answer until I could verify that it was you. Take care of your health! We shall triumph!"
Correa's foray into social media comes amid increasing tensions with Ecuador's established press. On July 20, an Ecuadoran judge found former opinion editor Emilio Palacio of El Universo and three of the paper's owners guilty of defamation for publishing an article in February entitled "NO More Lies."
The court ordered the paper to pay Correa an indemnity totaling $40 million and sentenced the defendants to three years in prison. The sentences remain suspended, however, because both parties appealed—the paper insists it is not guilty, while Correa says he wants the entire $80 million that he demanded in the lawsuit. The Ecuadoran president says he will donate the money.
Palacio's article repeatedly refers to Ecuador's elected president as a "dictator" and implies that he ordered the military to fire indiscriminately on the hospital where police held him during an uprising in September of last year.
Correa denied Palacio's implication and likened it to accusing him of a crime against humanity. Correa then sued for libel under an Ecuadoran law regulating crimes of honor, which contrary to what has become the regional standard, carries jail sentences even in cases brought by public figures. Correa said he would drop the suit if the paper ran a correction disavowing Palacio's statement, but the paper refused to do so, instead offering Correa space to write his own statement explaining why he thought the piece was incorrect.
The court's decision was roundly condemned by press advocates both within and outside of Ecuador, including the Committee to Protect Journalists, the Inter-American Press Association and Reporters without Borders, all of whom called upon Ecuador to rescind libel laws punishable with jail sentences.
Correa insists, however, that he was treated unfairly and that his court cases—he has another in the works against journalists Juan Carlos Calderón and Christian Zurita, who accused Correa's brother of Fabricio of corruption in a book titled "Big Brother"—will put a stop to what he called private media's "reign of terror."
Spanish speakers can hear Correa expound upon his views in the press conference that followed the court's decision against El Universo.
Image: Presidencia de la República del Ecuador @ Flickr.