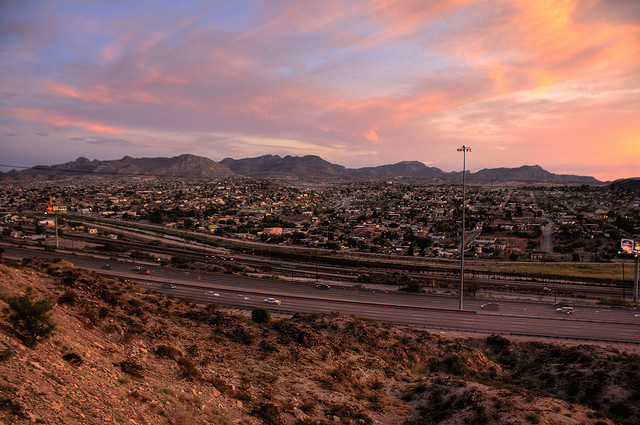 "So [the Mexican military] literally cleared out a valley and what is the Mexican government's response to this? Nothing," said Shagin, adding that previous briefs outlining evidence of torture threats were at times completely disregarded. "Could you imagine if that were to happen in the United States where a section of the country was basically invaded by the U.S. military at the behest of the cartel and nothing happened?"
Due to broad federal oversight of asylum decisions, determining persecution based on social group is more often decided on a case-by-case basis causing more havoc among lawyers who argue the process is subjective and inconsistent.
Emilio Gutiérrez Soto, a journalist in the state of Chihuahua who wrote stories about human rights abuses by the military in his region, fled with his teenage son to the United States in 2008 after receiving death threats. Gutiérrez Soto was detained for seven months and his case was left pending until next year.
The Mexican military refused to investigate Gutiérrez Soto's case, saying it found no evidence of wrongdoing, according to information cited in a letter sent to the Ambassador of the United States of America by the Canadian Journalists for Free Expression.
"His case implicates the Mexican military, which receives much of the $450 million in aid from the Mérida Initiative the United States gives to the Mexican government for the war against drugs," the letter states.
Gutiérrez Soto said it feels like he's walking on sponges, even pinching himself to prove he's alive.
"It's almost impossible to confront it and maybe as journalists we're confronting the whole world: international, local, state and national judicial systems, but what can we do? They've already taken our patrimony, they've already taken our families, our homeland and for us to stay quiet? We can't stay on our knees," he said.
Gustavo de la Rosa Hickerson, who oversees the Ciudad Juárez office of Mexico's National Commission on Human Rights, said denying asylum claims can even be fatal.
"They're returning them so they can die," said Hickerson in Spanish, adding that the United States should assume more responsibility for the drug war by accepting more refugees.
Approving more cases, however, may also overwhelm the already burdened U.S. immigration courts with a backlog in asylum petitions due to the geographic proximity with Mexico, according to Ricardo Alday, spokesperson of the Mexican Embassy in Washington.
Alday said he doesn't believe there is a political agenda behind the number of Mexican asylum claims.
Charles Luoma-Overstreet, press advisor and spokesperson of the Western Hemisphere Affairs at the State Department clarified that granting asylum is a legal rather than a political decision. He also emphasized the importance of U.S. border relations.
"In their [March 3] meeting, Presidents Obama and Calderón reiterated that the U.S.-Mexico bilateral relationship is based on robust, multi-layered institutional, economic, social and cultural links and that it is has never been stronger," wrote Luoma-Overstreet. "The Secretary has made it clear that the U.S.-Mexico relationship is one of the most important relationships that exist between any two countries in the world."
It's a different scenario for those seeking asylum.
Scarce money and goodwill compelled the young woman cited at the beginning of this story to become a police officer. Yet she didn't know that standing by her principles would lead her over the border. She confessed between sobs that her superiors treated her like scum, but she didn't betray her morals.
"The millions of dollars sent to the Mexican government — instead of helping the people, they (the United States) are aiding the highest cartel. The federal police are using it against the people and pocketing the money and what do we do? Continue to suffer? Thanks?" she said. "Yes, thanks they're helping this damned corrupt government so there could be more innocent deaths."
An earlier version of this article appeared as part of the Borderzine's Mexodus project.
Image: Khowaga1 @ Flickr.
This post was corrected on Aug. 29, 2011. An earlier version erroneously cited the year of the report "Mexico — Profile of Asylum Claims and Country conditions" as 2007, rather than 1997.