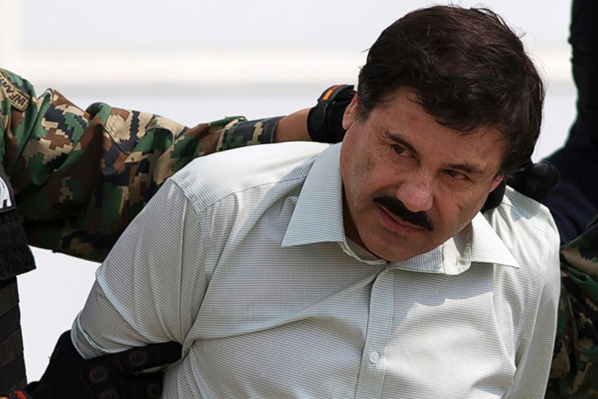 The Sinaloa Cartel chief Joaquín "El Chapo" Guzmán escaped for the second time in his life from a Mexican prison on Saturday night. Guzmán, who is widely considered the world's most powerful drug trafficker, reportedly escaped from the Altiplano prison through an underground tunnel a mile long, which he accessed through a 20-inch hole in his bathroom. By Sunday, a manhunt was underway in Mexico state, where the prison is located, according to The Associated Press. Peña Nieto said in a statement on Sunday that he is confident Guzmán will be recaptured.
The capture of Guzmán, long reputed the world's most powerful drug lord, was a key achievement for President Enrique Peña Nieto, whose administration has been marked by the arrest or killing of several key drug cartel figures. But his escape threatens to undo the perception of progress Peña Nieto has sought to cultivate. As a retired official from the U.S. Drug Enforcement Agency told the AP, "all the accolades that Mexico has received in their counterdrug efforts will be erased by this one event."
Following reports of Guzmán's escape, several commentators noted that Mexico had the opportunity to extradite the kingpin to the United States, where he was much less likely to escape. In January then-Attorney General Jesús Murillo Karam joked that he would be ready to extradite Guzmán after he finishes his sentence in Mexico — "about 300 or 400 years later." Peña Nieto's government sought, by keeping Guzmán in Mexico, to assert its sovereignty, insisting he would never escape from the so-called "Altiplano" prison.
Until Saturday, none had escaped from the prison. Many suggested the elaborate nature of Guzmán's escape was clear evidence of corruption in the security forces, elements of which have been repeatedly accused of favoring the Sinaloa Cartel. In an interview on the video streaming service Periscope, former Mexican intelligence official Alejandro Hope said the escape "speaks to complicities well beyond the prison."
InSight Crime co-director Steven Dudley wrote on Sunday that Guzmán's escape could "torpedo" Peña Nieto's presidency, along with Mexico's security relationship with the United States. "In the short term," Dudley wrote, "Guzmán's escape is more of a political than a security question." The fact that Peña Nieto presided over the arrests of so many high-profile drug traffickers fed the perception that he had turned around the government's war on organized crime. This was a key asset for Peña Nieto, who faced searing criticism following the disappearance in September of 43 students in Guerrero state. That asset has now been reversed, according to Dudley. "Unless the Mexican government recaptures Guzmán quickly, his escape will overshadow all those other success stories and give the appearance that the will of the president has dissipated," he wrote.
Part of the embarrassment Peña Nieto's government will likely face is due to the vehemence of its insistence on retaining Guzmán in its custody. The New Yorker's Patrick Radden Keefe wrote on Sunday that Mexican officials previously responded with "contempt" at the suggestion of Guzmán's possible escape. That escape, Radden Keefe wrote, demonstrates "the almighty power of the bribe… If a man like that can buy his freedom in Mexico today, then there is nothing in the country that is not for sale." Radden Keefe also notes that Guzmán's escape via tunnel was appropriate, as he pioneered the use of tunnels to transport drugs into the U.S.)
In retrospect, Guzmán's arrest may seem to have been inevitable, at least to some of the more than 80,000 people who follow his son on Twitter. In May, Iván Guzmán tweeted, "I promise you the general will be back soon." And on July 6: "good things come to those who wait."