An Immigration and Customs Enforcement officers makes an arrest.
Deportations Halted As Federal Government Reviews Illegal Immigration Cases
August 27, 2010
By Staff
Today in Latin America
Top Story — Immigration enforcement officials have begun halting some deportations, putting into effect a policy that prioritizes arresting and deporting undocumented immigrants convicted of serious crimes or that present a national security threat.
The Department of Homeland Security is reviewing thousands of cases and will likely dismiss those of people without serious convictions on their records, The Dallas Morning News reports.
The change in policy was announced on Aug. 20 in a memo by John Morton, head of Immigration and Customs Enforcement, according to The New York Times. The decision was motivated partly by pressure to deal with backlogged illegal immigration cases that are clogging up the courts.
The change is also intended to let one particular group of undocumented immigrants off the hook — those who have been detained by ICE, but have initiated the process of applying for legal residence. Morton's memo suggests ICE use its authority to dismiss such cases, The New York Times reports.
The halting of deportations has prompted criticism from those advocating tougher enforcement of immigration law, including agents within ICE itself.
"Actions like this demoralize ICE agents who are trying to do their job and enforce the law," said Senator Charles Grassley (R-IA).
Others celebrated the initiative, arguing that it provided a practical solution for an immigration enforcement system with limited resources.
"This is the kind of reform we need. Targeting those who intend to do harm while expediting the cases of law-abiding immigrants is the best use of ICE's precious resources and will save the taxpayers money," said Cheryl Little, executive director of the Florida Immigrant Advocacy Center.
The new policy takes effect following Republican primary elections in which immigration figured prominently, with the electorate in some states polarizing around the question of whether state government should take a greater role in enforcing immigration law.
The Obama administration opposes increasing state enforcement of immigration law and has challenged Arizona's controversial law in the courts.
Just Published at the Latin America News Dispatch
Headlines from the Western Hemisphere
North America
Caribbean
Central America
Andes
Southern Cone
Image: U.S. Federal Government, Public Domain.

Subscribe to Today in Latin America by Email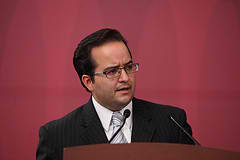 August 26, 2010
> Staff