The countryside in the northern department of Alta Verapaz, Guatemala.
Guatemala Declares State Of Siege Due To Zeta Presence Near Mexican Border
December 20, 2010
By Staff
Today in Latin America
Top Story — The Guatemalan government declared a state of siege Sunday and has sent hundreds of troops to a northern province where officials claim a Mexican drug gang is taking control of towns and threatening residents.
President Álvaro Colom announced that the emergency rule in in the Alta Verapaz department — the term used to refer to provinces in Guatemala — would last 30 days and allows the military to order anyone suspected of conspiring against the government to be arrested and imprisoned without a warrant.
"It is to bring peace to the people and recover their confidence in the government," Colom said, according to The Associated Press.
There was no major fighting reported in the department on Sunday and pictures published by the local press showed armed military men stopping vehicles in the streets. In the city of Cobán, national police and soldiers searched homes and inspected all cars as they entered and left the department's capital.
Ronaldo Robles, a spokesman for President Colom, said that the department had been overtaken by the Zetas drug gang. The Zetas are a group of ex-soldiers who began as hit men for Mexico's Gulf drug cartel, but broke out on their own and have become one of the most violent drug gangs not only in Mexico, but throughout Central America.
Guatemala's decision to take measures against a Mexican drug organization shows the reach that the Zetas have and the fact that the gang views the country as a safer area to conduct business. Mexican President Felipe Calderón began an effort in 2006 to combat the country's organized-crime groups, which has resulted in both the capture of many principal drug lords and the deaths of over 30,000 people.
"Mexican drug-trafficking groups are simply moving to Guatemala as a safer place to conduct their operations," said Anita Isaacs, a political scientist who studies Guatemala at Haverford College, according to The Wall Street Journal.
Just Published at the Latin America News Dispatch
Headlines from the Western Hemisphere
North America
Caribbean
Central America
Andes
Southern Cone
Image: ESPaul @ Flickr.

Subscribe to Today in Latin America by Email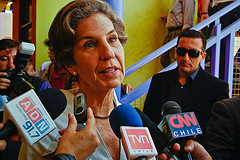 December 17, 2010
> Staff