Colombian President Juan Manuel Santos.
Colombian Major and Four Soldiers Accused In "False Positive" Murders
January 4, 2011
By Staff
Today in Latin America
Top Story — Authorities brought accusations against a Colombian army major and four other soldiers Monday for the killing of three civilians  in 2002.
Maj. Juan Carlos Del Río Crespo and four other troops were charged with the deaths of three members of the Agudelo family in Antioquia state, about 180 miles northwest of Bogotá, and with falsely presenting their bodies as members of the Revolutionary Armed Forces of Colombia (FARC) guerrilla group who were slain in combat.
The three members of the Agudelo family were seized from a sugarcane field where they were working and killed under orders from Major Del Río, investigators said.
Del Río and three soldiers are currently in jail, while authorities are still searching for the fourth soldier.
The revelations of these killings is another part of what has been dubbed the "false positive" scandal in Colombia, where soldiers killed civilians and claimed they were guerrillas. Colombian authorities are investigating the extrajudicial killings of 2,650 civilians and have about 1,100 soldiers under investigation.
It is alleged that the system offered soldiers and officers promotions or extra leave time for higher body counts. Since 2008, when the scandal first broke, 272 soldiers have been convicted and 58 have been absolved in similar cases.
Headlines from the Western Hemisphere
North America
Caribbean
Central America
Andes
Southern Cone
Image: Center for American Progress @ Flickr.
Subscribe to Today in Latin America by Email
This post has been corrected. An earlier version erroneously stated that Cuba's santería priests predicted a year of war and coup d'états in Cuba. In fact, the prediction was made without specifying a geographic location and refers to the world in general.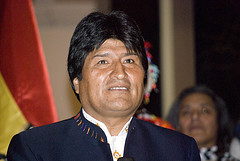 January 3, 2011
> Staff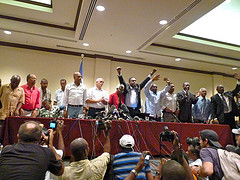 January 5, 2011
> Staff