Protesters march against the FARC (February 2008).
Colombia's FARC Releases Politician Taken In 2009 As Gesture Of Peace
February 10, 2011
By Staff
Today in Latin America
Top Story — The Revolutionary Armed Forces of Colombia (FARC) guerrilla group released the first of five hostages it promised to free this week as a gesture of peace to the government.
Marcos Baquero, a San José del Guaviare city councilman who was kidnapped in June 2009, was collected by a Brazilian military helicopter at an undisclosed location in Colombia's eastern jungle region. Baquero, who has been in captivity for 19 months, was flown to his home town of Villavicencio and reunited with his family.
"The loneliness, knowing my family was suffering, knowing that there are still many people being held. I think that's the worst thing that can happen to someone," Baquero said, according to Reuters.
Baquero's release is due in part to a humanitarian delegation led by former senator Piedad Cordoba, who played a role in other hostage releases but was banned from the senate for her alleged links to Colombia's rebel groups.
While she has been stripped of her senate seat, Colombian President Juan Manuel Santos still permits Cordoba to continue her role brokering hostage releases.
This gesture of peace by the FARC seems to have little effect on Santos' stance toward Latin America's oldest insurgency. Santos said Monday that he won't consider peace talks with the FARC until it frees all captives, halts attacks and stops drug trafficking and extortion.
He added that the FARC should stop laying land mines, which kill and maim hundreds of Colombians a year.
The FARC, which traces its origins to the 1960s, was once a large rebel army controlling sizable swaths of Colombian territory. However, they have recently been battered by a U.S.-backed security drive that began in 2002 under former President Álvaro Uribe.
The military push has forced the FARC into remote mountains and jungles. Fewer than 20 hostages remain in FARC hands.
Headlines from the Western Hemisphere
North America
Caribbean
Central America
Andes
Southern Cone
Image: WikiCommons.
Subscribe to Today in Latin America by Email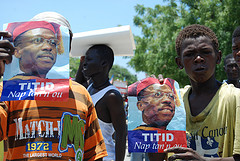 February 9, 2011
> Staff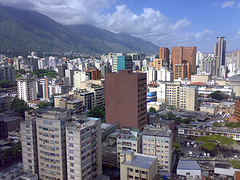 February 11, 2011
> Staff