The city of Monterrey, Mexico.
Mexico Arrests Two Police Officers In Killing Of Nuevo Leon State Senior Officer
February 17, 2011
By Staff
Today in Latin America
Top Story — Mexican authorities arrested two police officers in the killing of the top intelligence officer in Mexico's northern Nuevo Leon state, including one who acted as his bodyguard.
The two state officers allegedly kidnapped and killed of Homero Salcido Trevino, director of the state's intelligence and security center, according to Nuevo Leon Attorney General Adrian De La Garza.
One of the officers arrested worked as Salcido's bodyguard, but De La Garza no other details at a news conference Wednesday.
Salcido's body was found Monday in a still smouldering car in the Mexican city  of Monterrey. The Nuevo Leon state has been torn by a turf war between the Gulf and Zetas drug gangs.
Headlines from the Western Hemisphere
North America
Caribbean
Central America
Andes
Southern Cone
Image:
Subscribe to Today in Latin America by Email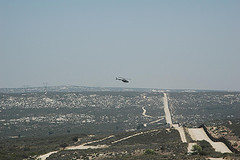 February 16, 2011
> Staff