Money and weapons seized from Mexican drug cartels.
Mexican Media Outlets Set Drug War Reporting Guidelines: Calderón Praises Effort
March 25, 2011
By Staff
Today in Latin America
Top Story — Mexico's largest media outlets agreed on a set of guidelines Thursday concerning their future coverage of the country's ongoing drug war. The largest television networks, newspaper and radio groups in the country agreed not to publish drug cartel propaganda, glorify drug traffickers, or reveal information that could imperil police operations.
The ten-point agreement signed in Mexico City is the first of its kind in Mexico, where at least twenty-two journalists and more than 35,000 people have been killed in drug war related violence since 2006.
"We in the news media should condemn and reject the violence arising from organized crime," the voluntary accord said, according to ABC News. It also vowed to "ignore and reject any information coming from criminal groups with the purpose of propaganda."
President Felipe Calderón, who has criticized the media's coverage of the drug war, praised Thursday's agreement. His office called it "a clear example of the responsible way in which the participating media outlets treat criminal organizations and the violence they create."
Supporters of the accord denied any government involvement in the guideline-drafting process. Among other things, the document defends the media's right to criticize government actions against organized crime operations and it commits media outlets to treat arrested people as suspects and not presume they are guilty.
Not all of the country's news outlets signed the agreement. Among those who declined to participate was Mexico's Reforma, whose officials issued a statement saying their newspaper "has had its own mechanisms for editorial policy."
Headlines from the Western Hemisphere
North America
Caribbean
Central America
Andes
Southern Cone
Image: WikiCommons.
Subscribe to Today in Latin America by Email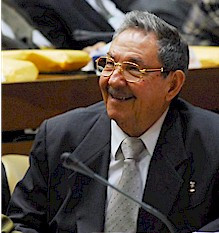 March 24, 2011
> Staff