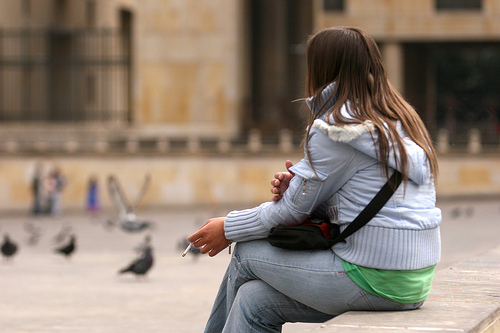 A woman smokes in the Plaza Bolívar in Bogotá, Colombia.
Colombia Bans Sale Of Single Cigarettes & Snuff Ads
The once ubiquitous feature in many Colombian cities and towns – a man or woman carrying a wooden box and selling single cigarettes or "looseys" – is no more.
A ban on the sale of single cigarettes nationwide went into effect Thursday, after the Colombian Ministry of Social Welfare and Health announced Tuesday the measure as part of its effort to cut back on tobacco use in the Andean nation. The ministry also announced that it was illegal to advertise any snuff products as part of the celebration of World No Snuff initiative undertaken by the World Health Organization.
Snuff is a nicotine product made up of ground tobacco that is generally inhaled or "snuffed" through the nose.
The ban on looseys is meant to make the sale of cigarettes more expensive and thus less attractive to young people, according to Beatriz Londoño Soto, the vice minister of Health and Welfare Ministry.
Business owners in Bogotá and other cities complained that the ban on both single cigarettes and snuff will hurt their sales, as many stores and street vendors sell more single cigarettes than full packs.
"It's very rare that I sell packages, I only sell single cigarettes, two packs a day. With this measure I will be lost because people prefer to quit than to buy a pack," said Gladys, a street vendor, according to Colombia's El Tiempo.
The two measures continue Colombia's recent battle against tobacco use. In May of 2008 the Colombian Ministry of Social Protection banned smoking in enclosed public places and in June of 2009 the Colombian Congress passed more measures aimed at stamping out snuff use.
Now tobacco companies can not advertise their brands in any type media, nor sponsor any sporting, cultural or any other social event.The measures also include international television channels that broadcast their signal in Colombia.
According to Londoño, of the 46 million inhabitants of Colombia at least 3.3 million people are smokers, mostly men between the age of 18 to 24. The Colombian Anti-Cancer League estimates that at least 3,000 people die each year in the country for lung cancer, with 70 percent of those cases associated with smoking.
Packages of cigarettes in Colombia feature warnings about the harmful effects of smoking.
Photo: Nathan Gibbs @ Flickr.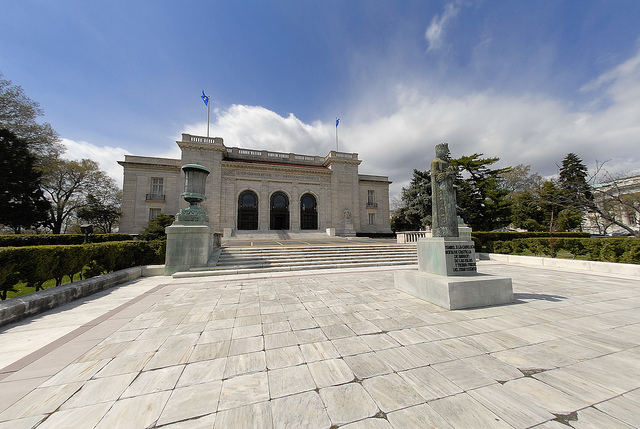 July 21, 2011
> Staff