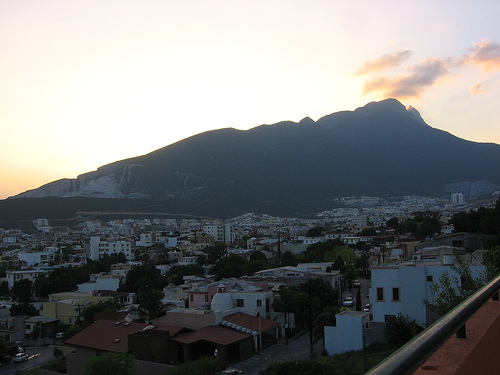 A view of Monterrey, Mexico.
Former Monterrey Mayor Arrested For Corruption; Alleged Ties To Casino Fire
The former mayor of the violent Mexican city of Monterrey was arrested Sunday for alleged irregularities in public works during his time in office between 2006 and 2009.
Adalberto Madero Quiroga, of the National Action Party (PAN, in Spanish), was arrested outside of his home on Sunday and taken in for processing before being transported to a prison under armed guard in the town Apodaca.
Madero Quiroga, who was expelled from the PAN due to his performance as the mayor of Monterrey, is suspected of allowing irregularities in the opening and operation of sports betting, gaming centers and casinos in the city. Some of these abnormalities – lack of evacuation routes, for instance – are being blamed for causing the deaths of 52 people when a casino was set on fire back in August by suspected members of the Zetas drug cartel.
Carlos Arias Lozano, the lawyer representing Madero Quiroga, said he was charged for the crime of false reports and that the offense was not considered serious.
"We will seek bail to release him immediately because this is not a serious crime or anything," Arias Lozano said, according to Mexico's Milenio newspaper.
The brazen attack on the Casino Royale in Monterrey drew headlines worldwide and spurred a widespread investigation into who was responsible for the killings. In September, Mexican Attorney General Marisela Morales said the casino owners had been located in the United States and were being interrogated.
She also added that she believed public officials and law enforcement may have been involved. "At all levels we see it," she said, according to The Los Angeles Times. "This is most serious in what is happening; frequently police are at the service of organized crime, especially local police."
Video surfaced soon after the attack that showed Monterrey mayor Fernando Larrazábal accepting a large sum of money from a blackjack table at another casino. While his brother said that it was a payment for Oaxacan cheese he sells, one of the stacks of cash was estimated to be worth about $32,000.
Coinciding with the arrest of Madero Quiroga was the mass detention of the police force in the Mexican town of Linares – about 75 miles southeast of Monterrey – on suspicion of possible corruption and ties to organized crime.
Mexican soldiers and Nuevo León state police are now patrolling the streets of Linares, a town that has recently seen a surge in kidnapping and extortion. A series of investigations in other towns has already brought into custody hundreds of police officers and Nuevo León is increasingly becoming a battleground between the Zetas and the Gulf cartel.
Since 2006, when President Felipe Calderón declared war on the drug cartels in Mexico, over 40,000 people have died in violence related to the conflict.
Photo:NightRStar @ Flickr.