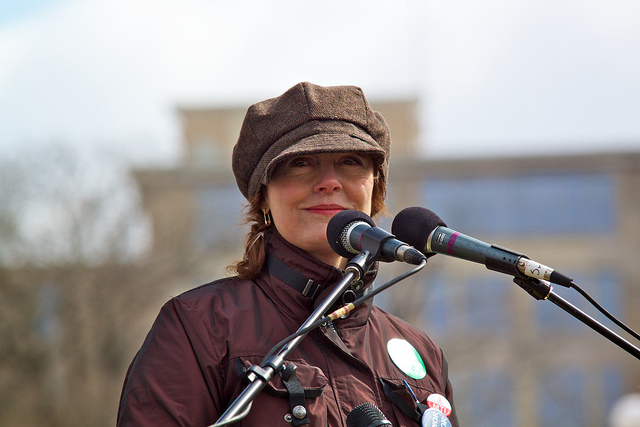 Cuban 5: Susan Sarandon, Danny Glover, Other Celebrities Ask Obama To Send René González Home
A group of U.S. celebrities including Danny Glover, Susan Sarandon and Pete Seeger called on President Barack Obama Monday to send a Cuban agent who was released from prison on Friday back to his homeland.
The agent, René González, served 13 years of a 15-year sentence for spying, but must spend another three years in the United States on probation before he can return to Cuba. He is one of the so-called "Cuban Five" — a group of Cuban agents jailed for espionage, but whom the Cuban government insists were defending the island from extremist exile groups in South Florida.
Actors and Artists United for the Freedom of the Cuban Five said in a letter dated Oct. 10 that the group was "deeply concerned" about the South Florida District Court's decision to require González to remain in the country after serving his sentence.
"Not only is the order that he serve an additional three years of parole in the United States extraordinary and punitive, it is the kind of gratuitous insult that further aggravates the unnecessary tension between the U.S. and Cuba," the letter says.
"Further, the life of Mr. González would be in danger if he has to remain in the United States due to the existence in this country of dangerous organizations whose entire mission is premised on the violent overthrow of the Cuban government," the letter continues. (The full text is available below.)
Many observers view the fate of the Cuban Five as linked to that of jailed U.S. subcontractor Alan Gross, who is serving a 15-year sentence for a conviction of violating Cuban sovereignty. The Cuban authorities arrested Gross in December 2009 for distributing satellite communications equipment under a U.S. Aid program, which is illegal in Cuba.
Obama began his term by loosening restrictions on travel and remittances that the George W. Bush administration had tightened, but Gross' conviction chilled U.S.-Cuba relations once more.
Unofficial U.S. mediators including Jimmy Carter and Bill Richardson have tried to discuss the case with the Castro government, but have not convinced Cuban authorities to pardon Gross on humanitarian grounds.
In a recent interview with The New York Times, however, Cuban Foreign Minister Bruno Rodríguez hinted that the Castro government might release Gross if the Obama administration would take similar action with the Cuban Five.
"I do not see any way in which we can move on towards a solution of the Mr. Gross case but from a humanitarian point of view and on the basis of reciprocity," Rodríguez said.