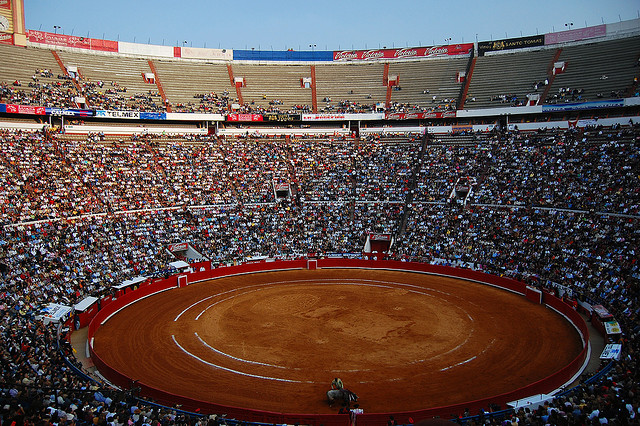 Mexico City Legislators Push To Ban Bullfighting
Mexico City may soon follow the lead of the Spanish province of Cataluña and ban all forms of bullfighting.
A pair of opposition politicians representing the Institutional Revolutionary Party (PRI, in Spanish) and the Green Party (PV, in Spanish) originally presented the proposal in 2009 and it was supposed to be voted on until earlier this month. But that vote was postponed when the legislature failed to field a quorum. Nevertheless, at least 21  deputies said that they would back the measure should it come to a vote.
Mexican animal rights groups strongly back the proposal, claiming that most Mexicans are opposed to bullfighting. One of the bill's sponsors, Deputy Norberto Ascencio Solís of the PV told CNNMexico.com "bullfighting shouldn't be viewed as an art… an art cannot sacrifice a living animal that has feelings."
Meanwhile, backers of bullfighting, such as local rancher Sergio Hernández Weber, critiqued the bill as "political theater." The owner of Mexico City's main bullring said that the bill would hurt the economy of the metropolis, including the potential loss of hundreds of jobs linked to the bullfighting industry.
The campaign to ban bullfighting has also spread to other parts of Mexico, including the city of Querétaro. Approximately 500 protesters against the sport marched in downtown Querétaro and the president of Mexico's Animal Defense Association called on a local bullfighting impresario to debate him.
Proponents of bullfighting in other Latin American countries such as Colombia and Peru have sought to keep their customs alive. Several Venezuelan cities such as San Cristóbal and Mérida have declared bullfighting as an "intangible cultural heritage."
In much of Latin America, however, bullfighting has long been banned. Argentina, Uruguay and Cuba, for example, all prohibited the practice at the turn of the twentieth century. Ecuadorans voted in May to end bullfighting as part of a ten-point referendum proposed by the Rafael Correa administration.
Image – Omar Omar @ Flickr.