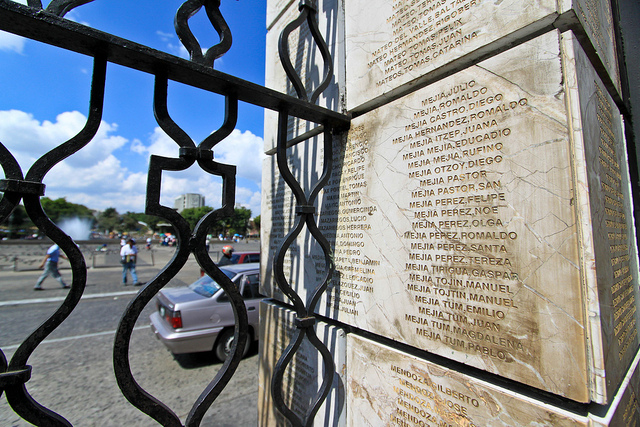 Canada Under Pressure to Try Alleged Guatemalan War Criminal
November 29, 2011
By Staff
Today in Latin America
Top Story —  A survivor of a 1982 massacre of hundreds of Guatemalan men, women and children is asking the Canadian government  to try alleged war criminal Jorge Sosa Orantes in Canada instead of extraditing him to the United States. Ramiro Cristales, a Guatemalan immigrant living in Canada, said Monday that he witnessed members of Sosa's military unit terrorize and murder his parents, siblings, and hundreds of others in the village of Dos Erres in a notorious massacre that took place during the height of Guatemala's bloody civil war. The 53-year old Sosa, who holds Guatemalan, U.S. and Canadian citizenship, denies that he was involved in the murders. Sosa was arrested in Canada in January for lying on a U.S. citizenship application and would be tried only for immigration violations in the U.S., not for the crimes he is accused of committing in Guatemala.  Lawyers Without Borders and the Canadian Centre for International Justice are asking Canada's Federal Immigration Minister Jason Kenney to deny the U.S. extradition request and allow Sosa to remain in Canada, where he could be prosecuted for crimes against humanity. Mass graves containing the remains of at least 162 people were unearthed in Dos Erres in 1994.
Read more from the AP.


Headlines from the Western Hemisphere
North America
Caribbean
Central America
Andes
Southern Cone
Image: To Uncertainty and Beyond @ Flickr.
Subscribe to Today in Latin America by Email