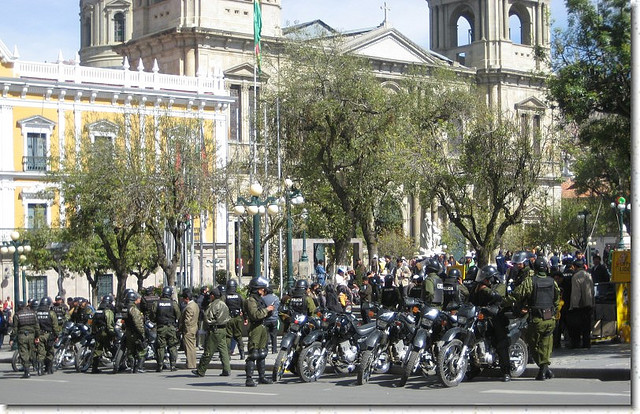 Police Strike Continues in Bolivia
June 26, 2012
By Staff
Top Story — Protesting police officers brandished weapons and fired tear gas on a crowd of government supporters in La Paz as Bolivia's police strike entered its fourth day on Monday. A group supportive of Bolivian President Evo Morales had gathered in a square outside the presidential palace when the police, many dressed in civilian clothes and wearing ski masks, used tear gas to disperse the rally. Lower-level police officers in Bolivia say that they are striking for higher wages and would like to earn as much as the Bolivian military. On Sunday, the Bolivian government agreed to pay police the same salary as other public employees with a minimum salary of about $300 a month, but the offer was rejected. Morales has accused political rivals of orchestrating the police strike, but ruled out the use of Bolivian troops to end the strike. Since the strike began, a number of people have been injured and some police stations have been destroyed.
Read more from The Chicago Tribune.
Headlines from the Western Hemisphere
North America
Caribbean
Central America
Andes
Southern Cone
Image: bthomso @ Flickr.
Subscribe to Today in Latin America by Email