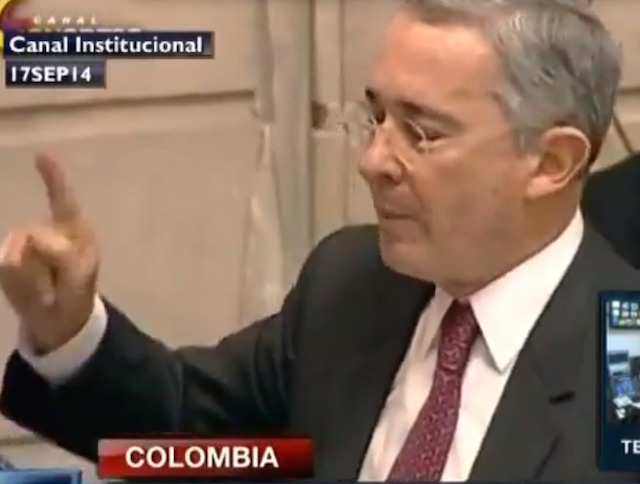 Álvaro Uribe Defends Himself Against Corruption Charges
September 18, 2014
By Staff
Top Story — Colombia's former president Álvaro Uribe appeared in congress Wednesday to defend himself against claims of corruption and ties to violent paramilitary groups.
Leftist Sen. Ivan Cepeda spoke for 90 minutes, presenting evidence, much of it previously seen, allegedly linking Uribe to right-wing paramilitary groups and drug traffickers. Cepeda said publicizing allegations was key to an ongoing process of political reconciliation, reported the Associated Press.
In addition to presenting several documents, Cepeda played an alleged audio recording of Uribe, then governor of Antioquia department, congratulating paramilitary leader Salvatore Mancuso for his efforts to secure the bordering department of Córdoba, according to Colombia Reports. Mancuso would go on to become the second-in-command of the notorious United Self-Defense Forces of Colombia (AUC), considered a terrorist group by the U.S. government.
Uribe, who served as president from 2002-2010, reportedly walked out of the Senate in protest before Cepeda's speech began. But he later returned to dispute the claims.
For his part, Uribe accused high-ranking Sen. Jimmy Chamorro of dealing with drug traffickers, El Espectador reported. During Uribe's presidency, Chamorro often cooperated, like much of the legislature, with the president.
Additionally, Uribe said Sen. Cepeda was inciting violence while serving the leftist Revolutionary Armed Forces of Colombia (FARC), reported Semana.
Headlines from the Western Hemisphere
North America
Caribbean
Central America
Andes
Southern Cone
Image: Youtube