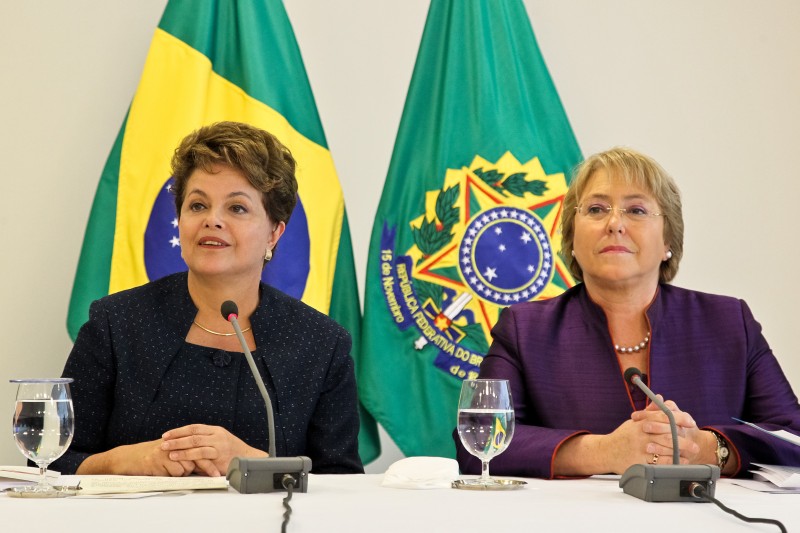 Brazilian President Dilma Rousseff (left) and Chilean President Michelle Bachelet in 2011. (
Dilma Rousseff
, CC BY-SA 2.0)
Ratings Plunge for Brazil, Chile Leaders
April 2, 2015
By Staff
Top Story — The leaders of Brazil and Chile are facing their lowest approval ratings yet, a phenomenon owed to some combination of economic stagnation, political scandals and natural disasters, according to the results of two polls released Wednesday.
Just 12 percent of respondents to a Brazilian poll said President Dilma Rousseff was doing a "good" or "great" job, Reuters reported. Her economic austerity programs — including a rise in interest rates and taxes in an effort to resolve a federal budget deficit — have the approval of approximately 10 percent of the population.
Chile's President Michelle Bachelet has found her approval ratings drop to 31 percent, an eight-point decrease since a poll in February, according to a separate report by Reuters. Bachelet's government has been criticized for its handling of the response to several natural disasters: a volcano, forest fires, droughts and deadly flooding in the northern Atacama desert region.
Rousseff, too, has been dogged by accusations she is not doing enough to address a historic drought in São Paulo, Brazil's economic powerhouse and South America's largest city.
Both leaders have also suffered through political scandals. Officials from Rousseff's Workers' Party have been linked to a massive kickbacks scheme at the state oil firm, while Bachelet has faced questions over her daughter-in-law's apparent privileged access to a loan.
Overall, 2015 has seen setbacks for left-leaning heads of state across South America as a general downward trend in global commodity prices has reverberated in the region's economies. Violent protests have returned to Venezuela, where some protesters call for the resignation of President Nicolás Maduro. Even Evo Morales, freshly re-elected to a third term and a second decade as president, has recently found his party's influence reduced in regional elections.
Just Published at the Latin America News Dispatch
Headlines from the Western Hemisphere
North America
Caribbean
Central America
Andes
Southern Cone