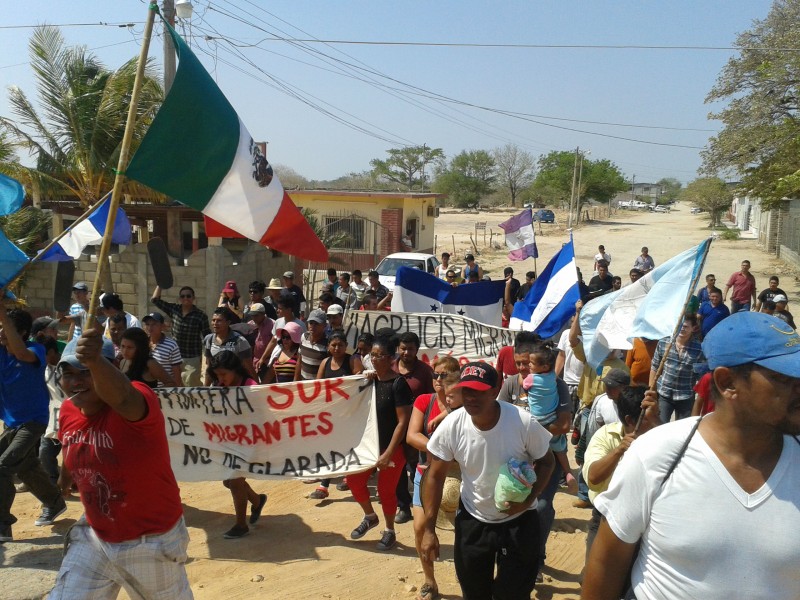 Viacrucis participants march through Chahuites, Mexico. (Photo by author)
Migrants on Activist Pilgrimage Dodge Police, Gangs Across Mexico
MEXICO CITY — Ciudad Tecún Umán is sweltering. All of the town's households and its handful of ramshackle cantinas still use wood-burning stoves, their sweaty attendants braving the compounded afternoon heat. The smoke trails out into the few dusty streets, unpaved, potholed and barely stretching to the edge of the Rio Suchiate, which divides Tecún Umán and the rest of Guatemala from Mexico.
It was at the river that on March 24 a small group of migrants' rights organizers launched the Viacrucis Migrante, an activist pilgrimage centered around Semana Santa (Holy Week) and the religious Mexican ritual of the "viacrucis," in which worshipers reenact Jesus' last steps before his crucifixion. Now in its fifth year, the Viacrucis Migrante serves as a platform for activists to highlight their grievances, as well as to give migrants direct access to reporters and scholars traveling with them.
The organizers of Viacrucis 2015 planned to walk from Tecún Umán across the entire Mexican state of Chiapas — where violence against migrants has surged in recent years — and conclude in the town of Ixtepec, Oaxaca, a well-known stop for migrants on their journey northward. The pilgrimage had two aims: to provide safe passage for those who joined, and to raise awareness about the increasing perils for migrants under Mexico's new border security policy, known as the Southern Border Strategy.
Tecún Umán has long been preferred by many of the hundreds of thousands of Central American migrants who cross into Mexico every year, fleeing rising violence or seeking employment. Over the past decade, as immigration to the country has risen, Mexico has steadily militarized its southern border through the U.S.-funded Merida Initiative and, in 2014, the Southern Border Strategy, which the administration of President Enrique Peña Nieto marketed as necessary to protect migrants from the hazards of migration, most prominently gang violence.
But migrants and activists say the new initiatives have only made crossing more dangerous. Across the river, Tecún Umán's more developed Mexican counterpart Ciudad Hidalgo has more work, higher wages and safer living conditions — not to mention paved roads and occasional air conditioning. Even if the United States isn't all migrants' ultimate goal, crossing into Mexico is for many an obvious choice. But instead of fording Rio Suchiate in the open, migrants increasingly cross through dense jungles in order to avoid newly installed immigration checkpoints. A reinforced security presence extends hundreds of miles northward along well-trafficked migration routes, pushing migrants to the margins, forcing them to walk days across dangerous territories that previously could be crossed in hours by bus or train. "The Southern Border Strategy isn't making migrants safer," said Viacrucis volunteer Ximena, "it just makes their suffering more invisible."
To call attention to the often-hidden risks facing migrants, Viacrucis organizers walked the entire pilgrimage, some 268 miles. They began by wading through Rio Suchiate barefoot, pant legs rolled up. They carried a cross and a banner that read in Spanish, "Viacrucis Migrante, No More Blood!"
In the past, the Viacrucis has been led by some of the biggest names in the Latin American Catholic Church, some of whom attracted national media attention to the cause. This year, though, its initial organizers were three relative unknowns, who recently founded a migrant shelter in the rural town of Chahuites, Oaxaca. Their relative obscurity was apparent when no major media outlets showed up for the launch of their pilgrimage in Tecún Umán.
"There were a lot of people, migrant activists included, who said we shouldn't be doing this," said Armando Medina, one of the organizers and a former migrant from Honduras. "They said because we were migrants ourselves, because we wanted to be working on the ground with people, that we didn't have the proper training. So we haven't received a lot of support."
In 2014, the National Migration Institute reported that, courtesy of the newly established Southern Border Strategy, 117,491 migrants were detained — a 43.5 percent increase compared to 2013. The capture of children under 11 years old rose a whopping 541 percent in 2014; more under 11-year-olds were detained last year than 2012, 2011, 2010 and 2009 combined.
Beyond the heightened enforcement, migrants and activists increasingly question the integrity of Mexico's immigration officials. Hermanos en el Camino (Brothers on the Path), the shelter headed by famous migrant rights activist Father José Alejandro Solalinde Guerra in Ixtepec, reported a 90 percent increase in crimes by immigration agents against migrants arriving at their shelter since the start of Southern Border Strategy. Less than a week before the Viacrucis began, news spread that INM officials in Chiapas allowed a 20-year-old migrant to drown as he fled an immigration raid. (Calls to the INM have not been returned.)
Theoretically, Grupo Beta, an auxiliary to Mexico's immigration forces that was created for "the protection and defense of [migrant] rights, regardless of their nationality or migratory status," exists to ensure that migrants never meet this fate. They accompanied the Viacrucis for the entirety of their march, reassuring migrants that their presence was solely for protection.
But some suspect that Grupo Beta's true role is less altruistic. Once, many days into the march, several tired migrants flagged down a bus to take them to the nearest town. When they left the vicinity of the Viacrucis, the INM stopped the bus and apprehended them all. "I think Grupo Beta is watching our movements," said Viacrucis organizer Irineo Mujica, "and reporting to the INM when anyone leaves the group so they can be detained." (Representatives from Grupo Beta declined to be interviewed for this story.)
Still, the majority of the Viacrucis went smoothly. The migrants walked freely down federal highways waving signs that read "Jesus was a migrant," and passed unimpeded through checkpoint after checkpoint, chanting "Why do you kill us, why do you assassinate us?" at immigration officials who, either lacking the resources or under orders not to detain such a large group, withdrew to the shadows of the checkpoint to film the Viacrucis on their phones.
By the time they arrived in Ixtepec on April 3, the Viacrucis numbered over 200. Father Solalinde was there to welcome them into his shelter, and, finally, national TV news crews showed up.
For many migrants, it was the journey's first big victory. One of them was Axel, a wiry man who worked in I.T. in Long Island and was brought to the U.S. when he was one year old. This winter, after a fender-bender on an icy road, he was deported to Guatemala, despite a clean record, a full-time job and two children to support. When he returned to his "home town," he was told that he could not be recognized as a citizen there either — a hurricane hit town hall in 1999, destroying all documentation of his existence. "I have a master's degree," he said, "but it doesn't count for shit in Guatemala. I'm a nobody there. So I'm going back home where my kids are."
Mildred, a middle-class businesswoman from Guatemala, was fleeing with her three children from a gang trying to extort money from her family. "If they see that you are doing well, they will insist that they receive a percentage. My husband was murdered in the United States ten years ago. I said I would never go there after that, that Guatemala would always be my country. But here I am. We cannot live in Guatemala anymore."
Jenys, a Cuban migrant, also expressed frustration with his country of origin. "There is no chance for upward mobility in Cuba," he said, "so I am going to a country where I can move forward." Jenys, who worked for years in the Cuban entertainment industry, filmed and edited many of the short clips the Viacrucis released during its journey, including several popular videos shot in the shelter Hermanos en el Camino, which borders the dusty train tracks that carried so many migrants north before Southern Border Strategy.
Father Solalinde, who exploded to international fame in 2007 after he founded the shelter to house and feed the hundreds of migrants passing through Ixtepec every day. He is considered one of the most influential voices in Mexico, though his national spotlight has not come without criticism. In October, Solalinde was berated by parents of the 43 students in Ayotzinapa when he announced he had information that the students had been murdered and their bodies burned. The parents, who maintained that their children were still alive, accused Solalinde of using the missing students as an opportunity for self-promotion.
But even critics know an endorsement from Solalinde is powerful. Participants in the Viacrucis hoped to convince Solalinde to help them extend the pilgrimage to Mexico City, where many migrants could receive special legal and medical services. Crossing safely to the capital would also mean migrants would be able to skip gang-plagued Veracruz, long reputed as Mexico's kidnapping epicenter. "It is very important," said Julio Campos Cubías, director of Migrantes LGBT. "If we go to Mexico City, we can bring the fight to the government's door. It will be much more visible."
Within days, Solalinde not only publicly voiced his support for the continued Viacrucis, but announced his intentions to personally accompany it to the capitol, where a series of protests were scheduled, including at the Basilica of Guadalupe, one of the most important Catholic pilgrimage sites in the world. "We go to the Basilica," said Solalinde, "because the Virgin of Guadalupe is not just for Catholics. She represents the heart of Mexico."
But plans stalled there. The INM, perhaps wary of Solalinde's involvement and the press attention it brought, quickly blockaded the entire city of Ixtepec, announced that any undocumented migrants caught would be detained and deported, and warned bus drivers that they would be charged with human trafficking if they attempted to transport the Viacrucis to Mexico City. Migrants reported threats from passing immigration officials, who stationed themselves around the shelter to detain anyone who might venture outside.
International organizations quickly decried the blockade. The National Human Rights Commission (CNDH) publicly called for the INM to allow the Viacrucis to pass. Amnesty International sent representatives to the shelter to monitor the situation. INM officials publicly rebuffed the criticism, countering that their unarmed agents did not violate any human rights laws.
Some migrants, worried the march was a lost cause, left on trains in the middle of the night. At least one was detained by the INM and deported. A rumor swept through the shelter that another migrant had been attacked by gangs and beheaded. Though it was never confirmed, the man was not heard from again, and most migrants were shaken — a macabre reminder of the path they had chosen. "It's sad," said one unaccompanied minor, "Why would they do that? But we know what to expect out here."
For almost two weeks, the Viacrucis waited, hoping the INM would ease their stance, but the shelter struggled to support the nearly 400 migrants inside its walls. Solalinde said he had "never before seen the city under siege" in such a way. With resources and time running low, the Viacrucis decided its only option was to confront the blockades. "We had no choice," said Axel. "We didn't have food, we didn't have water. We had to make a move."
The INM came prepared, with 24 police vans, two detainee transport buses and almost two hundred police officers and immigration agents. "It seemed like there was a whole army out there for us," said Ruben, a youth pastor who lived in Los Angeles over twenty years before being deported in 2014. "Even the volunteers [for the Viacrucis] said, 'Do you really want to do this? Don't give yourself up.' But we came to an agreement that if one of us goes down then everybody was going down."
"I found myself at the front [of the blockade] with the media and the writers and Father Solalinde also right there taking a risk. Everybody was taking a risk. But I saw the guy with the bullhorn was struggling, so I went back and got the speaker and started screaming, 'Everybody keep going, don't give up!' And before you knew it a whole bunch of police started trying to surround us. They slammed their shields into our chests and feet. A lot of people got hurt. I starting saying, 'They're hitting us, they're beating us up!' But nobody gave up. We stayed as a team, as a family. And a few minutes after that we broke the frontlines."
After two days of confrontations, immigration forces relented and allowed the Viacrucis to continue on buses to Mexico City. When they arrived at the Basilica of Guadalupe the atmosphere was festive. They were welcomed by the Archbishop of Guadalajara, José Francisco Robles Ortega, who greeted Padre Solalinde and voiced his support for the migrants, telling worshipers they could not fault those in search of a better life.
After mass, the Viacrucis met with the national leadership of the CNDH to formally file charges against the security forces who blockaded them in Ixtepec. Because of the hardships they suffered, each member of the Viacrucis received an "amparo", a temporary visa, which, in theory, protected them from detention. It brought an abrupt ending to the plodding daily pace of most of the Viacrucis. "This changes everything," said Mildred. "If we can travel freely I am taking my children and leaving tomorrow."
On Monday April 20, with amparos in hand, the Viacrucis officially ended, quietly, without fanfare or press, almost one month after its inception. There were hugs and teary goodbyes. "I don't want to leave," said Marcos, Mildred's ten-year-old son, who became something of a mini-icon for the Viacrucis, his face splashed across news articles throughout Mexico. "I have friends here now."
But just as quickly as it ended, it was resurrected again, not even a day later, after 24 Viacrucis migrants were detained by the INM in Querétaro, just outside Mexico City, who declared they would not honor the protective amparos given to the Viacrucis. The migrants who remained in Mexico City rallied and announced a hunger strike outside the INM's national headquarters, vowing not to leave until their comrades were released and guaranteed safe passage through the country.
"I feel like the Viacrucis hasn't done anything," said José, a young immigrant from Honduras. "The Southern Border Strategy still exists. We're just fighting for each other now, nothing else. We fought for the cause, but the cause didn't work."
After two days, the INM presented the migrants with a deal: if they voluntarily submitted themselves for detention, they would be processed with 24 hours and given legal documentation to leave the country. Many migrants, shaken when their original amparos seemed to count for nothing, were concerned this was another trick, that once they turned themselves in the INM would not keep their promise. "I've got to think about my family," said Mynor from Guatemala. "I can't just turn myself in and get deported."
But in the end, the migrants agreed, though conceding detention was humiliating for those that had freely marched through immigration checkpoints just days before. Each person was processed and released early the next morning with temporary injunctions allowing free travel through Mexico for 20 days. Many expressed their relief, but the air of victory and defiance at the Basilica was gone. Most left just hours later in hushed groups of four or five. Their goodbyes were succinct, to the point.
Yesterday, Axel called Viacrucis volunteers with an update. "I'm further north now," he said. "Who knows if this thing [the new visa] will work. And even if it does, I still have to get through the US border. I'm scared. I could just end up back in Guatemala City tomorrow, and have to do this all over again."
Levi Vonk is an anthropologist and Fulbright Fellow in Mexico.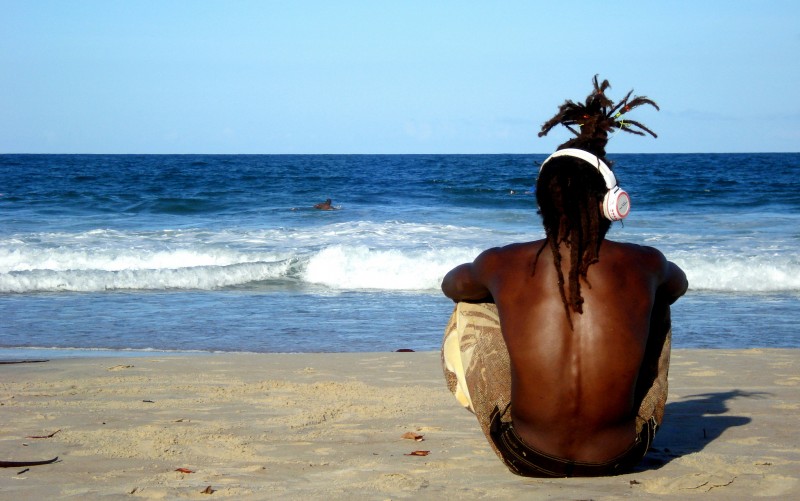 April 28, 2015 > Staff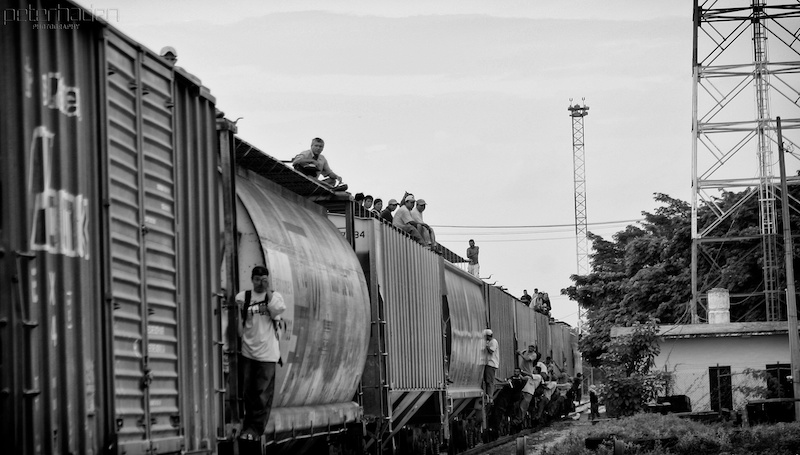 May 1, 2015 > Staff