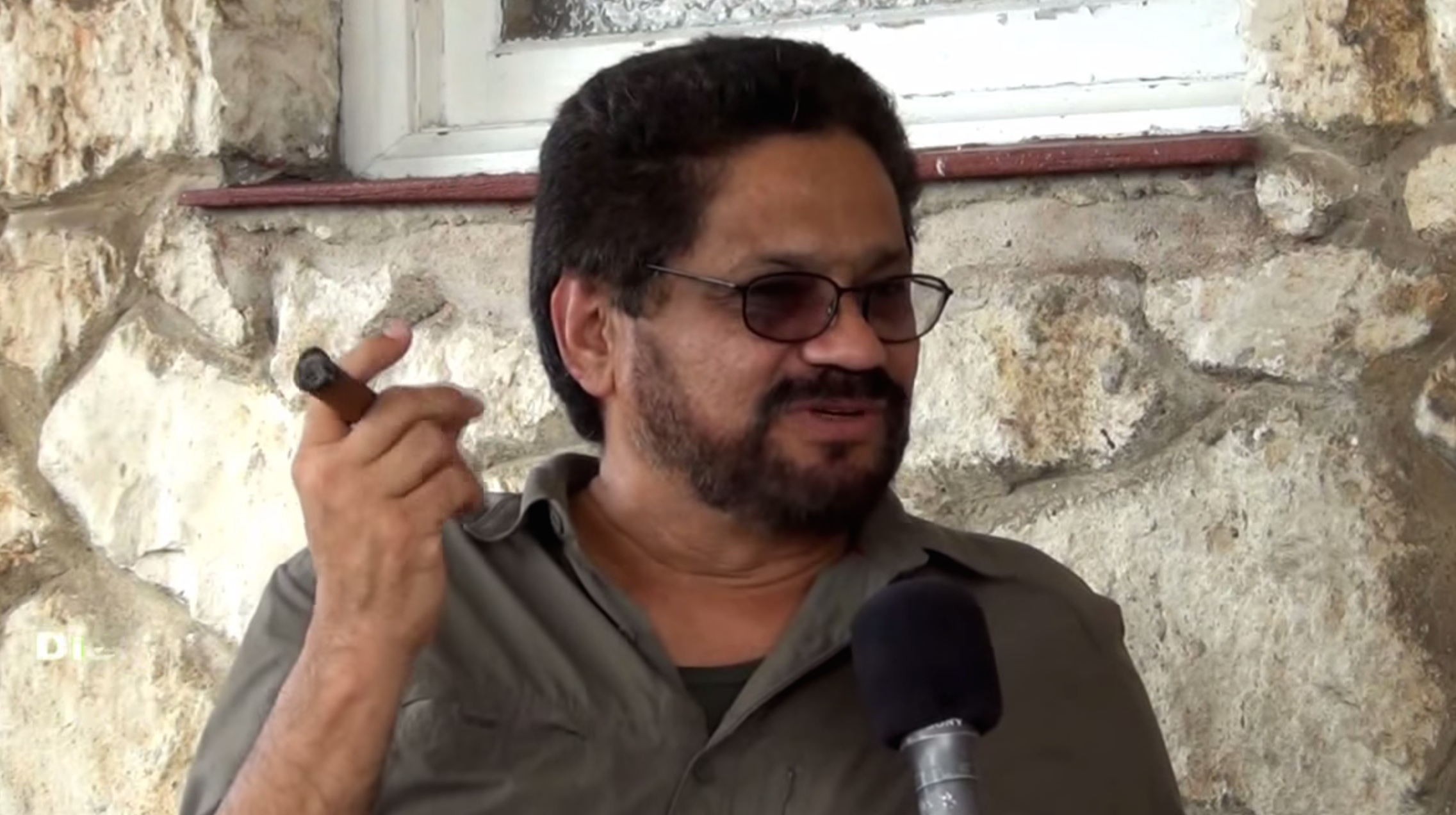 FARC negotiator Iván Márquez. (Image:
Youtube
,)
After Hiccups in Colombia's Peace Talks, Rebels Announce Unilateral Ceasefire
July 9, 2015
By Staff
Top Story — Colombia's FARC rebels on Wednesday announced they will observe a unilateral ceasefire starting on July 20, a positive sign amid a recent escalation of tensions between the guerrilla group and the government.
FARC negotiator Iván Márquez said in Havana, Cuba, that the group hopes for the government to return the gesture and call a truce, but as the BBC reported, President Juan Manuel Santos said in a Twitter post that "more is needed" before Colombia's security forces halt offensive operations. Talks are ongoing between Santos' government and the FARC in Havana.
Violence has escalated in recent months, after FARC guerrillas ambushed a military patrol on April 15, killing 11 soldiers. This prompted the government to reverse its earlier suspension of bombing raids against the FARC. Later, on May 22, the group called off its unilateral ceasefire, as the BBC notes.
Despite the escalation in the conflict since then, which has involved several attacks on oil and electrical infrastructure by the FARC as well as increased casualties on both sides, negotiations in Havana have continued apace.
Just Published in The Latin America News Dispatch
For more on the FARC's announcement of a unilateral truce and what it means for the peace talks, check out our latest piece from regular contributor Leonardo Goi.
Headlines from the Western Hemisphere
North America
California's Latino population now outnumbers the number of whites in the state, according to U.S. Census Bureau statistics, which show that 14.99 million Latinos were living in the state as of July 1, 2014, compared to 14.92 million non-Hispanic whites.
A proposed law in Mexico City, the latest in a wave of attempts to regulate private transportation services in Latin America, could force Uber drivers to carry permits and pay a percentage of revenue to a newly created city transport fund, Reuters reports.
Caribbean
Republican leaders in the U.S. House of Representatives declared on Wednesday their opposition to a bill that would allow Puerto Rico's cash-strapped municipalities to access Chapter 9 bankruptcy protection.
Haitian Foreign Minister Lener Renauld made an appeal to the international community on Wednesday for help in handling the growing migrant crisis resulting from recent anti-immigration legislation in the Dominican Republic, and called on its neighbor country to hold further negotiations to avoid mass deportations.
Central America
A protest over election rules in the Nicaraguan capital of Managua turned violent on Wednesday as police officers reportedly struck and arrested demonstrators and journalists.
Andes
Pope Francis has arrived in Bolivia on the second leg of his South America tour, where he met with President Evo Morales, who gifted him politically charged objects like a hybrid crucifix and Communist hammer and sickle.
Fifteen members of Colombia's second-largest leftist rebel group, the National Liberation Army, were detained on Wednesday over their alleged role in multiple bombings that ripped through the capital, Bogotá, in the past week.
Southern Cone
The head of the Brazilian Finance Ministry's intelligence unit announced on Wednesday that his division had identified upwards of $17.2 billion in suspicious activity related to the ongoing corruption scandal involving the partially state-run oil giant Petrobras.