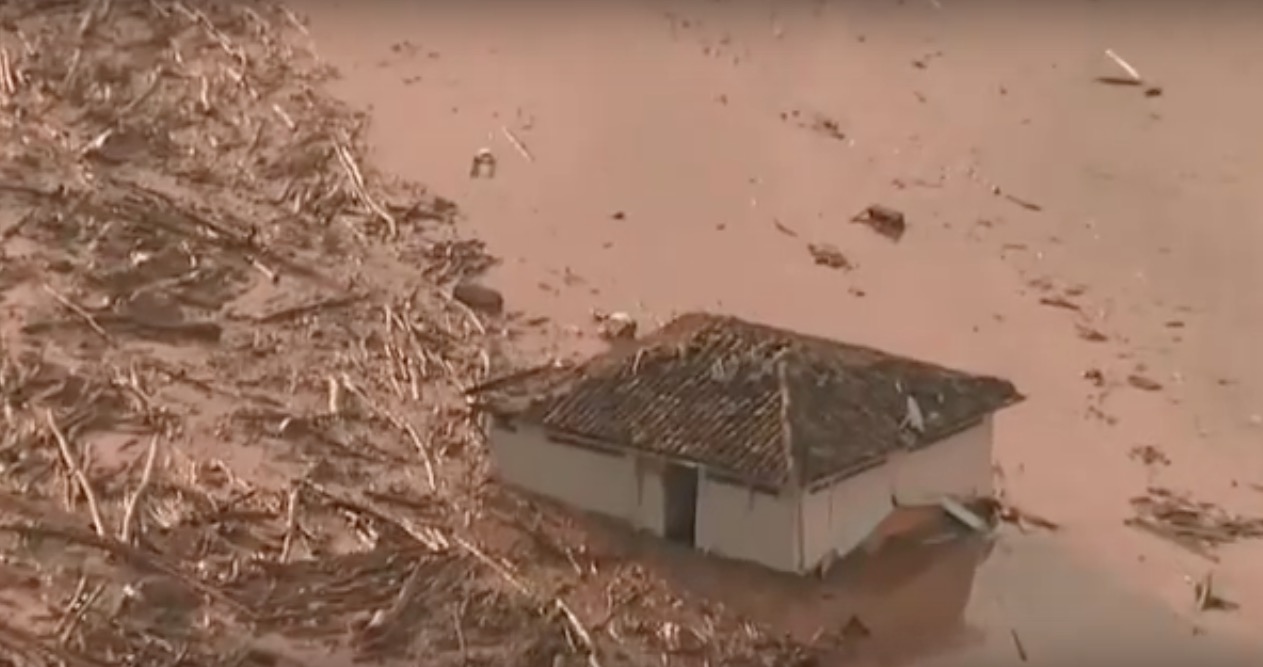 A dam break flooded the Brazilian town of Mariana with toxic mud on Thursday. (Image:
YouTube
, screenshot)
16 Feared Dead, Hundreds Displaced After Mining Dams Burst in Brazil
November 6, 2015
By Staff
Top Story — Two dams holding iron-mine wastewater broke in the southeastern Brazilian state of Minas Gerais on Thursday, flooding the nearby town of Bento Rodrigues with water, mud and potentially toxic mining tailings. Authorities have confirmed one death, though some local news sources report as many as 16 dead and many more missing.
Rescuers continued the search for survivors in the decimated town this morning. Officials said Thursday that 600 residents are being evacuated to higher elevation, but there are also concerns about more enduring effects of contamination to the local water source because of the dams' proximity to a river.
The incident is likely to reinforce public concerns about Brazil's expanding infrastructure projects. Estado de Minas, a newspaper in the state's capital city Belo Horizonte, reports that in 2014 the Minas Gerais State Foundation for the Environment found that 8 percent of structures containing toxic mining tailings in the state are unsafe.
Thursday's episode echoes controversy about flooding and watershed contamination associated with other mining and hydroelectric projects in the country, some of which have also resulted in mass displacement. At least four similar accidents have occurred in Minas Gerais state since 2001, leaving many dead and causing large-scale environmental damage and homelessness.
A statement issued by the Samarco mining company, which operates the Germano mine where the dams are located, said the cause for the break is still unknown.
Headlines from the Western Hemisphere
North America
Caribbean
Central America
Andes
Southern Cone
Subscribe to Today in Latin America by Email