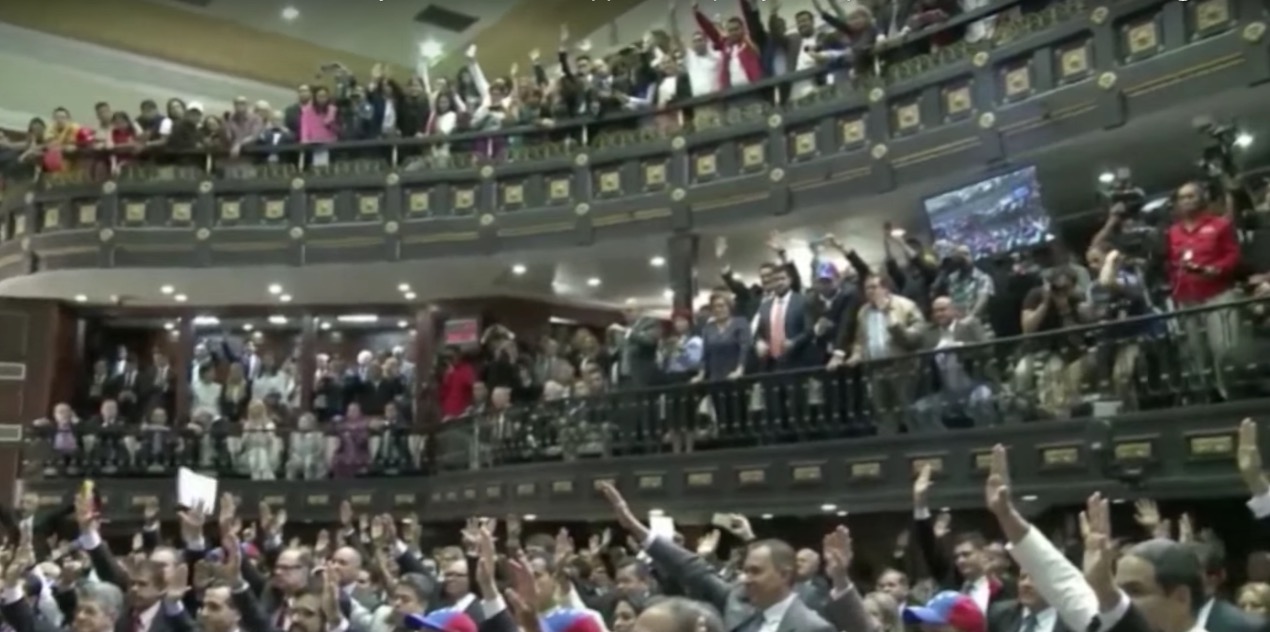 Opposition lawmakers in Venezuela are sworn in on Tuesday in the National Assembly. (Image:
YouTube
, screenshot)
Venezuelan Opposition Takes Control of Parliament Amid Shouting Match
January 6, 2016
By Staff
Top Story — Venezuela's opposition coalition gained control of congress for the first time in 17 years on Tuesday as legislators were sworn in during an animated parliamentary session that The New York Times compared to a "professional wrestling smackdown."
The Democratic Unity Roundtable, Venezuela's opposition coalition, won a coveted two-thirds majority in a landslide victory during Dec. 6 parliamentary elections. Voter frustration over economic recession, massive inflation and widespread shortages of basic goods swept the opposition Democratic Unity Roundtable coalition into power with a supermajority, which would allow the opposition-led to National Assembly to enact sweeping changes and even challenge the mandate of President Nicolás Maduro.
In Tuesday's swearing-in ceremony, pro-government and opposition lawmakers engaged in shouting matches, pushed and shoved each other and chanted slogans. Eventually, pro-government "Chavista" lawmakers stormed out of the chamber in protest of attempts by the opposition to make a speech after the leadership vote.
In what Democratic Unity Roundtable leaders described as a "judicial coup," the Maduro administration has enacted measures to curb the legislative power of the opposition-led National Assembly in the run-up to Tuesday's session. In December, while still led by Maduro's socialist government, the Assembly approved 13 Supreme Court judges. The Supreme Court then granted Maduro's request that three newly elected opposition members be suspended, thereby blocked from taking office on Tuesday and preventing the opposition's supermajority from taking effect. On Monday, Maduro signed a decree that curbs the National Assembly's authority over Venezuela's Central Bank, and allows the president to hire and dismiss Central Bank directors without the assembly's approval.
Tuesday's swearing-in ceremony signaled changes beyond the introduction of what is expected to be the first combative relationship between the Venezuelan president and the National Assembly in more than 15 years. Portraits of Maduro's predecessor, the late president Hugo Chávez, were removed from the National Assembly chamber, and members of media organizations not controlled by or affiliated with the government were allowed to attend the congressional session for the first time in years.
Newly appointed National Assembly Speaker Henry Ramos announced plans for a change of government in the next six months, according to the BBC, saying that "here and now, things will change." Some opposition members have called for a referendum that could see Maduro removed from office.
Headlines from the Western Hemisphere
North America
Caribbean
Central America
Andes
Southern Cone