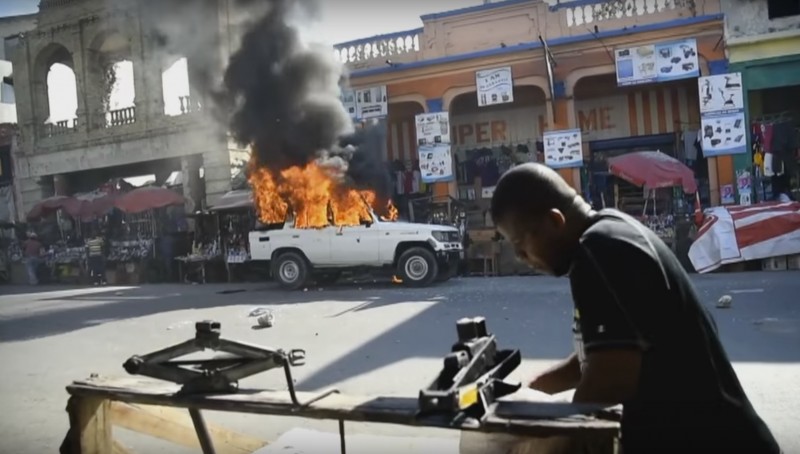 Protests have gripped Haiti in recent days. (Image:
Youtube
)
Haiti Election Postponed a Second Time, Prompting Unrest
January 25, 2016
By Staff
Top Story — Anti-government protesters took to the streets of Port-au-Prince on Saturday in response to the cancellation the day before of a presidential election. Voters were scheduled to choose on Sunday the successor to outgoing President Michel Martelly in a runoff vote between opposition candidate Jude Célestin and ruling party candidate Jovenel Moïse.
The protests come in the wake of a week of political turmoil. Célestin labeled the planned elections "a farce" on Tuesday, accusing President Martelly of favoring Moïse and subsequently announcing his boycott of Sunday's poll. Officials announced the cancellation of elections on Friday as violence began to escalate in the capital, as protesters threw rocks and called for new elections and the immediate removal of Martelly. This represents the second postponement of the runoff, which was initially scheduled for Dec. 27.
President Martelly's term ends on Feb. 7, at which point opposition protesters demand he be replaced by an interim government that would organize new elections. Protesters are critical of Martelly's perceived friendliness towards business and foreign interests, and hope for a new president who will look out for the concerns of the poor in the Western hemisphere's most impoverished nation.
The unrest continued on Sunday, prompting U.S. officials to condemn the violence. The Unite States, wary of yet another political crisis in Haiti, has contributed some $30 million in aid to ensure smooth elections.
Headlines from the Western Hemisphere
North America
Caribbean
Central America
Andes
Southern Cone