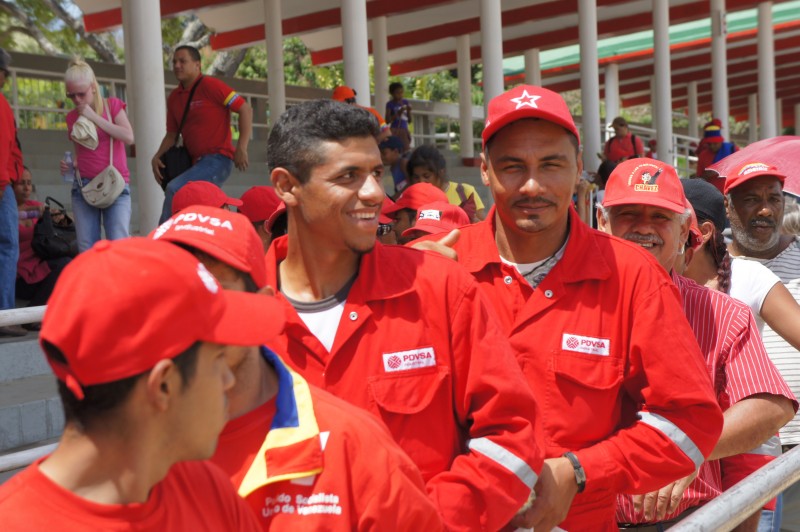 Workers from Venezuela's state oil firm PDVSA in 2013. (Image:
Luigino Bracci
, CC BY 2.0)
Aiming to Halt Crisis, Venezuela Seeks Production Freeze by OPEC
February 17, 2016
By Staff
Top Story — Venezuela's Oil Minister Eulogio Del Pino is meeting with his Iraqi and Iranian counterparts today in an effort to persuade the two countries to freeze their output of crude oil, as part of what could become the first global oil deal in 15 years. Iran, however, has already signaled that it does not intend to comply, with the country's OPEC envoy calling a potential pact "illogical."
An agreement to freeze oil production by the Organization of Petroleum Exporting Countries, of which Venezuela is a member, would be crucial for its economy. The worldwide glut in oil prices that began in 2014 has hit Venezuela particularly hard, as oil makes up about 95 percent of the country's exports and 65 percent of government spending.
Venezuela, Russia, Saudi Arabia and Qatar on Tuesday agreed to freeze production, after Venezuela unsuccessfully sought a cut in production among OPEC members. Tuesday's agreement, however, is conditional on countries like Iraq and Iran also joining the pact.
Venezuela faces an uphill battle convincing its Iranian counterparts to freeze production, as the Middle Eastern country recently began exporting oil after sanctions were lifted due to a nuclear deal. On Wednesday, the Iranian newspaper Shargh quoted Mehdi Asali, the country's OPEC envoy, as saying that Iran plans to ramp up production until pre-sanctions levels are attained.
Venezuela has experienced widespread shortages during what The Wall Street Journal calls its "worst economic slump since independence from Spain." On Tuesday, less than one week after declaring a state of economic emergency, President Nicolás Maduro replaced the hardline leftist economist Luis Salas with the more business-friendly Miguel Pérez.
Headlines from the Western Hemisphere
North America
Caribbean
Central America
Andes
Southern Cone
Subscribe to Today in Latin America by Email