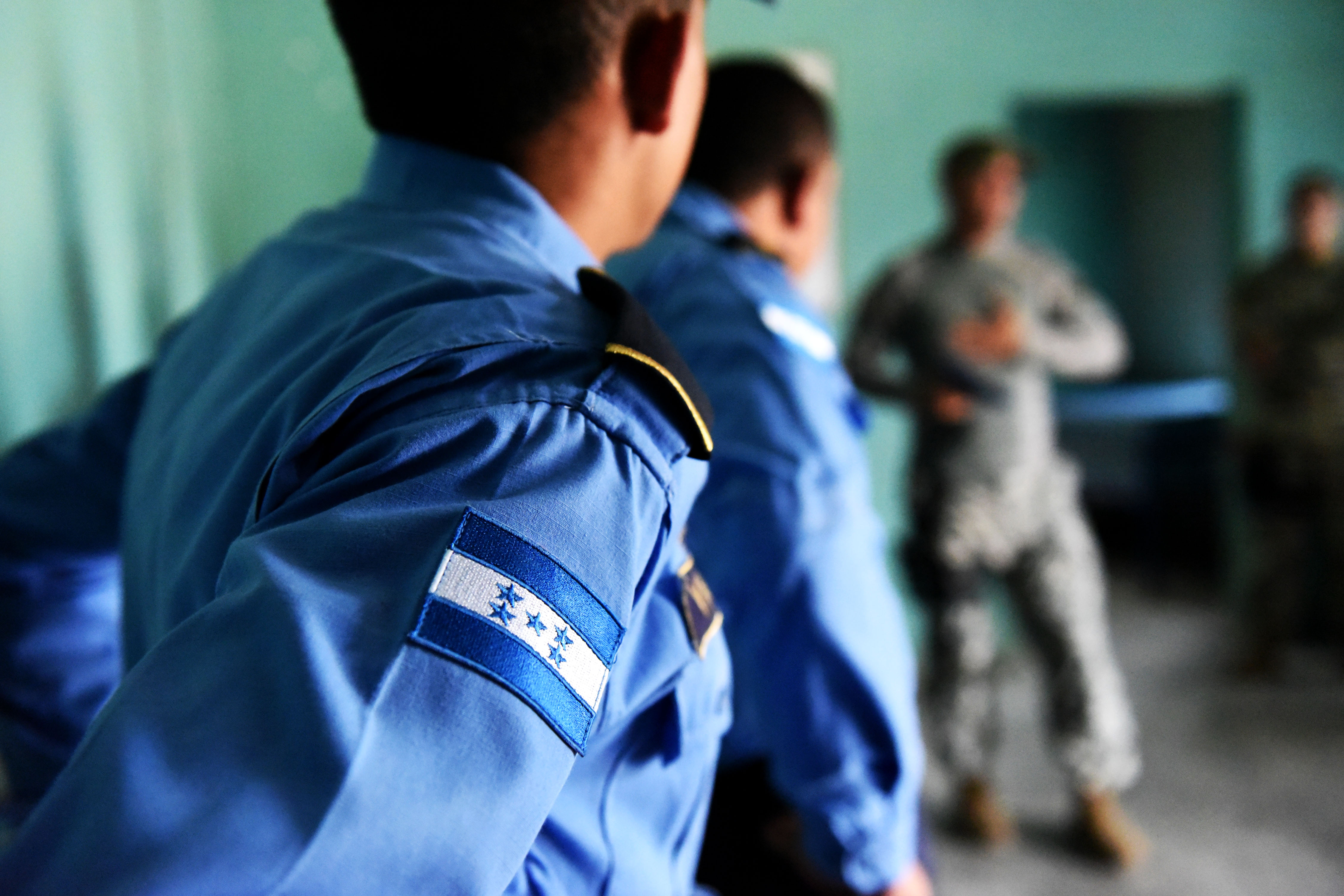 Members of the National Police of Honduras during a training in La Paz, Honduras, in 2017. U.S. Army photo by Maria Pinel
UN accuses Honduras security forces of killing protesters
March 13, 2018
By Staff
TODAY IN LATIN AMERICA
The United Nations condemned the Honduran security forces yesterday for their "excessive" and "intentional" use of lethal force that led to at least 23 deaths during the recent post-election demonstrations. A report by U.N.'s Human Rights Office of the High Commissioner found that 16 of those killed, including two children, were shot dead by security forces and that the actions by the military police "may amount to extra-judicial killings."
Protesters claim that conservative President Juan Orlando Hernández rigged the controversial Nov. 26 election. The U.S.-endorsed incumbent, who was expected to lose the election until the vote count was suspended, was declared the winner three weeks later after a partial recount. The U.N. report calls on Honduran authorities to immediately investigate the killings, restrict the use of military police and regulate the use of force so it's in line with international standards.
HEADLINES FROM THE WESTERN HEMISPHERE
NORTH AMERICA
President Donald Trump will travel to Peru and Colombia next month to discuss trade, border security and immigration, press secretary Sarah Huckabee Sanders announced yesterday. Marking his first trip to Latin America since taking office, Trump is set to attend the 8th Summit of the Americas on Apr. 14 and 15 in Lima, where he will meet Peruvian President Pedro Pablo Kuczynski. He also plans to meet with Colombian president Juan Manuel Santos in Bogotá.
A man affiliated with the Guerreros Unidos drug cartel has been arrested in connection to the disappearance of dozens of college students in Mexico in 2014. Prosecutors say the suspect, Erick Sandoval Rodriguez, played a key role in the crime, in which 43 male students were kidnapped, killed and burned by cartel members after being handed off by the police in the state of Guerrero. Rodriguez is one of 132 people arrested in the case so far.
CARIBBEAN
Jamaica's government has announced a $30 million package to fund various disaster resilience initiatives through a World Bank loan agreement. The project includes an infrastructural overhaul in systems to monitor earthquakes, hurricanes and sea level rise as well as training for the staff of a new earthquake unit at the University of the West Indies.
ANDES
Colombian President Juan Manuel Santos moved yesterday to restart peace talks with the National Liberation Army rebels, sending negotiators back to Ecuador ahead of an as-yet unscheduled round of discussions. Santos, who won the 2016 Nobel Peace Prize for a separate peace deal with the Revolutionary Armed Forces of Colombia, had suspended negotiations in January following the bloody expiration of a bilateral ceasefire, but said he would seek new talks after the rebels announced a unilateral ceasefire for Sunday's legislative elections.
Donald Trump Jr. had undisclosed business relations with a major donor to his father's presidential campaign who subsequently received privileged access to lobby the Trump administration on Venezuela, the Associated Press reported yesterday. Gentry Beach, a hedge fund manager and longtime hunting buddy of Trump Jr., reportedly tried, without success, to convince senior national security officials to loosen restrictions on the oil-rich South American country, where Beach hoped to do business.
SOUTHERN CONE
An Argentine icebreaker rescued a team of U.S. scientists who got stranded off the coast of Antarctica while conducting research in Joinville Island on Sunday, authorities announced yesterday. A U.S. vessel in the Weddell Sea, south of Argentine Patagonia, had been unable to penetrate the ice surrounding the four scientists and a support staff member.