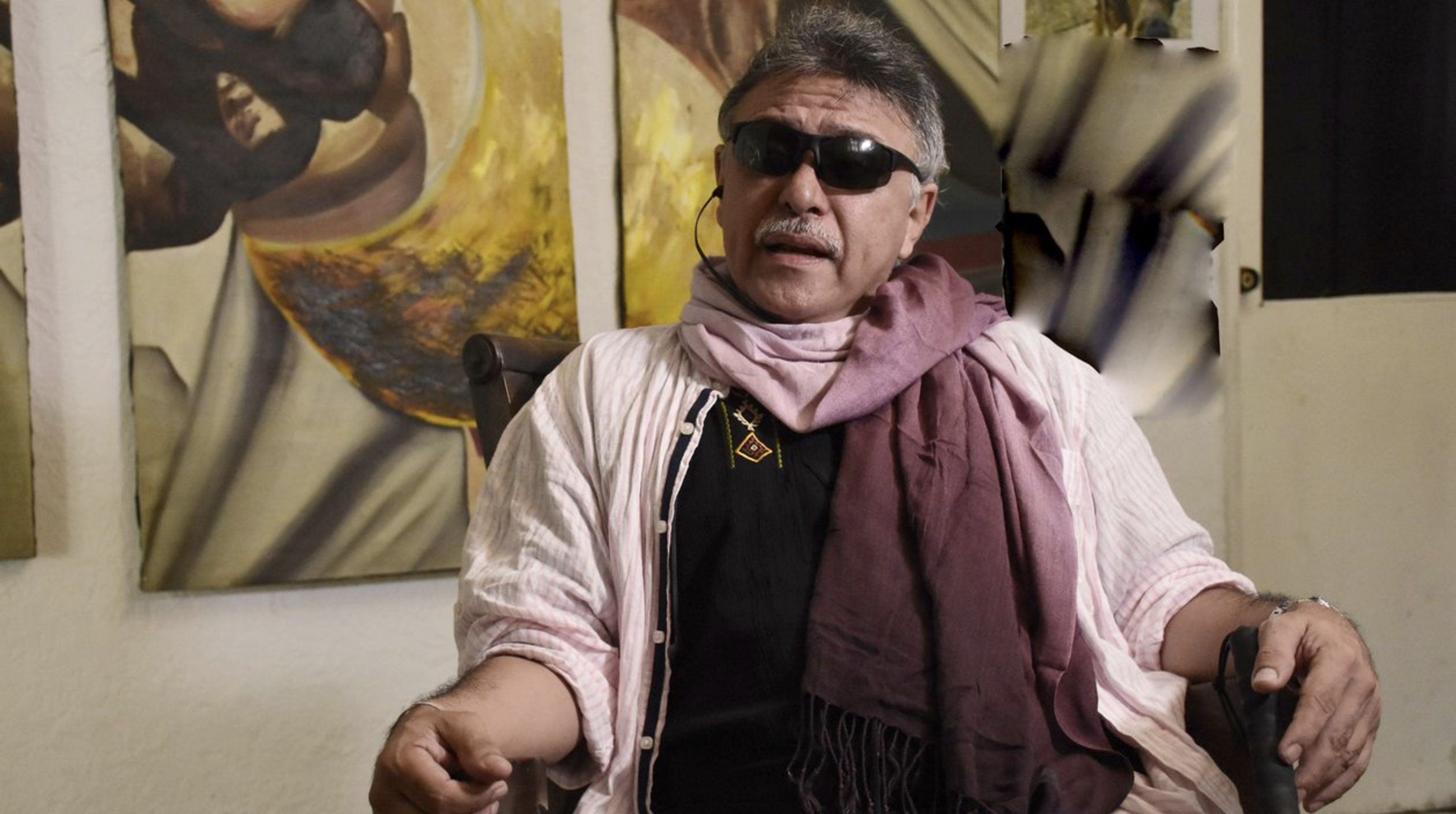 Jesús Santrich. Photo taken from Twitter. @zonacero

Former FARC leader is arrested at request of U.S. authorities
April 10, 2018
By Staff
TODAY IN LATIN AMERICA
COLOMBIA—Former FARC guerrilla leader Seuxis Hernández, best known by his alias Jesús Santrich, was arrested yesterday in his Bogotá home at the request of the U.S. Embassy, providing a critical blow to the ongoing peace process between the FARC and the Colombian government. The arrest was for allegedly conspiring to traffic cocaine and was ordered after a New York grand jury handed down an indictment on Santrich and three other co-conspirators, according to Chief Prosecutor Néstor Martínez. Santrich will face extradition to the U.S., with Colombian President Juan Manuel Santos stating that he is ready to approve Santrich's extradition if there is clear evidence of guilt. Former FARC leader known as Iván Márquez, who was chief negotiator during the peace talks, said this was "the worst moment that the peace process has gone through."
According to the peace accords, rebels who confessed to crimes that took place before the December 2016 signing would avoid jail and extradition. While the accusations against Santrich allege he was involved in a drug-trafficking scheme after this date, the move has caused general distrust among guerrilla rebels, sparking an increased fear of U.S. involvement in the Colombian peace process.
HEADLINES FROM THE WESTERN HEMISPHERE
NORTH AMERICA
UNITED STATES—U.S. President Donald Trump obtained yesterday almost half of the 4,000 troops he wants to deploy to the U.S.-Mexico border, after the Republican governors of Arizona, New Mexico and Texas pledged to send 1,600 National Guard members. Meanwhile, immigrants from the "Stations of the Cross" caravan, that came into the spotlight when Trump railed against them on Twitter, protested the deployment plan at the U.S. Embassy in Mexico City.
MEXICO-UNITED STATES—With NAFTA negotiations scheduled to continue today at the technical level, yesterday Mexican Economy Minister Ildefonso Guajardo pushed a potential initial agreement to the first week of May, instead of at the April 13-14 Summit of the Americas in Peru the U.S. government was vying for. In the face of a potential deal, automotive imports from Mexico climbed 5.3 percent in the first quarter.
MEXICO—In a last-minute session yesterday, Mexico's electoral tribunal ordered nearing midnight that Jaime Rodríguez, known as "El Bronco", be added to the presidential ballot for the upcoming elections this July. This decision follows the National Electoral Institute's determination in late March that "El Bronco", who is also governor of Nuevo León, had failed to comply with the registration process. The electoral institute had disqualified 59 percent of the signatures he presented to contend in the presidential race due to irregularities and forgery, making him fall short of the 867,000 signatures he needed. The news, according to which he is to become the fifth candidate, created uproar in social media.
CARIBBEAN
PUERTO RICO—Gov. Ricardo Rosselló announced yesterday that a $652 million investment will bolster the island's road system over the next three years, $250 million of which will be contributed by the federal government. The repairs will cover more than 780 miles (1,260 kilometers) of roads. The first $80 million will be allocated to areas in precarious conditions, which amount to 8 percent of Puerto Rico's road system.
CENTRAL AMERICA
PANAMA—Lawyers representing the Trump's family business allegedly pressured Panamanian President Juan Carlos Varela to intervene in the Bahia Grand Panama hotel legal fight. In a three-page letter dated Mar. 22, Panamanian law firm Britton & Iglesias "urgently requested" President Varela's "influence in relation to a commercial dispute involving Trump Hotel aired before Panama's judiciary." Although ultimately the Panamanian court ruled against the Trump Organization, this is the first known instance where the organization has asked a foreign leader to help with a business dispute, posing an ethical question regarding Pres. Trump's interests.
REGIONAL—A recent report by UNICEF states that Latin America and the Caribbean have become the only region in the world where child marriages have not decreased over the past decade. María Cristina Perceval, UNICEF's chief for Latin America and the Caribbean, said that "one in four women are married before 18 years old in region." Only four countries—Honduras, Guatemala, El Salvador and the Dominican Republic—have an outright ban on child marriage.
ANDES
VENEZUELA—Yesterday, Venezuela's "Supreme Court in Exile" asked Venezuelan armed forces and the Interpol to arrest President Nicolás Maduro on corruption charges. The court in exile said from Colombia's capital that Maduro oversaw a web of corruption that permitted Brazilian construction firm Odebrecht to defraud the country of around $2.5 billion. The "Supreme Court in Exile" consists of a group of 33 jurists appointed to Venezuela's Supreme Court last year by the opposition-led congress, but who fled Venezuela after Maduro declared their appointments illegal. While the court is not recognized by Venezuela, it has accused Maduro in hopes that international agencies will arrest him while he is abroad.
SOUTHERN CONE
CHILE—New immigration measures introduced by President Sebastián Piñera will require Venezuelans and Haitians to get a visa before traveling to Chile starting April 16. Chilean border authorities estimated that more than 105,000 Haitians arrived in Chile during 2017, whereas the International Organization for Migration states that there were 34,623 Venezuelans living in Chile in 2016. Prior to this, Cubans and Dominicans were the only Latin Americans requiring a visa for entry to Chile.
BRAZIL—A Brazilian association of criminal lawyers requested yesterday that the Supreme Court issue an injunction that would free former President Luiz Inácio Lula da Silva. The request, filed to Justice Marco Aurelio Mello, contends that those who are jailed but awaiting a trial at the nation's top appeals court be freed, which is the case with Lula. Even if Mello accepts the request, it would have to be approved by Brazil's Supreme Court.