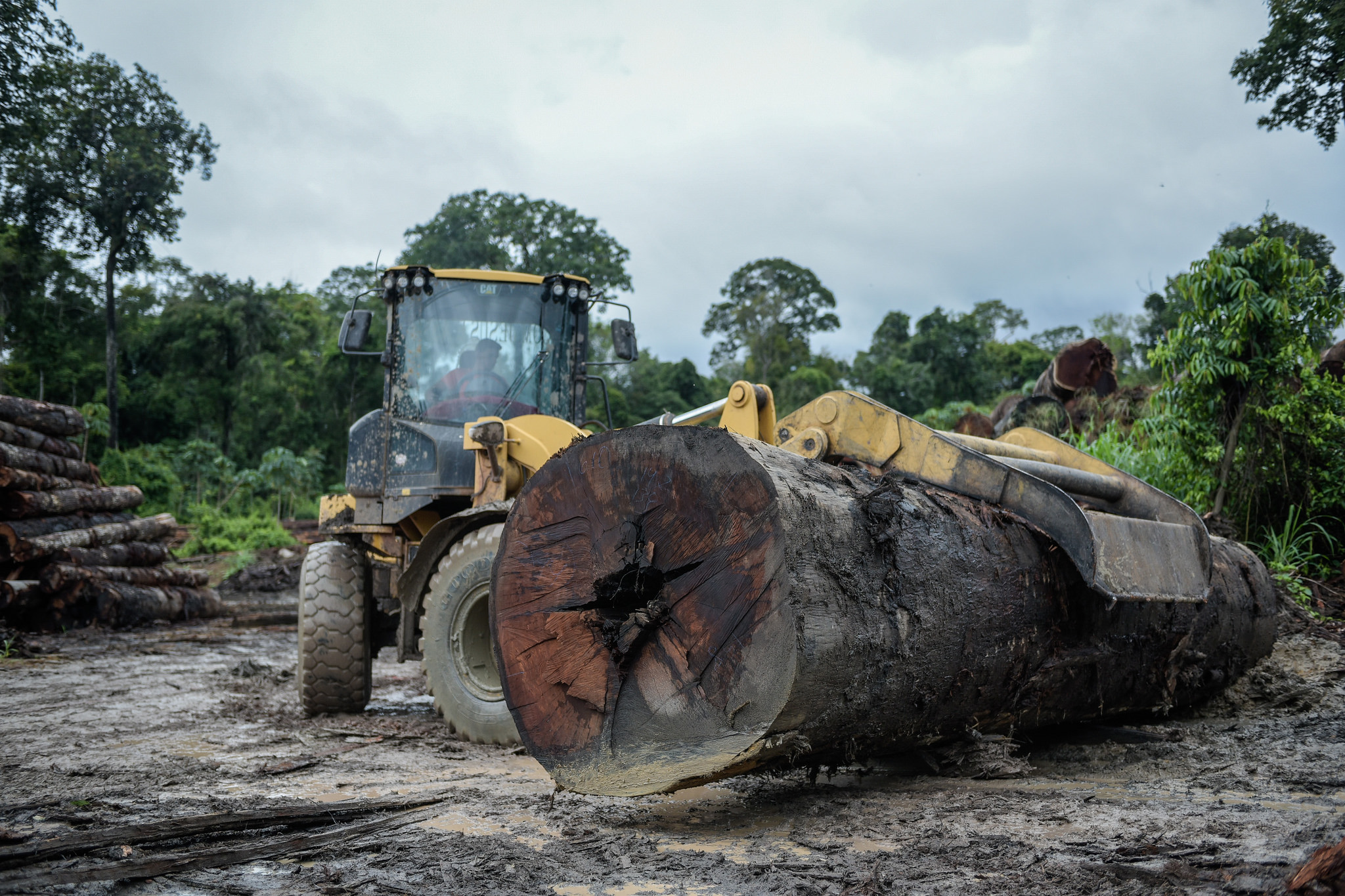 Illegal logging in the Amazon jungle has intensified in the past 50 years. Photo by Felipe Werneck/IBAMA (CC BY-SA 2.0).

Journalistic Investigation Reveals How Illegal Timber Ransacks Amazon Forest
October 1, 2018
By Staff
TODAY IN LATIN AMERICA
AMAZONIA: An international team of journalists has shed light on the mechanisms that traffickers use to ship illegal timber out of the Amazon jungle — where more than 17 percent of tree cover has been lost to deforestation. Dubbed 'Madera Sucia' (Dirty Timber), the series of stories published yesterday follow the timber trafficking trail in Peru, Bolivia, Brazil, Ecuador, and Colombia.
These countries share a system that allows trafficking networks to incorporate illegally logged timber into the global market, reporters found. In many cases, official documents validate their practices by stating that the trees were chopped down in authorized areas when, in reality, they're felled within natural reserves or indigenous lands. 
Amazon countries have responded differently to the crisis. Only Brazil and Peru have penalized illegal logging. Colombia and Bolivia, though, only consider it an "administrative fault."
HEADLINES FROM THE WESTERN HEMISPHERE
NORTH AMERICA
MEXICO: On Saturday, nearing the 50th anniversary of one of Mexico's most violent episodes of political repression, President-elect Andrés Manuel López Obrador promised never to use military forces against the Mexican people. The "Tlatelolco massacre," as the attack came to be known, occurred on Oct. 2, 1968, in Mexico City. Between 300 and 400 civilians — many of them university and high school students — were shot by army troops during a peaceful demonstration.
MEXICO / UNITED STATES: The number of tropical storms hitting the region continues to grow as Hurricane Rosa makes its way across northwest Mexico and into southwest regions of California. Rosa will leave major flooding in the Baja Peninsula and Sonora state, in addition to other mid-western states like Nevada and Utah, according to the U.S. National Hurricane Center.
CARIBBEAN
MULTIPLE COUNTRIES: Over the weekend, the tail end of Tropical Storm Kirk caused heavy rainfall and unleashed flooding and power outages in the islands of St. Lucia, Dominica, Guadeloupe, and Martinique. No casualties have been reported as several preventative measures were taken. Officials in the island Dominica declared last Thursday "not a working day", whereas Guadeloupean authorities closed schools on Friday as Kirk touched ground overnight. After the storm, the government of Barbados announced plans to bolster up its natural disaster preparedness.
CENTRAL AMERICA
COSTA RICA / NICARAGUA: In an address to the General Assembly on Thursday, Costa Rican Vice President Epsy Campbell called on the United Nations to intervene in Nicaragua, calling it an "unsustainable situation." Tensions ran high in mid-August when an anti-migrant protest targeting Nicaraguans erupted in San José's downtown plaza. Every day, around 200 Nicaraguans apply for asylum in neighboring Costa Rica.
ANDES
COLOMBIA: On Friday, Colombian President Iván Duque met with World Bank officials to discuss how the Venezuelan migrant influx has affected his country. Duque reported that more than a million Venezuelan refugees are currently living in Colombia. The Colombian government estimates that 0.5 percent of the country's gross domestic product (roughly $1.5 billion) is being spent to accommodate the needs of fleeing Venezuelans. Around 1.6 million people have left Venezuela in the wake of food and medicine shortages, as well as a deep economic depression.
SOUTHERN CONE
CHILE: The Vatican released a statement on Friday announcing that Pope Francis had dismissed Reverend Fernando Karadima from the clerical state. Karadima is a central figure in the recent sexual abuse scandal in Chile. "I hope many survivors feel a bit of relief today," tweeted Juan Carlos Cruz, a victim of Karadima's abuse. Karadima's sentence is the second laicize ordered this month. On Sept. 15, Pope Francis expelled Chilean priest Christian Precht "for the good of the church."
BRAZIL: With upcoming presidential elections, political demonstrations in Brazil have increased. On Saturday, thousands of protesters gathered on the streets of Rio de Janeiro and Brasilia to denounce leading candidate Jair Bolsonaro as a poor fit for the presidency. The crowds chanted "Not Him!" as a response to his fiery comments against women, the LGBTQ community, and people of color. Despite leading the polls with 28 percent of support, Bolsonaro also has the highest rejection rate among voters.