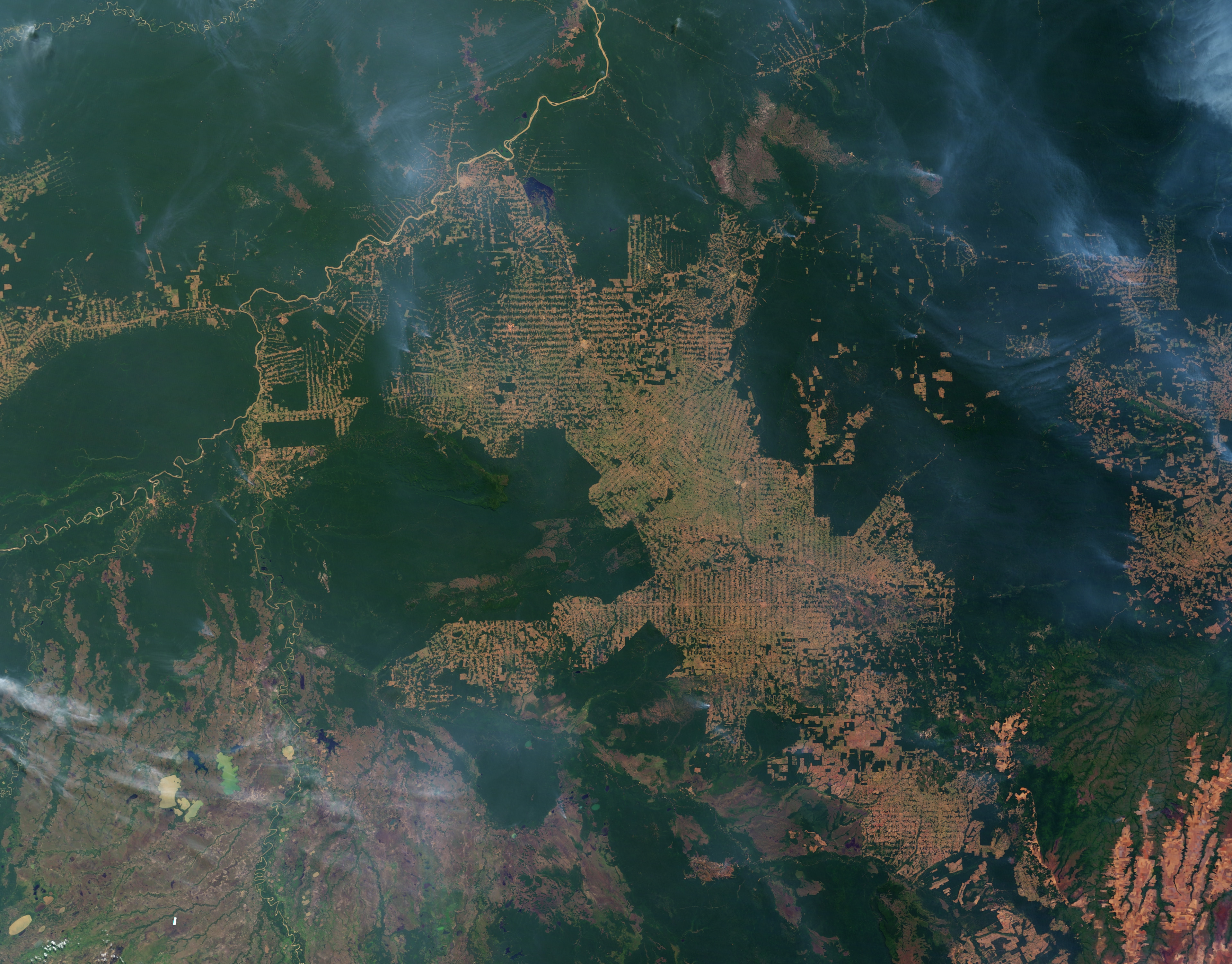 By Jesse Allen and Robert Simmon (NASA Earth Observatory) [Public domain], via Wikimedia Commons
With or Without Paris, Brazilian Politics Sway Global Climate Change
This Sunday Brazilians will vote in the second round of a presidential election that has captured the world's attention. The choice is between a representative of Brazil's leftist Partido dos Trabalhadores or Workers' Party that is still attempting to recover from a legacy of corruption, and a far-right candidate who has openly celebrated the military dictatorship he once worked for.
Far-right presidential candidate Jair Bolsonaro carried 46 percent of the votes in the first round. His opponent, the former mayor of São Paulo, Fernando Haddad, will need to collect almost all of the remaining votes in order to beat him in the runoff.
On top of the urgency this election holds for Brazil's political future, the Sunday vote has major implications for the environment. The day after Brazil's first round of elections, the International Panel on Climate Change or IPCC released its latest report finding that humans will have to drastically reduce emissions of carbon dioxide (CO2) and even remove some from the air in order to stay within a relatively safe level of warming (1.5 degrees C). Otherwise, flooding, drought, extreme heat, and ecological effects on food, health and climate refugees will be much more intense. 
Bolsonaro announced just days before the election that he would not leave the Paris Agreement as he had promised earlier in the campaign. But Climate Home and other news outlets have reported on his other plans, such as dissolving the ministry of environment into the ministry of agriculture and eliminating other agencies that regulate mining and logging, that would most likely increase CO2 emissions. His platform, according to the Brazilian organization Climate Observatory, includes plans to develop solar, wind and hydropower and increase Brazilian's use of natural gas. Bolsonaro has talked about deforestation, but mainly as a problem of population growth. The newspaper Estadão quoted him last year promising to put a stop to indigenous reserves and quilombos, lands held by afro-descended collectives in Brazil: "Where there is an indigenous land, there is a wealth beneath it. We have to change that," Bolsonaro said in a speech this past spring.
Even if laws and checks on presidential power block these promises, many are worried that Bolsonaro will bring authoritarianism back to Brazil, and do whatever he wants. New York University Professor Salo Vinocur Coslovsky said, when it comes to the environment, Bolsonaro already has the power he needs to follow through on his campaign.
Coslovsky is from Brazil, and studies environmental regulation and enforcement there. He called some of the policies Bolsonaro has proposed "blatantly unconstitutional," but he said, "The ones related to folding the Ministry of Environment into the Ministry of Agriculture, I have no question that he could do that in the blink of an eye."
Combining the agencies would likely shift priority away from protections for land, water, and air, and toward the use of those resources for business. And although he would likely need support from other branches of government to skirt or remove the indigenous and quilombo land rights sealed in the constitution, Covlosky said, especially in his "honeymoon" period, Bolsonaro would "have plenty of latitude to do that."
Constitution or no, indigenous lands have been under pressure for years. In April, more than 3,000 people went to in the capital to protest the loss of land rights within and outside the law, according to multiple news reports. An influential group of conservative lawmakers had successfully put a freeze on new land claims and cut funding to the National Indian Foundation, which was created to ensure that indigenous people actually receive the protections granted to them in the constitution. And illegal loggers and other land users continue to clear pieces of the Amazon, with sometimes violent results. According to The Guardian, Brazil is the deadliest country in the world to stand up to land development or theft, with 145 environmental defenders killed there since 2015. According to The Guardian, Bolsonaro has said he would remove authority from the two agencies, IBAMA and ICMBio, that  manage forests and police illegal deforestation and mining.
Brazil's forest policies have a global impact as well. The country's goal within the Paris Agreement is to reforest about 30 million acres, 12 million of those in the Amazon, by 2030. That's according to Brazilian scientist Carlos Nobre, who co-authored a report finding that the Amazon is already near its "tipping point", when parts of the rainforest dry out and change, irreversibly, into savannah. If that happens, the region will release way more carbon dioxide than it does now, exacerbating climate change.
"In Brazil, the main source of CO2 is deforestation," environmental historian and Brazilianist Frederico Freitas said  during a panel organized in New York City  by Dissent Magazine about climate change and leftist politics in Latin America. Freitas was describing the deforestation record of the PT during the years it held the presidency.
"In 1990, 68 percent of all of the CO2 produced came from deforestation; in 1995, 77 [percent]. And then, there is a reduction." Freitas pointed to a slide that showed deforestation decreasing by nearly two thirds between 2005 and 2013.
"Most of this change happened during the years that the PT was in the government," Freitas said. His next slide showed the amount of forest lost in the Amazon each year between the late 1980s and 2016. The downward slope began shortly after the election of Luiz Inácio Lula da Silva in 2003, and then leveled off under the next president, Dilma Rousseff.
Lula and Rousseff were foundational members of the PT, which has toppled from the popularity it held a decade ago. Even though during ex-president Lula's term there was a dip in deforestation rates, Lula was one of several leftist governments in Latin America to use revenue from drilling, mining, or agribusiness to fund anti-poverty initiatives. He promoted large hydropower projects and switched environment ministers during his second term, estranging some supporters who expected fiercer protections for the land. He gathered support by spending money from a commodity boom on social programs, and in 2009 the Washington Post quoted President Obama calling him "the most popular politician on earth." But after a corruption scandal that landed the ex-president in jail and an economic bust, the party's reputation has soured for many Brazilians.
Freitas agreed that Bolsonaro's election would be bad climate news, both in Brazil and globally. But he also wonders what will change if Haddad is elected.
"Brazil managed to reduce deforestation during Lula but never managed to actually halt deforestation," he said. (In the last few years, the rate has actually begun to climb, according to NGO research published on the environmental news site Mongabay.)
A win for Haddad is not a guarantee that Brazil will be able to reduce emissions, but his environmental platform includes proposals for a "green tax reform" and sustainable infrastructure projects. He also has a track-record of successful environmental initiatives during his office of mayor of São Paulo, including the implementation of bike paths throughout the city and the development of a zoning plan  aimed at providing more affordable housing.
Daniel Aldana Cohen, speaking at the New School on the same panel as Freitas, said the kinds of reforms advocated by affordable housing activists in São Paulo are crucial in progressive climate policy.
"What the environmental movements never really noticed, until somewhat when Haddad was mayor, was that the most successful fighters for a mixed-use, dense, live-able, affordable city were housing movements led by women of color," Cohen said. He added that this type of urban planning often results in a lower carbon footprint.
A recent survey by the Brazilian research firm Datafohla suggests health, education, and violence are the issues that matter most to voters in Brazil this year. Climate does not seem to have been a major focus for most candidates, including candidates on the Left. One exception was Marina Silva, who helped curb deforestation as Lula's first environment minister.
"The tempers are so flared up on the left and the right, the left against fascism, the right against corruption, that the environment is receding to the place it was 20, 30 years ago, into a passing thought, a very minor concern," Coslovsky said.
However, conservative environmental politics have helped right-wing politicians in Brazil consolidate power in recent years. A coalition of lawmakers interested in evangelical social values, gun rights, and agribusiness has been pulling weight in the country's legislative bodies. The Conversation reported last year that the "Bullets, Bible, and Beef" (BBB) caucus got together when Congress was debating forest policy in 2012, and has been able to foster a number of hardline conservative ideas. The caucus advanced proposals that expanded deforestation and weakened indigenous land rights and has since broadened its platform to social and gun rights issues. Bolsonaro is not officially a part of that group, but news reports published after the first round of elections indicate that the BBB caucus is likely to support his plans for the land inside Brazil.
There are plenty of challenges facing politicians in Brazil and elsewhere who want to tackle climate change in earnest. For Brazil, Cohen said, it is a question of reshaping agriculture and how cities are built, and dealing with new geopolitical, social, and technological problems. Who controls electricity generation and transmission? Who makes the machinery for renewable energy, and where do the raw materials for things like solar batteries come from? There are tensions between respecting communities' rights to consultation and quickly setting up green infrastructure, like wind farms or transmission lines. But in the near term the Left in Brazil is facing a much simpler struggle for existence.
Building coalitions in order to slow down emissions is one of the primary things leftists need to be doing in the 21st century, according to Cohen. He said, "Nothing will affect the future of the Left in the Americas more than climate change. Both its inevitable effects, those currently impossible to prevent, and the 50-year Herculean effort that we must and therefore will make to keep those warming levels safe."
Alanna is pursuing a master's in journalism and Latin American and Caribbean Studies and studying Quechua at NYU. She has experience in general assignment reporting for public radio in Alaska and Wyoming, and a B.S. in agroecology. Her research interests include land issues, farming, gender, and social movements in the Andes.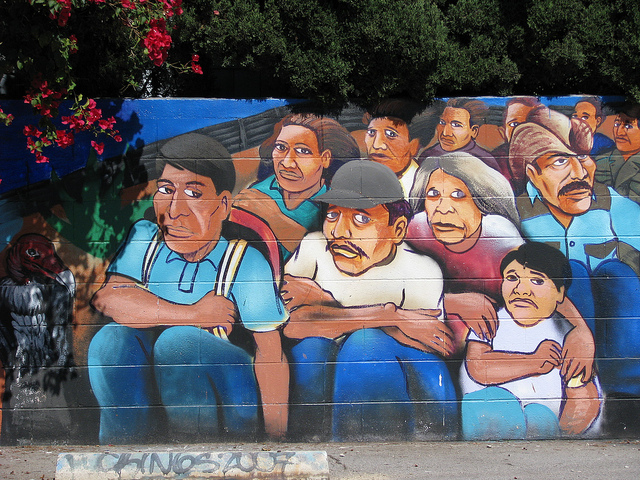 October 25, 2018 > Staff