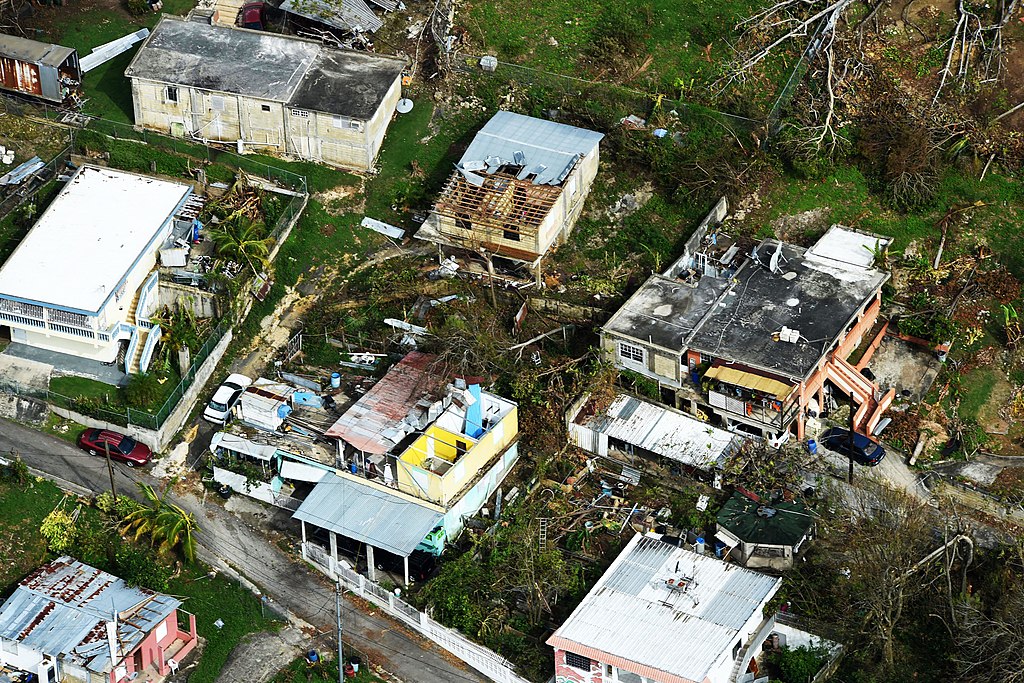 Civil Air Patrol does an aerial survey over northern Puerto Rico on Sept. 26, 2017, after Hurricane Maria impacted the island on Sept. 20, 2017. (U.S. Air Force photo by Airman 1st Class Nicholas Dutton via Wikimedia Commons).
After Extended Delay, Senate Approves Disaster Relief Funds For Puerto Rico
May 24, 2019
By Staff
TODAY IN LATIN AMERICA
PUERTO RICO: Yesterday, the Senate approved long-overdue disaster relief funds for Puerto Rico. The $19.1 billion aid package, which overwhelmingly passed on a 85 to 8 vote, ends a six-month stalemate between legislators from rival parties and President Donald Trump, benefitting millions of Americans who suffered from natural disasters like wildfires, floods, and hurricanes over the last eighteen months. The bill does not include funds for a border wall, as originally petitioned by President Trump.
Puerto Rico will receive a little over $1 billion in disaster relief from the aid package more than a year after Hurricane Maria devastated most of the island. $600 million are meant to bolster its food stamp program and $300 million will be dedicated to improving infrastructure ravaged by Maria. Experts estimate that it would take over $139 billion to "fully recover" from deadliest hurricane in Puerto Rican history.
HEADLINES FROM THE WESTERN HEMISPHERE
MEXICO: Today, Foreign Minister Marcelo Ebrard will present an "integral development plan" for Central American nations to White House officials. Ebrard is in Washington, D.C., to meet with the administration's senior advisor Jared Kushner and the acting Secretary of the Department of Homeland Security Kevin McAleenan. Mexico proposes that the U.S. funds seven projects in Guatemala, El Salvador and Honduras that aim at addressing the structural issues that drive illegal immigration. The tentative budget surpasses $10 billion.
CARIBBEAN
CUBA: The island's railway network has begun a major overhaul that seeks to modernize its historic infrastructure. This past Monday, 80 Chinese-made passenger wagons were delivered to the island. A total of 240 railway cars, priced at $150 million, will be given to Cuba over the next months. The project involves restoring 2,600 miles of tracks, refurbishing old train stations, and resuming trips between the town of Holguín and Havana, a route that has not operated since 2006.
DOMINICAN REPUBLIC: The Chinese Embassy in Santo Domingo has publicly denounced the United States of attempting to meddle with Sino-Dominican relations. The criticism comes as a reaction to a comment made by the head of the U.S. government's development finance institution, who questioned whether relations with Beijing had yielded positive results for the Dominican Republic. The Chinese Embassy said the comments were "offensive and untrue." The Dominican Republic established diplomatic relations with China just recently on May 1, 2018, inviting substantial Chinese investments since then.
CENTRAL AMERICA
EL SALVADOR: After an unsuccessful plenary in the Salvadoran legislative chamber yesterday, a bipartisan group of congressmen will meet today to revise and re-draft a new proposal for an amnesty law. If passed, the bill would soften punishments for former guerrillas and members of the Salvadoran military who were engaged in civil conflict between 1980 and 1992. Congressmen from the leftist FMLN and right-wing ARENA parties, who collectively hold 60 of 84 seats in the legislature, only need a simple majority to pass the blanket pardon to individuals who committed war crimes.
COSTA RICA: The country registered a drop in murders and increase in gun seizures this year. Homicides in the first quarter of 2019 are at their lowest point in five years, whereas 34 more weapons have been confiscated this year than in 2018. Yesterday, President Carlos Alvarado issued a new decree that toughens penalties for illegal gun carry. Costa Rican individuals caught without a gun license will face 4 to 8 years in prison.
ANDES
COLOMBIA: Yesterday, a group of civil society organizations presented a report that lambasts the governments of the United States and Colombia, plus their respective security forces, for having worsened post-conflict conditions for people living in the Colombian countryside. The report is particularly critical of President Iván Duque's failure to protect community leaders. Over 230 community leaders have been murdered in Colombia since Duque assumed office in Aug. 2018. Known as Indepaz, the civil society group demanded that Duque resumes talks with the National Liberation Army ( ELN), the last remaining guerrilla group in the country.
SOUTHERN CONE
BRAZIL: On Tuesday, the Brazilian government filed a landmark lawsuit against two tobacco companies. The first of its kind in Latin America, the case seeks to prosecute Philip Morris and British American Tobacco for 26 tobacco-related diseases in order to recover the accumulated treatment costs for patients affected over the last five years. Yesterday, a spokesperson for the American multinational tobacco company Philip Morris said that courts in Brazil have found, over the last twenty years, that "tobacco manufacturers are not liable for smoking-related damages." Nicotine dependence causes 429 deaths per day in Brazil, according to the national health authorities.
CHILE: Scientists are concerned that climate change is accelerating fractures on the ice field in Chile's Southern Patagonia. The 12,000-kilometer ice field split in two, and researchers who visited the site in March are worried that events like this will continue to occur as temperatures continue to rise on the southernmost part of the continent. On Wednesday, Chilean publication El Mercurio reported that a 208-kilometer ice block fractured off the ice field, the second largest ice mass in the world after Antarctica.