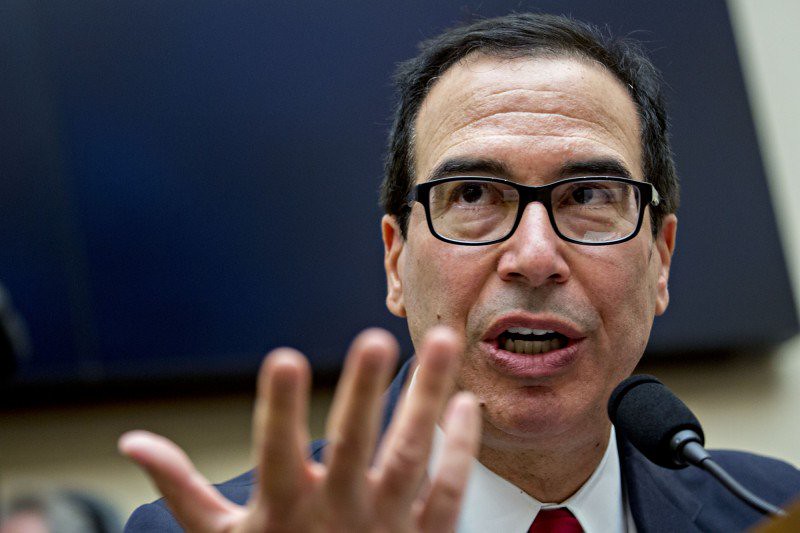 U.S. Treasury Secretary Steven Mnuchin said Maduro "is clinging to Cuba to stay in power" after the United States sanctioned a Cuban oil shipping company. (Photo via Flickr)
U.S. Sanctions Cuban Oil Company in Attempt to Weaken Venezuela's Maduro
July 4, 2019
By Staff
TODAY IN LATIN AMERICA
CUBA: Cuba's state-run oil shipping company Cubametales became the latest recipient of U.S. sanctions directed at allies of Venezuelan President Nicolás Maduro yesterday. U.S. Treasury Secretary Steven Mnuchin said Maduro "is clinging to Cuba to stay in power," while his agency lifted sanctions off an Italian company for stopping its transport of oil from Venezuela to Cuba. 
The sanctions are intended to make it more difficult for Cuba to receive Venezuelan oil at subsidized prices, which were part of a prior agreement between Hugo Chávez and Fidel Castro. If the sanctions do not directly destabilize Cubametales, they may dissuade other companies from doing business with the state-run firm.
Headlines from the western hemisphere
NORTH AMERICA
UNITED STATES: A federal judge ruled Tuesday that the government should grant asylum seekers a bond hearing instead of detaining them until their cases are decided. In April, Attorney General William Barr directed immigration judges not to release these migrants on bail. A U.S. District Court judge based in Seattle decided this approach is unconstitutional, along with the ability of Immigrations and Customs Enforcement to detain migrants who have already been released on bond as they wait for their court dates. In a statement yesterday morning, the White House press secretary said Judge Marsha Pechman's decision is "at war with the rule of law."  
MEXICO: Police freed 27 call center employees from a house in the resort town of Cancún early yesterday. Three had already been released by their captors, who had abducted the group of 30 the night before. Authorities arrested five people they believe to have carried out the kidnapping. There were no demands for ransom payments, and prosecutors said yesterday the "strongest theory" is that the kidnapping was "an act of revenge" in a fight between the company's owners.
MEXICO: Hundreds of federal police blocked roads in Mexico City yesterday to protest the country's new National Guard, which they worry will jeopardize their jobs. President Andrés Manuel López Obrador (AMLO) has criticized the federal police in favor of giving the military more influence. AMLO said yesterday that no federal police would be fired. One of the major functions of the guard so far has been to patrol Mexico's northern and southern border to reduce the number of migrants coming to the United States. These deployments are part of a deal reached after U.S. President Donald Trump threatened to place tariffs on all Mexican goods. In June, Mexico deported 33 percent more migrants than in the previous month. 
CENTRAL AMERICA
HONDURAS: At least 27 people were killed when a fishing boat capsized near Honduras yesterday, and 47 others were rescued. The boat had set off near the Nicaragua-Honduras border and sunk in the Caribbean Sea. The poor weather conditions brought down another boat in the same area earlier that day, but all 49 passengers were rescued. The fishermen onboard were beginning the lobster season, which lasts until February.
CARIBBEAN
PUERTO RICO: The federal board that directs Puerto Rico's budget sued Gov. Ricardo Rosselló yesterday for greenlighting tens of millions of spending outside the budget and signing nearly two dozen resolutions with appropriations that were not approved by the board. The group is also seeking the reversal of a new law that would require the central government to pay for municipal pensions and health insurance. A representative for the governor said his administration has been committed to fiscal responsibility. The lawsuit is part of an ongoing struggle between Puerto Rico's government and the board, which was created by Congress' PROMESA Act. 
PUERTO RICO: A Delta Air Lines jet on its way to New York from Puerto Rico yesterday returned to the island after a passenger tried to enter the cockpit. Police said the 30-year-old passenger yelled, "I am God. Tomorrow San Juan is going to disappear. I came to save the world, and I'm going to end terrorism." The airline expected the flight, which was carrying 166 people, to arrive two hours late in New York. The FBI is investigating the incident, according to authorities. 
ANDES
VENEZUELA: A dispute about the autopsy of navy captain Rafael Acosta has heightened tensions in Venezuela surrounding his death in custody. On Monday, forensic scientists from the country's Public Ministry examined the body in secret and concluded there were no signs of torture. However, a report leaked by Zair Mundaray, a former prosecutor now in exile, said the body had fractured ribs, a broken nose, bruises on the thighs and burns on the feet. Acosta's widow also claims he was tortured to death. 
COLOMBIA: Jesús Santrich, a congressman and former FARC commander, remains missing after he disappeared Sunday. Santrich is supposed to appear before the country's supreme court on July 9 over allegations that he conspired to traffick 10 tons of cocaine to the United States after the historic 2016 FARC peace agreement was signed. Santrich's son says he fears his father has been kidnapped or killed, while Colombian President Iván Duque claims he is trying to escape his court date. If he fails to show up on July 9, he could be arrested. 
SOUTHERN CONE
BRAZIL: Reports have circulated claiming that Brazil plans to investigate U.S. journalist Glenn Greenwald, who published the leaked messages between prosecutors and Brazilian Justice Minister Sergio Moro, who was then a judge, in The Intercept. The messages shed light on possible corruption on Moro's part and his role in convicting former President Luiz Inácio Lula da Silva. Brazil's Bar Association, along with journalists and opposition lawmakers, have condemned the alleged investigation into Greenwald. The Freedom of the Press Foundation issued a statement saying an investigation would be "a shocking violation of his (Greenwald's) rights as a reporter."