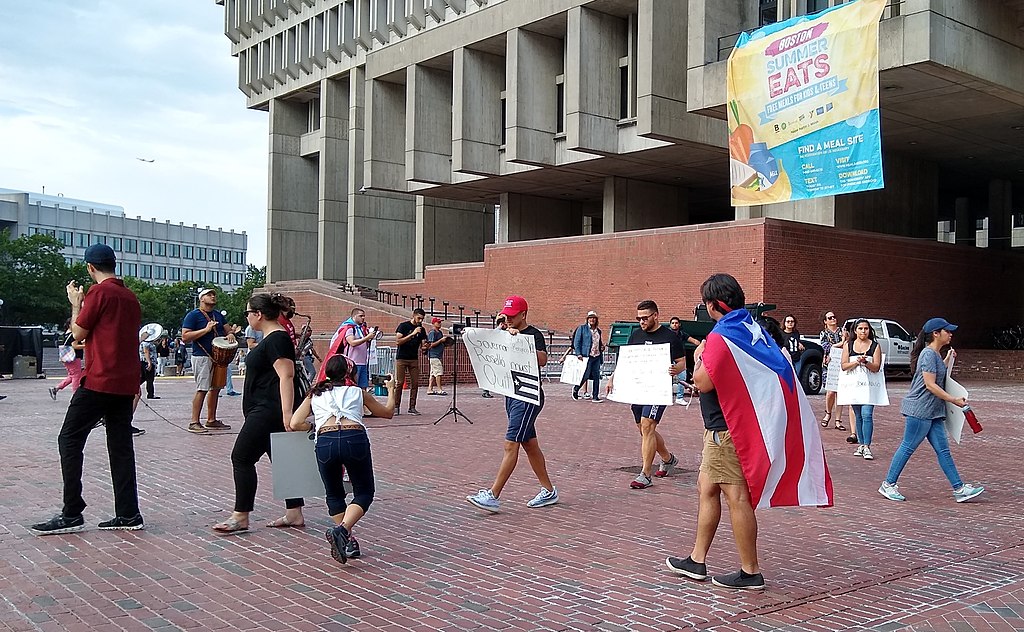 A demonstration against Ricardo Rosselló in Boston, Massachusetts, one of the many U.S. cities where another round of protests is expected to take place today. (Photo by Whoisjohngalt via Wikimedia Commons).
Multitudes Demand Rosselló's Resignation In Puerto Rico
July 18, 2019
By Staff
TODAY IN LATIN AMERICA
PUERTO RICO: Fed-up with government corruption, thousands of Puerto Ricans marched to La Fortaleza in Old San Juan, calling for the resignation of Governor Ricardo Rosselló who yesterday refused to leave office for the second consecutive day. Prominent Puerto Ricans, including past Miss Universe winners, recording artists, and athletes congregated in front of the official residence with the support of an estimated 100,000 people. The Puerto Rican diaspora in countries like the Netherlands, Spain, Eslovenia, and Sweden participated in the demonstrations against the governor. In New York City, acclaimed playwright Lin-Manuel Miranda echoed the demands of Puerto Ricans, saying that "Rosselló has lost the people's trust."
Headlines from the western hemisphere
NORTH AMERICA
UNITED STATES: The Trump administration intends to divert humanitarian aid funds from Central American nations to the Venezuelan opposition led by Juan Guaidó. According to the Los Angeles Times, a USAID memo notifies Congress that the $41.9 million in aid would be sent to the U.S.-backed president of Venezuela "out of national interest" of the United States. The disbursement would serve to pay for officials' salaries, airfare, and "good governance training," among others. 
MEXICO: In partnership with Ulta Beauty, an American cosmetic company, the Frida Kahlo Foundation has announced it is launching a makeup line. Inspired by the Mexican painter, the collection includes floral headbands, an artist's brush set, and a  "brow-master palette" that could be used to reproduce Kahlo's well-known unibrow, illustrated in her self-portraits. The launch has faced backlash, as it has revived conservations about Kahlo's vocal critique of consumerism.  
MEXICO: President Andrés Manuel López Obrador announced significant budget cuts for the Mexican Olympic Committee. The austerity measures will impact the athletes' access to food and medical attention at the Centro Deportivo Olímpico Mexicano (CDOM) in the capital, which will close on July 31 after allegedly missing $4.7 million to operate will full services. AMLO has described his policies as "republican austerity," saying that Mexico cannot "run a rich government for poor people." 
CARIBBEAN
CUBA: Nationwide power outages to stop by Saturday, according to the island's energy ministry, who blame the intermittent cuts in service on "planned improvements on the electrical grid." Minister Raúl Barrera García Barreiro said that three power plants reported technical issues and that two other facilities had been closed for renovations. Cubans have been experiencing disruptions throughout the week, with cuts reported in the mornings and the evening across the island. 
CENTRAL AMERICA
PANAMA: Yesterday, two Panamanian lawyers filed a lawsuit against former president Juan Carlos Varela (2014-2019) for the alleged crimes of money laundering, organized crime, and illicit association. Miguel Antonio Bernal and Sidney Sitton, who participates in former president Ricardo Martinelli's (2009-2014) legal team, believe that the recently unseated head of state "has a high degree of involvement" with Odebrecht, the Brazilian construction firm in the middle of corruption scandals across Latin America. 
ANDES
ECUADOR: Former President Rafael Correa (2007-2017) admitted that Julian Assange used the Ecuadorean Embassy in London to "interfere with U.S. elections" in 2016. In an interview with CNN, Correa said that Ecuador did not allow the meddling to continue because the country "has principles, very clear values, as we would not like anyone to interfere in our elections. The comments come a day after the network published an intelligence memo detailing how the founder of WikiLeaks turned the embassy "into a command post" where he allegedly orchestrated leaks of damaging information during the U.S. presidential race in 2016. 
PERU: A fire destroyed around 40 houses in Northern Peru, affecting around 80 families Amazonian port city of Iquitos. Local news stations report that the incident started on Monday afternoon after a wood-fired stove was "not completely extinguished" in a house in the neighborhood of Alejandro Toledo. On May 9, a short circuit caused a fire that consumed ten buses parked at a station in the city.  
SOUTHERN CONE
ARGENTINA: The government has created an anti-terrorism database, coinciding with the 25th anniversary of the attacks on the Jewish Community Center (AMIA), which will be commemorated today. The Security Ministry, federal police, and the Directorate of Migration will be able to determine which organizations will be included in the "Public Registry of People and Entities Linked to Terrorism and it's Financing," known as RePET. Hezbollah has been declared a terrorist organization by the government. The political party and militant group are blamed for the AMIA bombings in 1994, which resulted in 85 deaths. 
BRAZIL: French prosecutors want Air France to face trial for an Airbus A330 plane crash that caused 228 deaths in Rio de Janeiro in 2009. Inspectors believe that the airline was aware of aircraft's problems with the instrument measuring speed but failed to inform the pilots on board the Rio to Paris flight. In 2011, after two years of failed searches, sonar detectors attached to a submarine found the jet's wreckage on the oceanic bed six miles north of its last known location. 
CHILE: Yesterday, President Sebastián Piñera announced that Chile has officially joined a South American bid to host the 2030 FIFA World Cup. The ticket already includes Uruguay, Argentina, and Paraguay. The four nations will compete against Morocco and a joint-bid from Romania, Bulgaria, Serbia, and Greece, who have also expressed their intention to host the football tournament. The competition will be celebrating its centennial anniversary since Uruguay organized the first World Cup in 1930.