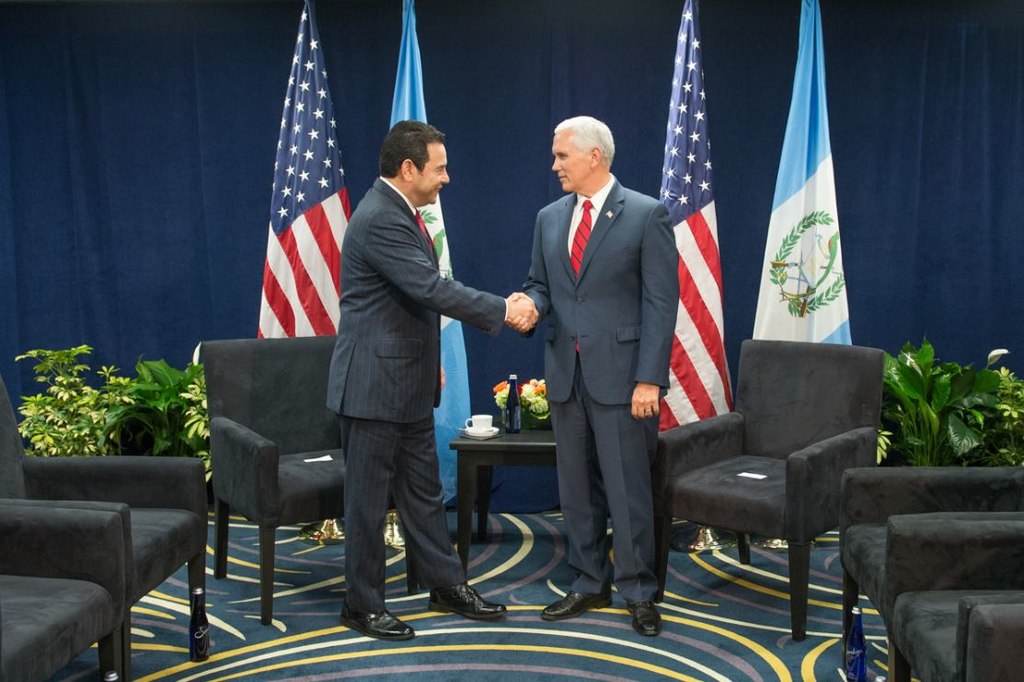 U.S. Vice President Mike Pence meets with Guatemalan President Jimmy Morales in Miami, Florida on June 15, 2017, at the inaugural Conference on Prosperity and Security in Central America. Bilateral talks to stem migration from the region have been taking place since the Trump administration assumed office in 2016. (Photo by The White House via Wikimedia Commons.)
Guatemalans Protest The Signing Of 'Safe Third-Country' Pact With U.S.
July 29, 2019
By Staff
TODAY IN LATIN AMERICA
GUATEMALA: After tariffs and travel ban threats, Interior Minister Enrique Degenhart signed a "safe third country" agreement with the United States on Friday, restricting asylum applications to the U.S. from Central America. The migratory pact would force Salvadorans and Hondurans to apply for asylum in the U.S. once they enter Guatemala. Although many questions remain about its implementation, acting Director of the Department of Homeland Security (DHS) Kevin McAleenan said that the program could begin operating "sometime in August." The agreement has been regarded as "cruel and unlawful" by immigrant advocacy groups, who staged a protest in front of the presidential residence on Sunday, calling President Jimmy Morales a "national traitor."
Headlines from the western hemisphere
NORTH AMERICA
BORDER: On Friday, the U.S. Supreme Court cleared funds to build a wall in the U.S.-Mexico border, a campaign trail promise that remains unfulfilled by the Trump administration. The $2.5 billion will derive from unspent Pentagon money, allowing for more robust fencing to be erected in parts of Arizona, California, and New Mexico. President Trump welcomed the court's ruling, calling it a "big win for border security and the rule of law."
CARIBBEAN
CUBA: The former Archbishop of Havana, Cardinal Jaime Lucas Ortega Alamino, passed away on Friday at age 82. In his New York Times obituary, Cardinal Ortega is described as "a Cuban bridge to the United States" for his pivotal role in re-establishing bilateral relations during the Obama administration. Pope Francis sent his condolences over the weekend, praising the Cardinal Ortega's advocacy for Cuba's poor.
DOMINICAN REPUBLIC: Baseball star David Ortiz has been released from Massachusetts General Hospital following a shooting in Santo Domingo seven weeks ago. The bullet passed through Ortiz, perforating his intestines and internal organs, which required three different surgeries, two of which took place in Boston. The former Red Sox slugger was shot in the lower back June 9, allegedly the victim of a mistaken identity shooting that intended to target a friend of Ortiz.
PUERTO RICO: Secretary of Justice Wanda Vásquez, set to replace Ricardo Rosselló as governor of Puerto Rico, said Sunday that she does not want the job. In a tweet, Vásquez requested that Rosselló "identifies a candidate" to assume the role of Puerto Rican governor on Aug. 2. A demonstration will take place today in front of the Justice Department, asking for Vásquez's resignation, who is being accused of poor performance during her time as the island's chief prosecutor.
CENTRAL AMERICA
HONDURAS: The government announced an employment initiative in collaboration with Mexico, which reportedly will create 20,000 new jobs between now and December. The program, reportedly aimed at coffee farmers, puts people to work planting trees and remunerates young students a small monthly stipend while they are studying. The agreement was signed by President Juan Orlando Hernández on Saturday when he met with his Mexican counterpart in the state of Veracruz.
ANDES
COLOMBIA: On Friday, Thousands marched in protests across 80 cities in Colombia to protest the alarming wave of violence that has resulted in hundreds of activists' slayings. Demonstrators held signs that read "No more bloodshed" and "Without leaders, there can be no peace." The exact number of killings is disputed. While the government says 289 social leaders have been murdered since 2016, Colombia's ombudsman puts the number at 479. Local NGO Indepaz estimates lie on 837 executions since the historic peace deal.
COLOMBIA: Colombian cyclist Egan Bernal won Latin America's first-ever Tour de France victory yesterday. The Zipaquirá native successfully defended his lead position on Saturday's stage, earning him the yellow jersey on Sunday's final stage through Champs-Élysées in Paris. At just 22 years, Bernal also became the youngest Tour de France winner in the last 110 years, captivating an entire country after winning the most prestigious race in competitive cycling.
PERU: During a televised address to the nation, President Martín Vizcarra proposed ending legislative and presidential terms a year early and hosting elections next year in July. Vizcarra said that "every one of us must go" to "end the institutional crisis" in the country. Peruvian opposition has shown its restraint with the initiative, saying that they will respect the power bestowed to in the constitution and "defend the legislature." Before being approved, the proposal would require a ratification process through a national referendum.
SOUTHERN CONE
CHILE: The Navy has confirmed an oil spillage in a remote area of the Chilean Patagonia. Mining company CAP reported a leak in their Guarello Island terminal, losing about 10,500 gallons of diesel into the waters of the South Pacific Ocean on Saturday morning. The Navy launched a mitigation protocol and sent an emergency response team to the area, known for its important biodiversity. CAP released a statement saying that the spillage was under control.