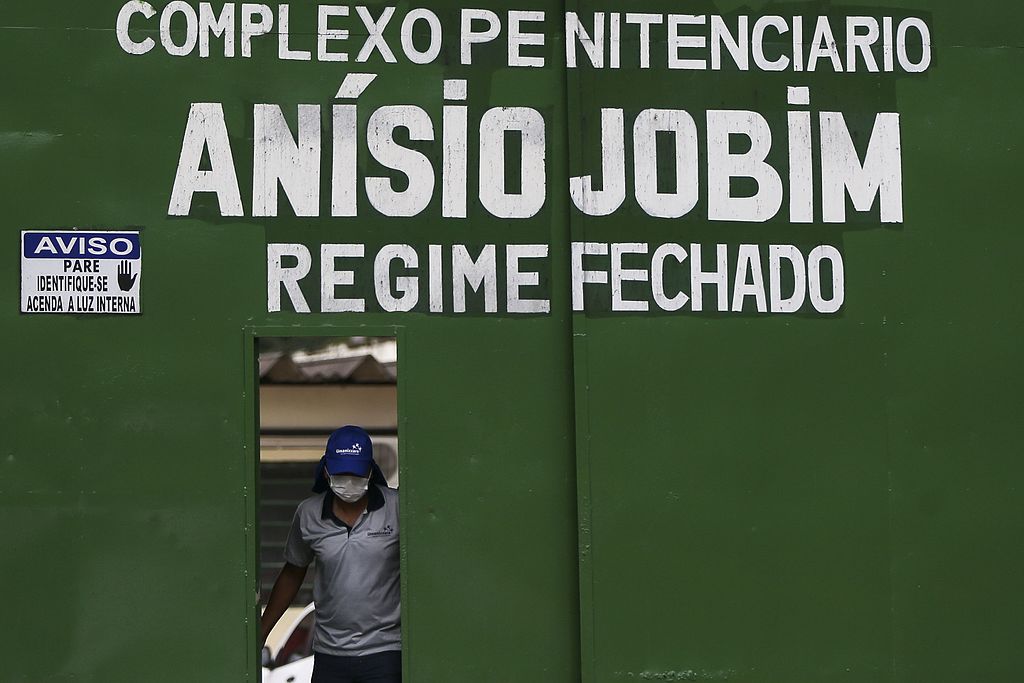 Main gate of the Anísio Jobim Penitentiary Complex located in the Amazonian capital of Manaus, where 57 prisoners died following clashes among inmates on May 27, 2019. (Photo by Marcelo Camargo of Agencia Brasil via Wikimedia Commons).
Another Brutal Prison Riot Leaves At Least 57 Dead in Brazil
July 30, 2019
By Staff
TODAY IN LATIN AMERICA
BRAZIL: A clash between rival gangs left at least 57 dead in the Altamira prison in northern Brazil yesterday. Local authorities confirmed that 16 inmates were decapitated, while the rest are believed to have asphyxiated after a group of prisoners set a part of the correctional ablaze. Similar to the incidents that took place earlier this summer across four prisons in Manaus, security specialists attributed the riots in the state of Pará to a territorial dispute for the lucrative drug trade in the Brazilian Amazon region. Yesterday's riot became the deadliest this year in Brazil.
Headlines from the western hemisphere
NORTH AMERICA
BORDER: Led by led by House Democratic Caucus Chairman Hakeem Jeffries of New York, twenty Democrats will head to the border this week. Participants will begin in the Mexican border city of Ciudad Juárez and stop at a port of entry and a facility operated by Customs and Border Protection (CBP). The traveling delegation also includes members from the Congressional Black Caucus, the Congressional Hispanic Caucus, and the Congressional Asian Pacific American Caucus.
MEXICO: Among widespread rejection, the country celebrated its second-ever transgender beauty pageant over the weekend. Out of the 21 contestants participating, 27-year-old Ivanna Cázares, representing the Western state of Colima, won the second edition of Belleza Trans México 2019, which seeks to bring visibility to the marginalized LGBTQI community. The three-part competition included bikini wear, regional costume, and formal dress.
CARIBBEAN
ST. KITTS AND NEVIS: Today, the government will introduce new legislation in Parliament aimed at decriminalizing marijuana in the country. Prime Minister Dr. Timothy Harris will present amendments to Parliament, which seeks to allow for the "regulated and controlled use of marijuana for medicinal, scientific, religious and recreational purposes" in St. Kitts and Nevis. The twin-island nation created a National Marijuana Commission that presented a report Harris' cabinet, who accepted its recommendations on Feb. 20, 2019.
CENTRAL AMERICA
REGION: Mexico's President Andrés Manuel López Obrador has pledged $90 million a year to the three Northern Triangle countries as a regional development plan to tackle migration from Guatemala, El Salvador, and Honduras. López Obrador's opponents have accused him of "bowing" to the United States' immigration agenda to the detriment of Mexicans. The investment announcement comes a day after AMLO vowed to help Honduras through a reforestation program that plans to create 20,000 jobs.
GUATEMALA: In an attempt to invalidate the new migratory pact with the United States, Jordán Rodas, Guatemala's human rights ombudsman, submitted an appeal to the Constitutional Court yesterday. Rodas argues that Article 52 of the Vienna Convention "signals that any treaty or agreement that has been obtained under threats is null." The human rights prosecutor is also asking for the resignation of Interior Minister Enrique Degenhard, who signed the agreement in Washington on Friday "without having the constitutional authority to do so."
PANAMA: On Saturday, Panamanian security forces seized 4 tons of cocaine in Isla Colón, close to the border with Costa Rica. Five Colombian nationals transporting 3,989 bricks of cocaine were intercepted by airships as they tried to reach the coastline. In 2017, Panamanian authorities confiscated a record of 84.6 tons of the narcotic. It is estimated that 80% of the cocaine consumed in the United States goes through Central America.
ANDES
VENEZUELA: Carlos Cruz-Diez, regarded as a pioneer of kinetic and optical art, passed away on Sunday at age 95. Cruz-Diez studied art in the Venezuelan capital, worked as an illustrator for the newspaper El Nacional, founded a visual arts school in Caracas, and moved to France in 1959 to teach the aesthetic discipline. He developed a reputation as one of the most innovative and prominent Latin American artists in the second half of the 20th century, saying that his "art changes because light constantly changes." His work remains on display in Paris, London, Riyadh, and Panama City.
SOUTHERN CONE
PARAGUAY: Foreign Minister Luis Alberto Castiglioni resigned yesterday amid a growing scandal involved a multi-million dollar energy deal with Brazil that the opposition has called "secretive" and "against national sovereignty." The contract, related to the world's largest hydroelectric plant, Itaipu, allegedly cost the state around $200 million. Three other officials also resigned yesterday: Alcides Jimenez, the head of state power company ANDE; Hugo Saguier, Paraguay's ambassador to Brazil; and José Alderete, the Paraguayan director of Itaipu. This is the first political crisis of President Mario Abdo Benítez, who was asked by the Paraguayan Senate to "act transparently" and clarify the details of the energy deal that was signed in May but only revealed to the public last week.
BRAZIL: Citing lack of evidence, the São Paulo prosecutor's office said yesterday that it would not press rape charges against Neymar. The forward has vehemently denied accusations that he sexually abused 26-year-old Najila Trinidade in a Paris hotel room. Both Neymar and Trinidade appeared before the police and testified in June. As the case dragged on, police filed a defamation suit against Trindade after she suggested the force was corrupt during a TV interview. A judge will make a final ruling on the case.