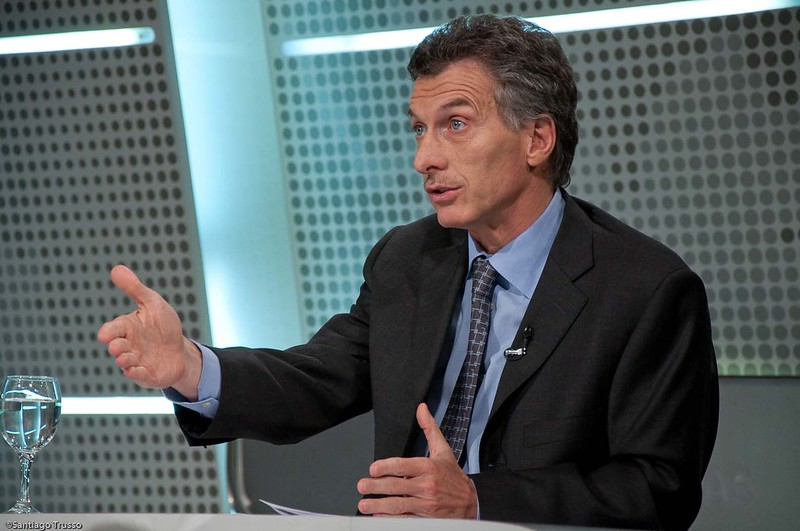 Current Argentine President Mauricio Macri will face off against the Fernández-Fernández ticket, with Alberto Fernández running for president with former-President Cristina Fernández de Kirchner as his running mate, in Argentina's Oct. 27 presidential elections. (Photo by Santiago Trusso via Flickr)
Argentine Presidential Candidates Duel at First Public Debate
October 15, 2019
By Staff
TODAY IN LATIN AMERICA
ARGENTINA: Argentina's six presidential candidates participated in their first public debate broadcast from the city of Santa Fe yesterday. Frontrunner Alberto Fernández and current President Mauricio Macri faced off over the state of the Argentine economy, past corruption scandals and a national debate over abortion legalization. Fernández took a more aggressive position during the debate, calling Macri a liar and constantly denouncing his history as president.
Fernández called for "getting Argentina back on its feet" and returning to a "productive economy," a reference to the financial crisis Macri has been unable to resolve. He also took a clear stance in favor of legalizing abortion, an issue of heightened debate in the past year, while Macri remained neutral on the subject. However, Macri fired back by bringing up past corruption within Fernández's running mate's, Cristina Fernández de Kirchner, administration. The second and final debate before the Oct. 27 presidential elections will be held in Buenos Aires on Sunday.
Headlines from the western hemisphere
SOUTHERN CONE
BRAZIL: The northeastern state of Bahia has declared a state of emergency as at least 20 of its beaches were contaminated by an oil spill over the weekend. Brazil's environment minister has stated that the oil, which began to appear in Brazil in early September, is most likely coming from Venezuela. Caracas has denied any involvement and authorities are still trying to find the source of the spill. 
ANDES
ECUADOR: The United Nations reported yesterday that Ecuador's government has agreed to a deal with Indigenous leaders that will put an end to the protests that took place in Quito over an end to fuel subsidies. The agreement was reached late Sunday after talks between both sides, which were brokered by the UN and the Catholic Church. A joint statement declare, "With this agreement, the mobilisations … across Ecuador are terminated and we commit ourselves to restoring peace in the country." Yesterday, demonstrators, students and local residents started a clean-up of a park in Quito where the anti-austerity protests occurred.
CARIBBEAN
CUBA: As the United States continues to punish Cuba with sanctions for supporting Venezuela, Cubans are finding ways around the resulting oil shortage, according to The Guardian.  President Miguel Díaz-Canel said the island is operating with 62% of its oil needs while workers have replaced tractors with oxen in the sugarcane fields and other businesses use firewood instead of relying on oil. The U.S. State Department says the sanctions are necessary to force Cuba to stop supporting Venezuelan President Nicolás Maduro.
CENTRAL AMERICA
PANAMA: The construction company FCC Construcción América S.A., owned by Mexican business tycoon Carlos Slim, is looking to strike a deal with the attorney general's office in the coming weeks following its admission to paying bribes in Panama, according to an investigation by La Estrella de Panamá. Its parent company Fomento de Construcciones y Contratas S.A., headquartered in Madrid, is also under investigation in Spain, but will remain open until the case in Panama is closed. The attorney general's office has proposed a fine of $20 million but La Estrella de Panamá noted that the office has struggled to enforce punishments with similarly high-profile cases.  
GUATEMALA: The National Civil Police and the Armed Forces of Guatemala located and destroyed a narco-laboratory and cocaine plantations over the weekend in the region of Izabal, near the Honduran border, according to República GT. Law enforcement agents and government officials had to climb hills and and cross a river to reach the remote location.
NORTH AMERICA
UNITED STATES: The U.S. Census Bureau has requested drivers' license records, which usually include citizenship data, from several states. Civil rights groups have voiced their alarm at the measure, specifically the possibility that this practice could discourage Latino participation in the next census. Census data could change congressional seating and reallocate federal funding, even if that data does not accurately represent a state's population because minorities were dissuaded from participating. Demographers working with the bureau speculate that the request for driver's license records is a response to President Donald Trump's executive action ordering the bureau to obtain citizenship information through other means after the Supreme Court blocked a citizenship question from appearing on the 2020 Census. 
MEXICO: Following the deaths of three soldiers in September, 3,000 community police officers in Guerrero are preparing to take action against the drug cartel, Cartel del Sur. The officers believe this cartel is responsible for the September attack in the town of Balzamar. Community police had been preparing to attack the cartel long before the September 26 attack, but they found their plans delayed in the aftermath. The police have prepared for an incursion into 24 cartel-controlled communities.
MEXICO: President Andrés Manuel López Obrador plans to write a letter to congressional Democrats in the United States, asking for a quick approval of the United States-Mexico-Canada Agreement (USMCA) trade deal. House Speaker Nancy Pelosi could bring the deal to a vote at any moment, but Democrats have raised concerns about how far the agreement would go to protect the environment and jobs for American workers. Taking note of these concerns over workers' rights, AMLO has promised to implement a new labor law. AMLO is particularly concerned about settling the fate of the USMCA before it can be "contaminated" by the U.S. presidential election.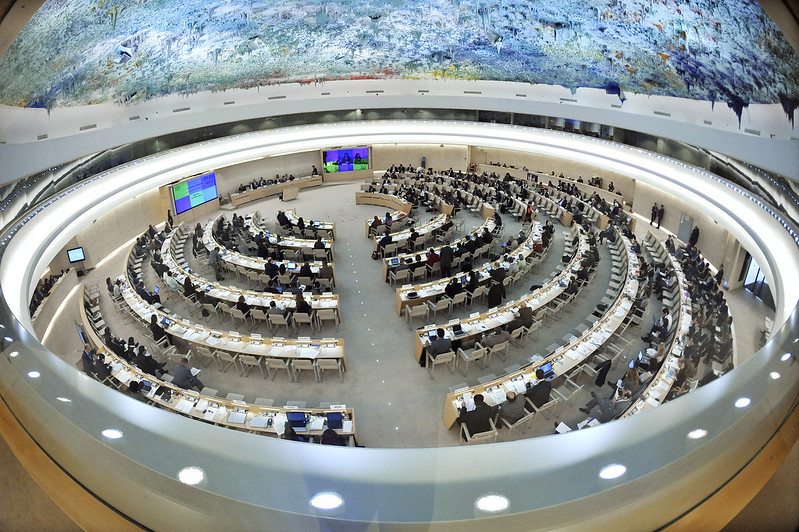 October 14, 2019
> Staff