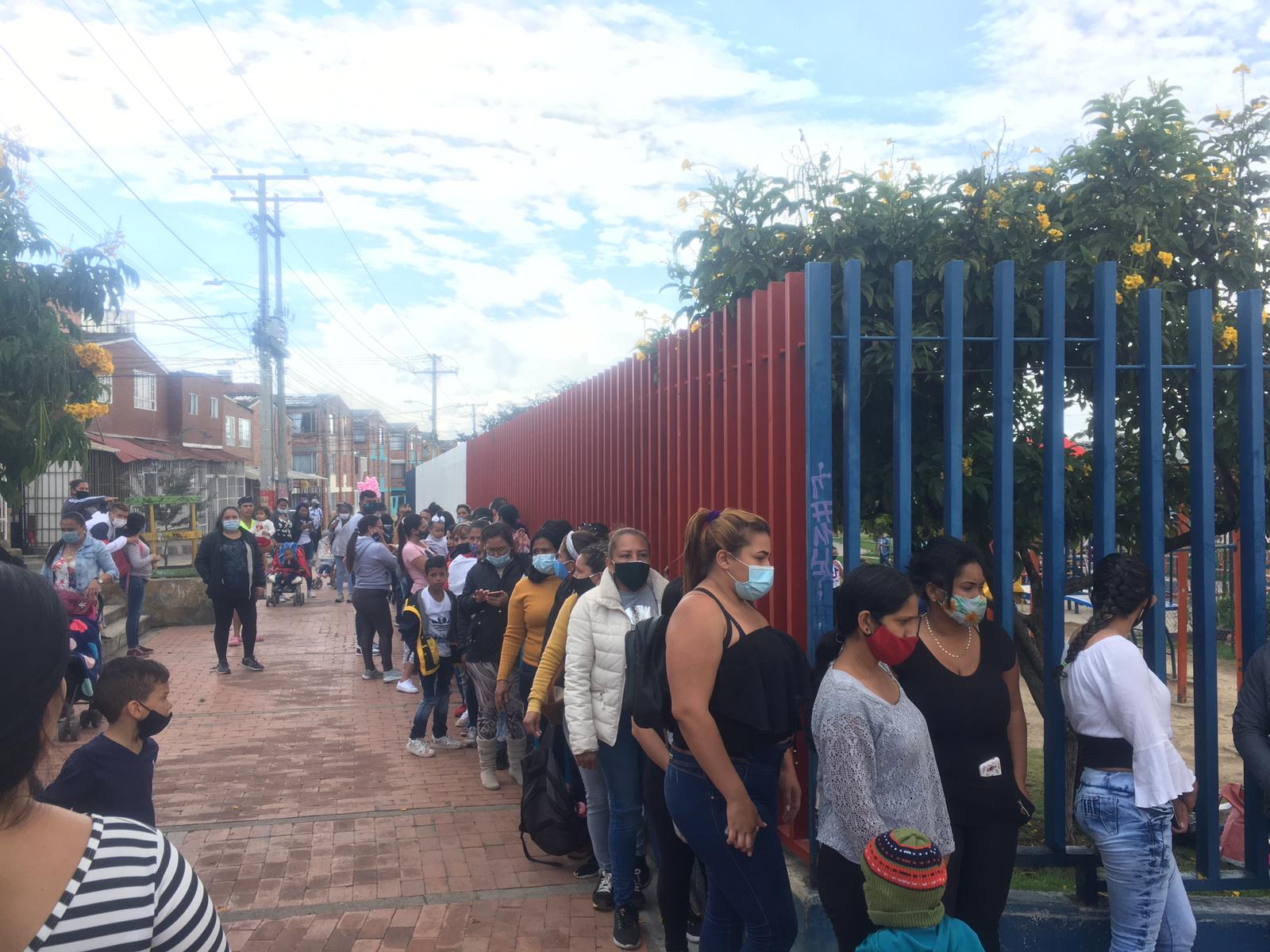 Venezuelan families wait for food packages outside of San Mateo Park, Soacha, Bogotá. Photo: Tom Mullett.
Venezuelan refugees in Colombia organize to streamline international aid
As a line of over 50 families waits alongside the multicolored fence of San Mateo park in the Soacha neighborhood of Bogotá, Maryluis Ruiz is undisturbed by the growing buzz of anticipation. Instead, she diligently reviews her clipboard and calls out the names and ID numbers of those waiting to receive a food package from a local foundation.
Since arriving in Colombia from Venezuela three years ago, the 36-year-old mother of two has developed her role as social leader amongst the displaced Venezuelan community in one of the poorest areas of the nation's capital, Bogotá.
Since 2014, over 5 million Venezuelans have left their country due to the worst economic crisis in its history, a crisis in which food shortages, power cuts and a lack of medicine have become commonplace across the country. 
Over half of the 1.7 million Venezuelan refugees who have settled in Colombia do not have formal status, according to Colombian immigration authorities. That prevents them from accessing essential services or seeking formal employment, forcing international organizations to step in to fill the gap. Due to the highly unregulated nature of the displacement, it has been challenging for the international organizations to attend to the ever growing population of migrants. Social leaders like Maryluis have stepped in to provide an essential link between the communities and those providing aid in the region.
Having immediately recognized the lack of organization within her neighborhood as well as the absence of any reliable communication between the community and aid organizations operating in the area, Maryluis took it upon herself to try and improve conditions for her fellow migrants.
"I got to know many organizations because I liked to take walks and drop by distribution points   and listen to whatever workshop that they were offering," she said. "I went out, knocked on doors and said, 'Come on, let's go,' because this is good for us in terms of helping us academically and culturally. They [international organizations] tell us where to go if we have a problem with the police or if there is an aggression against a woman or a child."
It wasn't long before Maryluis had established a network within the local community, helping dozens of families receive regular attention from international organizations such as Plan International, Save The Children and the UN's International Organization for Migration (IOM).
"Now I'm officially recognized as a leader for my neighborhood," she said. "I'm part of a project called 'Leaders' run by the IOM. I go out and speak with those who arrive from Venezuela, establish whether or not they have children; if they are living in the street; whether or not they have a job, and then I share that information with the IOM." 
In a context of widespread xenophobia against Venezuelans and insecurity for activists, Maryluis' role as social leader brings with it a number of daily challenges. Despite their urgent lack of resources, members of the community are often reluctant to seek help due to concerns for their personal wellbeing.
"Sometimes I have to bring them [Venezuelan migrants] directly to the aid organizations and spend the day with them," Maryluis said. "There are many that don't want to go [to receive aid] due to fear or shame. They worry they're not going to be treated well or will be rejected just for being Venezuelan." 
Norby Martínez, a resident of the same neighborhood as Maryluis, left Venezuela with her 3 severely malnourished children in 2016 and shares a similar story with regard to the treatment that her family has endured since relocating to Colombia.
"We're always discriminated against," she said. "My daughter lives in fear. She doesn't like to go out alone. She's 16 years old but won't go to the shop unless she's accompanied by someone. Just for being Venezuelan and for being a girl."
The mass influx of migrants in Colombia has largely been met with hostility. Many Colombians attribute increased levels of crime and unemployment to the arrival of their new Venezuelan neighbors. 
According to a January 2021 poll by Invamer, 67% of Colombians felt negatively about the prospect of Venezuelans remaining in the country, and 72% believed the border to Venezuela should be closed to prevent further access to migrants.
Sandra, a Community Manager for the IOM who asked to be identified only by her first name, is all too aware of the difficulties that Venezuelans face, making the connection with Maryluis all the more important.
"Due to the xenophobia, Colombians don't trust Venezuelans and won't employ them," she said. "They're constantly scared that they [Venezuelans] are going to steal from them. It's incredibly useful to have contacts within the community. In the case of Maryluis, it's the person that organizes the people in her neighbourhood for workshops and presentations as she understands the needs of individuals and families." 
Entities like the IOM offer a lifeline across South America for Venezuelan migrants, providing basic aid and medical attention, in line with long term projects and workshops to help to improve integration. However, Maryluis believes that their presence adds to the bitterness and misinformation linked to the presence of Venezuelans in Colombia.
"The international organizations help us Venezuelans a lot, but sometimes the Colombians think that these organizations are from Colombia and that we're taking away resources or help that they also need," she said. "It's not only Venezuelans that have a difficult life here."
While notably deflated by the issue of xenophobia, Maryluis is also open to recognize that the negative perception of Venezuelan migrants has been fed by some who have in fact committed crimes.
"Some Venezuelans have come here and have done bad things," she said. "So what happens? Everyone thinks all Venezuelans are bad, that all Venezuelans do bad things. It's something I have to go out and say everyday, that we're not all the same and that there's a huge difference between them and those of us that came to work."
The issue of security in Colombia's capital was raised once again last week following the death of a police officer in the north of Bogotá as he attempted to prevent an armed robbery. Another incident took place the following day as two armed men attempted to steal a car in the south east of the city. Both crimes were blamed on Venezuelans, which sparked a fierce backlash on social media as well as comments from Bogotá Mayor Claudia López. 
"Everything is offered to Venezuelans, the same guarantees as all Colombians have," the mayor said at a memorial for the young officer. "We have some very violent acts from Venezuelan migrants. First they murder, then they steal." 
Mayor López, who recently called upon the government to increase police numbers in the capital, has never shied away from the topic of migration and had previously caused controversy last year when she made comments about the actions of Venezuelans in Bogotá.
"I don't want to stigmatize Venezuelans, but there are some migrants involved in criminal activity that have us living difficult lives," she said. "Here, to those who come to earn a living decently, welcome; but to those who come to commit crime, we should deport them without contemplation." 
With strong opinions and feelings of insecurity rife throughout the population, a number of organizations have attempted to combat the negative perception as well as preparing Venezuelans for any xenophobia they might encounter in Colombia. The UN Refugee Agency, (UNHCR) via its campaign "Somos Panas Colombia," recently released the "Kit Para Valientes," a single-page PDF that covers likely sources of xenophobia and when it might occur, backed up by tips to help individuals deal with the problem, including when directly confronted by a Colombian.
Alongside her efforts to connect migrants with the international organizations, Marlyluis works tirelessly within her community to change some of the cultural and social habits that she feels work against the Venezuelan population in the eyes of their Colombian hosts. 
"It's not like we can say 'Ah, I'm in my country, I'll do what I want,'" she said. "No! The character of us Venezuelans is that we get worked up quickly, so I tell them you need to be calm, listen and be more tolerant. We've adapted our dialect and tried to adopt elements of the culture; to be extra respectful and say 'good morning,' even if they don't respond to us."
In February of this year, Colombia President Iván Duque announced that his government would initiate a program of "Regularization," offering 10 years of protected status to undocumented Venezuelan migrants who arrived in the country before January 2021. The announcement, which surprised many who have paid attention to the president's previous comments regarding Venezeulans, drew international praise, including from United Nations High Commissioner for Refugees Filippo Grandi, who heralded the decision as an "extraordinary display of humanity, commitment to human rights and pragmatism."
While popular opinion among Colombian voters may not be on their side, the President's announcement to formalize the status of Venezuelan migrants has brought a palpable sense of hope to Maryluis and those around her.
"I feel extremely grateful," she said. "This will give us a little bit more protection, allow us to work and access medicine, because right now if we get sick and don't have money, It's complicated. We have to turn to nature, to homemade remedies. But yes, it's great news that they're going to give the opportunity to those of us who come here to work. I have a lot of hope."
Based on a recent report by the Organization of American States (OAS), the total number of Venezuelans to have left their country during the crisis could exceed 7 million by the end of 2021. During the announcement of the "Regularization" initiative, President Duque called for other governments to "follow by example"; however, it's unclear how far this call will go to inspire action outside of Colombia. 
For Maryluis and her fellow Venezuelans, the uncertainty persists because it's difficult to see how the government's initiative will be applied in an environment where tension and mistrust is increasing every week. In the meantime, Maryluis refuses to be intimated and remains determined to continue helping those around her. 
"I don't think about stopping; I know my god will protect me," she said. "I have many friends that help me and encourage me to continue. I've spoken with the people around me. We're going to stick together."
Tom Mullett is a freelance journalist based in Bogotá, Colombia. 
@tommullett