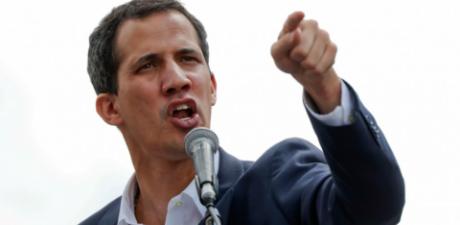 Juan Guaidó took to the streets today in a final push to oust President Nicolás Maduro. (Photo by HazteOir.org via Flickr)
Flanked by Armed Troops, Guaidó Enters Final Push to Oust Maduro
April 30, 2019
By Staff
**Update: Early this morning, Venezuelan opposition leader Juan Guaidó announced he was in the "final phase of Operation Freedom" to oust President Nicolás Maduro. Guaidó took to the streets with activist Leopoldo López and heavily armed men in military fatigues. López called on Venezuelans to "come to the streets, in peace." Venezuelan authorities have accused Guaidó of making a coup attempt. 
López, who had been detained since 2014 for leading anti-government protests, said he was released by security forces who followed orders from Guaidó. Guaidó declared himself interim president in January, and several countries, including the United States, now recognize him as Venezuela's leader.  
TODAY IN LATIN AMERICA
MEXICO: President Andrés Manuel López Obrador (AMLO) has symbolically launched the new Felipe Ángeles airport project, northeast of Mexico City, as the replacement for a $13 billion project he canceled last year. "It's going to resolve the problem of saturation at the current Mexico City airport, but also be an example of how you can carry out a rational, austere policy based on honesty," AMLO said.
Critics worry that the new airport will exhaust the area's water supplies and conflict with the operations of the capital's current airport. The project will be overseen by the Mexican army and is budgeted for $4.1 billion. Although construction has not begun yet, it is scheduled to begin operating in mid-2021 and could handle nearly 20 million passengers.
HEADLINES FROM THE WESTERN HEMISPHERE
NORTH AMERICA
MEXICO: Recent figures show the number of children migrating through Mexico has risen almost 600% since 2017. Children filed 583 requests for refugee status per month just in 2018, according to figures from the Mexican Commission for Refugee Assistance (COMAR). Most of these children are from Honduras, Guatemala and El Salvador, representing 57% of all refugees. For Edgar Corzo of the National Commission for Human Rights, the increasing number of children poses special concerns. Corzo and other advocates are pushing for "special assistance" that would move children out of migratory stations and into centers that can provide health care.
MEXICO: Activists, academics and government officials met this week to discuss a new minimum wage for Mexico's 2 million domestic workers. The proposals range from MXN $103 to MXN $300 per day (roughly $5.50 to $15.75) and will be presented for a final vote in May. Andrés Peñaloza, head of the National Minimum Wage Commission, said that the government owes a "historic social debt" to a demographic of people that has faced higher risks of exploitation and discrimination. Just last week, Mexico's senate also voted to increase protections for domestic workers, including requiring written contracts and banning the hiring of people under 15 years old.
CARIBBEAN
CUBA: Yesterday during an event hosted by the United Nations in Geneva, a Cuban diplomatic delegation denounced the U.S. economic blockade as an obstacle to the country's development. On the occasion of the 20th Session of the Intergovernmental Working Group on the Right to Development, Cuban Ambassador to the U.N. Pedro Luis Pedroso condemned years of sanctions as a "flagrant violation of human rights." Moreover, Pedroso tweeted that Title III of the Helms-Burton Act, which allows U.S. citizens to file lawsuits to seek compensation for property confiscated by the Cuban government during 1959 Revolution, is "absurd, delirious, demonic and infernal."
PUERTO RICO: Congress has introduced a bill that would address the humanitarian needs in Puerto Rico and the American Midwest. Known as the Supplemental Appropriations Act of 2019, H.R. 2157 is sponsored by Appropriations Chairwoman Nita M. Lowey (D-N.Y.) and includes $17 billion for areas struck by natural disasters like hurricanes, wildfires and floods. The Appropriations Committee needs to approve 12 spending bills before going forward with H.R. 2157. Three hearings will take place today.
CENTRAL AMERICA
EL SALVADOR: A car bomb left two police officers injured in the municipality of Soyapango in San Salvador. Authorities stated that suspects left a mannequin wrapped in blankets simulating a cadaver abandoned in the car's passenger seat. When police approached, the bomb went off. Police are now looking for the suspects, who allegedly are MS-13 gang members.
ANDES
BOLIVIA: Human Rights Watch, a New York-based human rights organization, said yesterday that nearly 100 judges in Bolivia have been dismissed without reason since 2017. The arbitrary dismissals have been conducted by a magistrates council that is mostly influenced by allies of President Evo Morales. The organization said that this action undermines Bolivia's judicial independence and has asked the Organization of American States (OAS) to look into the issue, emphasizing that international treaties that were signed by Bolivia demand an impartial and independent judiciary.
COLOMBIA: A Bogotá judge found José Elías Melo, former president of Corficolombiana, a Colombian company that handles financial solutions, guilty for his involvement in a bribe as part of the Odebrecht case yesterday. Melo is believed to have conspired with business partners from the Brazilian engineering firm Odebrecht in the "endorsement" of a $6.5 million bribe to Gabriel García Morales, the former vice-minister of transportation in President Álvaro Uribe's administration. The bribe was to motivate Morales, who is currently in prison, to approve Odebrecht and Corficolombiana's bid to participate in the construction of the Ruta del Sol highway that connects Bogotá to the Caribbean coast. Melo's was sentenced to 11 years and 7 months in prison.
SOUTHERN CONE
ARGENTINA: Argentine labor unions' nationwide strike protesting President Mauricio Macri's austerity measures has resulted in the cancellation of all Aerolineas Argentinas flights scheduled for today. A statement from the airline revealed that the 24-hour work walk-out could affect 350 flights and 22,000 passengers. Aerolineas Argentinas is a government-controlled carrier.