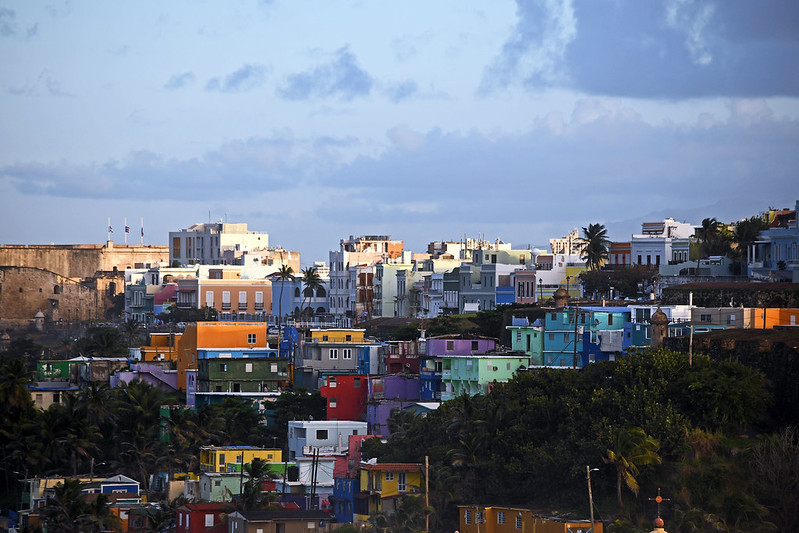 Puerto Ricans discovered a warehouse of unused emergency supplies in Ponce this weekend, leading to nationwide demonstrations and resignations. (Photo courtesy of pontla via Flickr)
Unused Puerto Rican Aid Sparks National Outcry
January 20, 2020
By Staff
TODAY IN LATIN AMERICA
PUERTO RICO: On Saturday, a group led by local blogger Lorenzo Delgado broke into a warehouse in the island's southern town of Ponce and discovered unused emergency supplies, including food, water, cots and other aid dating from Hurricane Maria. In response, Governor Wanda Vázquez fired the head of the island's emergency management agency, Carlos Acevedo, and ordered an investigation into the emergency supplies stored away since the storm battered the island in September 2017. A day later, Vázquez asked for the resignation of Housing Secretary Fernando Gil-Enseñat and Department of Family Secretary Glorimar Andújar. Though the investigation is ongoing, the new director of emergency management confirmed that there are seven more warehouses similar to the one found in Ponce across the island, all of which are well-stocked. 
These discoveries have caused a public outcry; protests calling for the governor's resignation erupted Saturday night and have since continued across the island. A national strike has been convened for today. The scandal is unfolding amid ongoing seismic activity in the southern region — including a 6.4-magnitude earthquake — that has left an estimated 20,000 people living in official and informal shelters across the island since the start of the earthquakes in late December.
Headlines from the western hemisphere
SOUTHERN CONE
PARAGUAY: Over 75 inmates escaped from a prison in a town bordering Brazil yesterday. According to authorities, the majority of the fugitives were part of the Brazilian gang First Capital Command. Police discovered a tunnel and cells with up to 200 bags of earth. However, it is suspected that inmates also walked out through the front gate with the help of complicit prison guards. 
ANDES
COLOMBIA: Three opposition senators visited the Washington-based Inter-American Commission on Human Rights on Friday to denounce illegal espionage by rogue army units. Senators Antonio Sanguino, Iván Cepeda and Roy Barreras hope the commission will pressure the Colombian government to thoroughly investigate the illegal surveilling of opposition politicians, judges and journalists. The senators also visited members of the U.S. Congress to ask them to closely monitor the funding of Colombia's intelligence agencies. The rogue intelligence battalions allegedly acted under the direction of senior politicians from President Iván Duque's Democratic Center party.
BOLIVIA: Ousted President Evo Morales announced his party's presidential and vice presidential candidates yesterday for Bolivia's new presidential elections. Luis Arce Catacora, Bolivia's former economy minister, will run for president for Movimiento al Socialismo in the May 3 elections. Morales's former foreign minister, David Choquehuanca, was selected as Arce's running mate. The party hopes Arce will appeal to middle-class voters who may favor far-right politician Luis Fernando Camacho, and Choquehuanca, who is Aymara, will help Morales maintain his base of Indigenous supporters. After leading the country for 14 years, Morales will not run again.
CENTRAL AMERICA
PANAMA: Members of a religious cult killed seven and tortured 14 members of the Ngabé Buglé Indigenous group last Monday in the jungle community of El Terrón, according to Panamanian authorities. In a series of religious rites, members of the group known as The New Light of God rounded up Indigneous residents and tortured them using fire, machetes and other weapons to make them "repent for their sins." Local police rescued 14 victims but found the corpses of six children and one adult in a grave near the group's temple. All of the victims and suspects were members of the Ngabé Buglé, Panama's largest Indigeneous group. 
HONDURAS: The Honduran government and the Organization of American States (OAS) did not reach an agreement to extend the mandate of its anti-corruption mission, leading to the mission's termination yesterday. While the government emphasized concerns of overreach by the mission's members, an OAS statement indicated that talks for the renewal of the mandate for the Fight Against Corruption and Impunity in Honduras (MACCIH) failed due to the government's insistence that the mission be reduced to an advisory role by prohibiting the mission from collaborating with a special prosecutorial unit within the Attorney General's Office. MACCIH's four-year mandate against public corruption and illicit campaign financing began in 2016 amid calls for President Juan Orlando Hernández's resignation after a 2015 corruption scandal showed the embezzlement of public funds from the national health system.
NORTH AMERICA
MEXICO: Critics of President Andrés Manuel López Obrador believe social programs have been used to illegally distribute public funds to promote support for the president and his party. A team of 18,000 volunteers, called "servants of the nation," go door-to-door encouraging people who have already received government benefits to enroll in new programs. Although illegal, this is a common practice in Mexico, where politicians have distributed benefits such as food or construction materials as "impromptu campaign events." Electoral authorities have agreed with criticism but cleared AMLO and his cabinet of wrongdoing. 
MEXICO: A crowd of migrants rushed Guatemala's border with Mexico on Saturday. While 1,000 migrants were attempting to cross the Suchiate River, a group rushed the bridge and clashed with Mexican border guards. The United States has pressured Mexico and several Central American countries to take a tougher stance on migration. These large "caravans" are part of a tradition of mass migrations that "have offered safety in numbers to participants."
UNITED STATES: The man behind tunnel operations for Joaquín "El Chapo" Guzmán, has been extradited to the United States. "The Lord of the Tunnels," José Sánchez Villalobos, will be on trial in California's Federal Court. He faces charges of crimes against public health and selling drugs illegally.