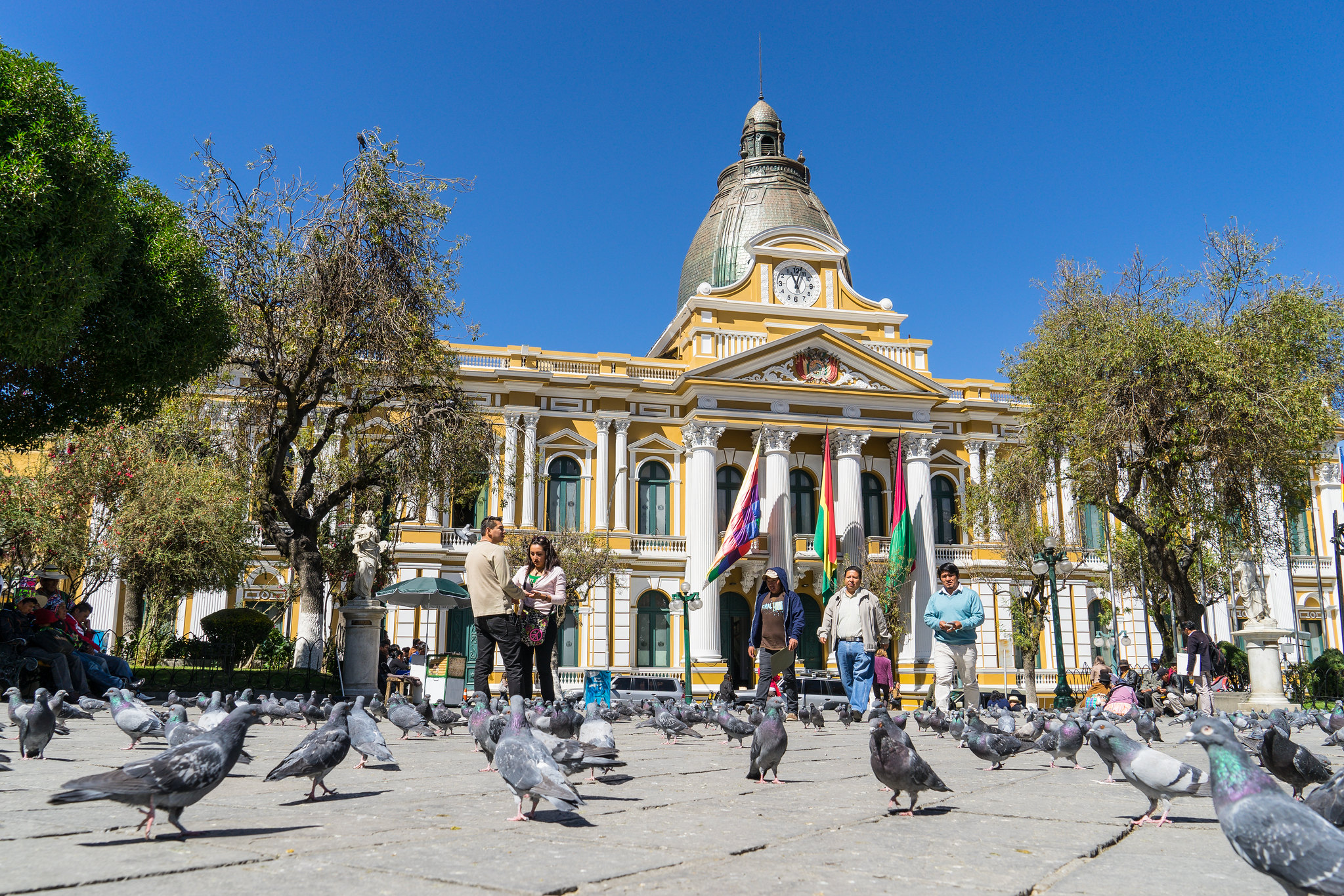 The president 's residence, the Palacio Quemado, in La Paz, Bolivia. Photo courtesy of Xavi via Flickr.
Bolivia Heads to the Polls for Special Presidential Election
October 19, 2020
By Staff
TODAY IN LATIN AMERICA
BOLIVIA: Luis Arce, the candidate for former President Evo Morales' Movement Toward Socialism (MAS) party, is emerging as the winner of the presidential elections in Bolivia held on Sunday. Arce, a former finance minister under Morales, claimed victory in a broadcast shortly after midnight on Monday. Interim President Jeanine Áñez recognized Arce's victory in a tweet, though the official results weren't available. Arce led most of the pre-election polls with Carlos Mesa as his primary opponent. Three other candidates participated in the first round of voting with little prospects of winning. According to the president of the Electoral Tribunal, vote counting can legally take up to five days. 
Bolivians went to the voting booths to redo the chaotic elections of October 2019. Last year's presidential election was riddled with claims of fraud that resulted in deadly protests and a political crisis that removed Morales from power. Arce needs at least 50% of the vote or to lead the runner-up by 10% to secure a first round victory. If the election goes to a second round, scheduled for November 29, opposition to the MAS party candidate can unite under a single candidate, improving the prospects of an opposition victory. Mesa, the favored alternative to the MAS party candidate, served as president from 2003 to 2005 and was the runner up to Morales in the annulled 2019 election. 
Along with a new president and vice president, Bolivians also voted to elect all members of Congress – 36 senators and 130 deputies. Voting in Bolivia is mandatory.
Headlines from the western hemisphere
SOUTHERN CONE
CHILE: Thousands of protestors gathered at the Plaza Italia, in Santiago, on Sunday to commemorate the one-year anniversary of the "estallido social," or social explosion. The massive anti-government protests began in response to an announced hike of the subway fare and were fueled by inequality, high costs of living and subsequent repression. Next Sunday, on Oct. 25, Chileans will go to the polls to vote to change the Pinochet-era constitution – one of the major concessions made by the government in November 2019 to attempt to pacify the social explosion.
ANDES
COLOMBIA: Two members of the Common Alternative Revolutionary Force (FARC) political party, Jesús Monroy and Luis Alexander Largo, were gunned down on Friday in eastern Colombia. Monroy led the reincorporation of FARC ex-combatants into civilian life in the department of Meta. Both victims were former fighters of the Revolutionary Armed Forces of Colombia. Monroy had previously elevated his security concerns due to the spread of paramilitarism in the region. According to the FARC, the murders bring the total number of demobilized combatants assassinated under the government of President Iván Duque to 146. Via an Oct. 17 press release, the FARC denounced the murders as part of a systematic attack on the peace deal by the Democratic Center ruling party. The FARC signed a peace treaty in 2016 and demobilized to participate in politics.
CARIBBEAN
JAMAICA: The country's Ministry of Culture, Gender, Entertainment and Sport is set to open its first state-run shelter for victims of domestic abuse, Minister Olivia Grande announced on Oct. 15. Creating state-run shelters for victims of gender-based violence has been a priority for the Ministry, which also purchased two other properties that are to be converted for victims of abuse. A 2016 report by UN Women found that one in four Jamaican women has experienced physical violence at the hands of their male partners.
CENTRAL AMERICA
EL SALVADOR: The judge in charge of investigating the El Mozote massacre, which left nearly 1,000 people dead, succeeded in accessing Salvadoran military archives in the hopes of finding documents related to the 1981 mass killing. Judge Jorge Guzmán was granted access to the Nation's General Archive on Oct. 15, after being blocked four times by the country's military and President Nayib Bukele. Gúzman and his team stated that they found "context evidence" during their initial searches. Bukele went so far as to defy a Supreme Court decision to block Judge Guzmán from accessing the military archives, claiming that there were no documents relating to El Mozote. The case against 17 military officers involved in the El Mozote massacre began in 2016 after the country's Supreme Court of Justice annulled a 1993 amnesty law for civil war-era crimes.
NICARAGUA: Lawmakers approved the Foreign Agent Regulation Law last Thursday, with 70 votes in favor – all of which were from the ruling Sandinista National Liberation Front (FSLN) party. The law requires Nicaraguans who work for foreign organizations to register as "foreign agents" with the country's Interior Ministry. Moreover, Article 14 of the law grants the government the power to decide if those receiving foreign funds are interfering with "internal and external political issues," leaving them unable to fund or promote any organization, movement or political party with their foreign funds. The United States and the European Parliament criticized the law for restraining public liberties and threatened new sanctions, to which Vice President Rosario Murillo responded by demanding respect for Nicaragua's sovereignty.
NORTH AMERICA
MEXICO: After former Mexican defense secretary Gen. Salvador Cienfuegos was arrested in California on Oct. 15 on money laundering and drug trafficking charges, President Andrés Manuel López Obrador said that all military officials named in the case will be suspended, but that he is not planning a "purge" in the ranks. Federal prosecutors in the Eastern District of New York allege that Cienfuegos, who was Mexico's secretary of defense between 2012 and 2018 under the Enrique Peña Nieto administration, protected the H-2 Cartel, a branch of the larger Beltrán-Leyva Cartel that operated out of the state of Nayarit. Cienfuegos, who played a key role in Mexico's war on drugs, is said to have helped them traffic drugs by sea. In the years Cienfuegos led the Mexican military, murder rates climbed to historical highs as the general defended the controversial policy of using the military for law enforcement.
Cienfuegos joins former Security Secretary Genaro García Luna as the two former Mexican cabinet-level security officials facing drug trafficking charges in the Eastern District of New York, the same venue where kingpin Joaquín "El Chapo" Guzmán faced trial. García Luna, who is considered an architect of the Mexican drug war, was arrested in Texas last year, and is accused of taking bribes from the Sinaloa Cartel.
MEXICO: After a four-month delay due to the coronavirus pandemic, the states of Hidalgo and Coahuila held local elections on Sunday. Around 4.4 million voters were eligible to elect a total of 109 positions: new local governments in Hidalgo and new state legislators in Coahuila. The elections were the first time that electronic voting machines were used at some polling places in Mexico, as a test of their viability ahead of the 2021 federal elections. 
MEXICO: Navy Secretary Rafael Ojeda announced on Sunday that he had tested positive for COVID-19. Ojeda attended an event on Friday along with President Andrés Manuel López Obrador to supervise construction of an airport at the Santa Lucía Air Force Base outside of Mexico City. Defense Secretary Luis Cresencio Sandoval and Mexico City Mayor Claudia Sheinbaum were also present. Other Mexican cabinet officials who have come down with COVID-19 include Treasury Secretary Arturo Herrera, Public Function Secretary Irma Eréndira Sandoval and Federal Consumer Protection Office head Ricardo Sheffield.