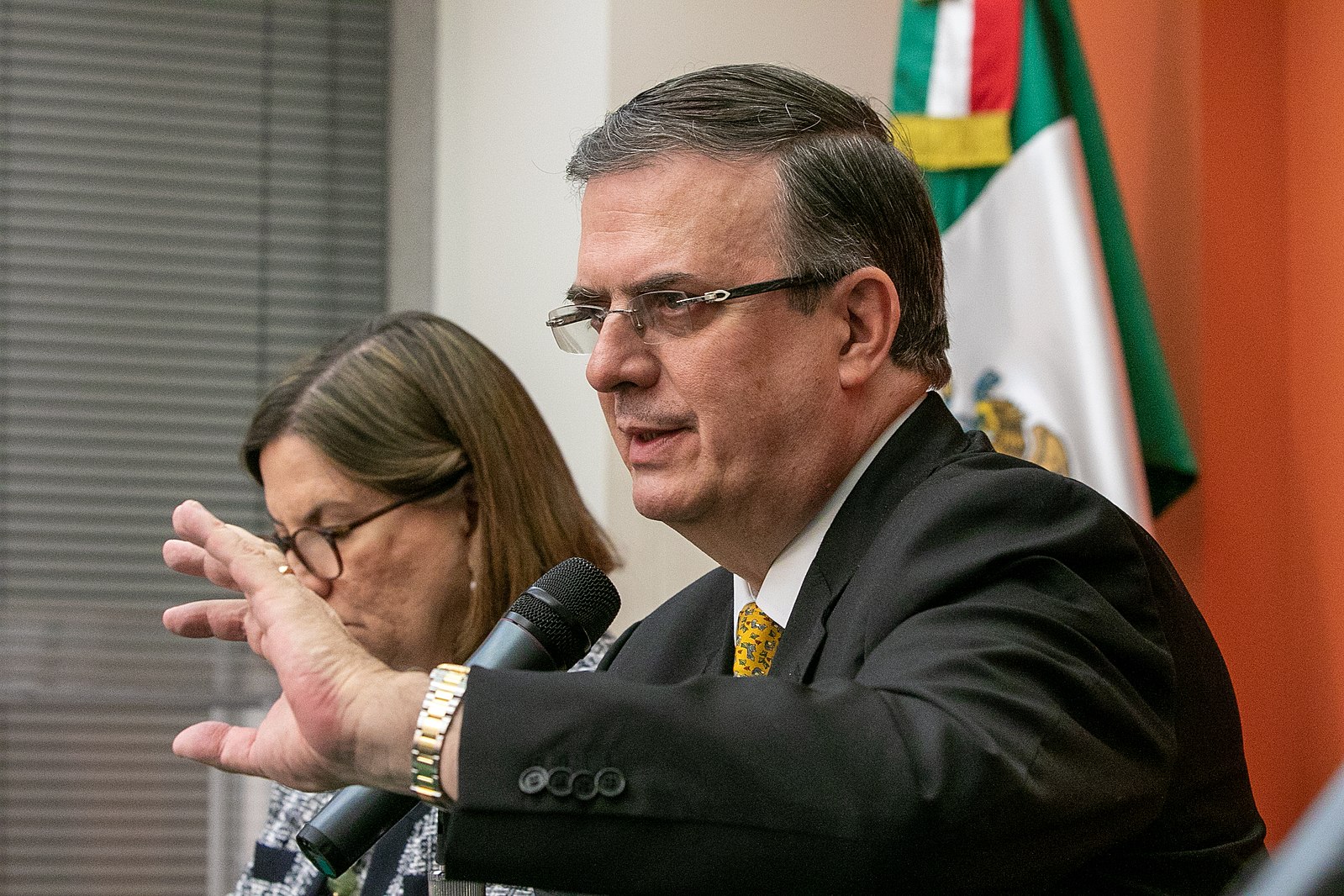 Foreign Secretary Marcelo Ebrard in September 2019. Photo courtesy of Embajada de México en Estados Unidos via Flickr.
Mexico Says Officials Will Not Be Tried in the U.S.
November 20, 2020
By Staff
TODAY IN LATIN AMERICA
MEXICO: Mexico no longer wants officials accused of corruption to be put in trial in the United States, Mexican Foreign Secretary Marcelo Ebrard said on Thursday. Ebrard's move would take back a tradition to try Mexico's corruption cases in the United States. However, Jesús Ramírez, a spokesman for President Andrés Manuel López Obrador, said the country was willing to extradite officials or drug traffickers, contradicting the earlier statement made by Ebrard. Ramírez told the Associated Press that Mexico would maintain cooperation treaties with the U.S., but Mexico wants formal information sharing and extradition processes to avoid surprise actions. 
The statement comes a few days after the U.S. dropped a high-profile drug trafficking and money laundering case against former Mexican Defense Secretary Salvador Cienfuegos Zepeda. In the past, Mexican officials complained that the U.S. failed to share evidence against Cienfuegos Zepeda with Mexican authorities and that his arrest came as a surprise.
Headlines from the western Hemisphere
SOUTHERN CONE
PARAGUAY: Police may use force if needed to stop people from entering the town of Caacupé. Interior minister Euclides Acevedo and Cordillera Police Commissioner Juan Blanco met to discuss the measures the local police and government should take in order to maintain Covid-19 regulations during the festivities of Virgen de Caacupé, the largest Catholic celebration in Paraguay. After the meeting, Acevedo said the police would first and foremost work to persuade visitors to avoid going to the city, but if they refused to listen, the police assured they would utilize brute force if necessary.
ANDES
PERU: Francisco Sagasti was sworn in as Peru's new interim president on Wednesday, the country's third leader in under a week. The engineer and academic is expected to serve his term until next year. Sagasti was voted for by Congress after former President Martín Vizcarra was impeached over bribery allegations and interim President Manuel Merino resigned. Sagasti was elected after securing the minimum requirement of 60 votes.
CARIBBEAN
PUERTO RICO: The National Science Foundation announced on Thursday that it will close the telescope at the Arecibo Observatory for partial demolition. The decision came after Sean Jones, National Science Foundation's assistant director for the Mathematical and Physical Sciences Directorate, decided that it was impossible to preserve the telescope without putting people at risk after two cables attached to the same tower broke. The telescope was built in the 1960s to develop anti-ballistic missile defenses and suffered damage from Hurricane Maria in 2017. Scientists around the world also depend on it to search for planets, asteroids and extraterrestrial life.
DOMINICAN REPUBLIC: The trial against the six accused in the Odebrecht case continued as businessman Ángel Rondón Rijo testified before the First Collegiate Court of the National District on Thursday. The Public Ministry stated that Rondón Rijo has received more than USD $19 million through the USD $92 million bribe that Odebrecht, a Brazilian construction conglomerate admitted to paying in Dominican Republic. Dominican Republic's anti-corruption mechanism Pepca revealed that, when the accused Víctor Díaz Rúa was Minister of Public Works and Director of the National Institute of Drinking Waters and Sewers, he received $856,804 from Odebrecht through Rondón Rijo's company.
CENTRAL AMERICA
PANAMA: The government will purchase more than one million COVID-19 vaccines from AstraZeneca with the cost of USD $4.3 million, according to an announcement on Wednesday. The vaccine is now in phase III and the vaccination is estimated to begin in between February or March in Panama. Itzel Slocum de Hewitt, general coordinator of the Expanded Immunization Program of the Ministry of Health, stated that pregnant women and minors should not be vaccinated since they were not included in the clinical trials of the vaccine. Panama has 4.2 million habitants, and as of Wednesday, has recorded 148,721 confirmed COVID-19 cases and 2,893 deaths. AstraZeneca had closed agreements to supply more than 200 million doses as of Nov. 12 to six Latin American countries: Costa Rica, the Dominican Republic, Argentina, Brazil, Ecuador and Mexico. 
NICARAGUA: President Daniel Ortega will receive USD $10.7 million from Caribbean Catastrophe Risk Insurance Facility, supported by the European Union, for damages caused by Eta. Former ambassador to the Organization of American States, Edgard Parrales, explained that the interests for this fund are low, but governments "have to render detailed accounts," which is not certain since it involves an insurance policy payment. The United States Agency for International Development donated $1.5 million for those affected by Iota in Nicaragua through international humanitarian organizations rather than the administration, confirmed ambassador Kevin Sullivan, in addition to the $8.5 million it donated to Honduras and $7 million to Guatemala. The Ortega administration claims that, for Eta alone, it needs $178 million, which is 1.5% of its GDP.
NORTH AMERICA
MEXICO: Undersecretary of health Hugo López-Gatell Ramírez, the maximum authority on the response of COVID-19 in the country, alerted that coronavirus cases will increase in December, January and parts of February. The three largest cities in the country- Mexico City, Guadalajara and Monterrey- continue to record a high number of COVID-19 cases. In late October, Lopez-Gatell Ramírez predicted a decrease in cases before a resurgence in November and December.
MEXICO: The Bank of Mexico introduced a new 1,000-peso bill, with a new design and security measures. The bill is made out of cotton substrate and contains security elements that people with visual impairment can detect. The bill also pays tribute to the Mexican Revolution and three key participants- Francisco I. Madero, Hermila Galindo and Carmen Serdan. The reverse is dedicated to the country's rainforest, which has the country's biggest plant community. The bill also shows the ancient Mayan city Calakmul, in the state of Campeche. The printing process started in November 2019. The Bank of Mexico suspended its printing in March due to Covid-19, and resumed it in August 2020.
November 19, 2020
> Staff