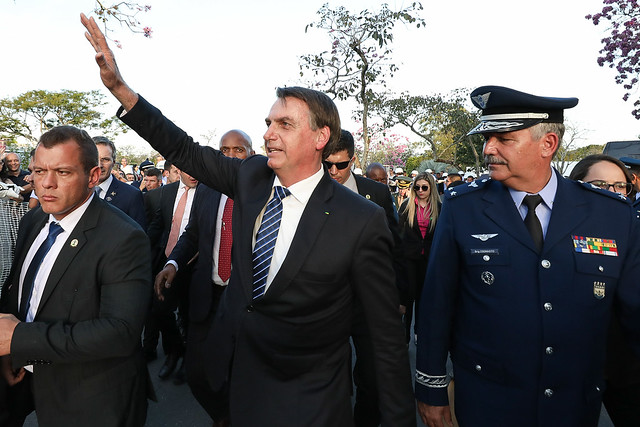 At a press conference in June, Brazilian President Jair Bolsonaro said, "I will not sign any new Indigenous' reservations in Brazil." (Photo by Palácio do Planalto via Flickr)
Bolsonaro Doubles Down on Threats to Brazil's Indigenous with New Policy
RIO DE JANEIRO, Brazil — Brazilian President Jair Bolsonaro stepped up his assault on Indigenous land rights last month, continuing a trend that started before his presidency and has accelerated since his inauguration in January. Weeks after Brazil's congress voted down a measure to transfer control of decisions over Indigenous lands to the Ministry of Agriculture, Bolsonaro issued another decree on June 18 demanding the same thing again.
The transfer of power from Funai, a Brazilian agency that works for the protection of the Indigenous, to the ministry of agriculture has sparked outrage among Indigenous groups, environmentalists and activists who fear invasions of Indigenous territory. Lawmakers who voted against the previous measure, including Joênia Wapichana, the first Indigenous woman elected to congress, say the new decree is also illegal. 
"It means he doesn't respect the separation of powers. They don't care about constitutional rights," Wapichana said. "We haven't even analyzed the vetoes of Provisional Measure 870, and he has already edited a new one. He's running over everything that's right and legal."
After the new decree, Provisional Measure 886, was published, three parties from the opposition, including imprisoned former President Luiz Inácio Lula da Silva's Workers' Party, filed actions against Bolsonaro in the Supreme Court. They are arguing  that the new decree is unconstitutional because it is basically the reissue of another measure that had already been read and modified by the Chamber of Deputies. Supreme Court minister Roberto Barroso agreed. He blocked the decree, alleging in his decision that the president's new measure "constitutes a violation to the literal content of art. 62, §10, of the Constitution, as well as to the principle of power separation."
The reissue of the measure is only a small part of a whole movement against Indigenous land rights that started with Dilma Rousseff's second government. Under Rousseff's administration, 600,000 hectares of Indigenous lands were demarcated. That number is well below the average of over 1 million hectares demarcated during previous presidents' administration. During the presidency of Michel Temer, Rousseff's successor, only one Indigenous land was demarcated, and it was recently suspended after some local farmers filed actions against it. With Bolsonaro's government, the forecast is even worse. At a press conference in June, Bolsonaro said, "Look, the Indigenous' reservations issue, who decides it at the end of the line is me. I'm the one who signs the demarcation decree, and I will not sign any new Indigenous' reservations in Brazil." 
Indigenous lands represent 12.2% of all Brazilian territory, according to data collected by the government. Currently, there are 462 demarcated lands and over 500 demarcation requests. In January, the Indigenous Missionary Council (Cimi), an organization linked to the National Conference of Bishops in Brazil, denounced five major invasions by non-Indigenous peoples, such as garimpeiros (gold miners) and local farmers, to demarcated territories all over the country.
Gilberto Vieira dos Santos, who is part of the Indigenous Missionary Council (Cimi), says Bolsonaro's policies are akin to the integrationist policies that were employed during Brazil's military dictatorship (1964-1985).
"Then and now the Indigenous are seen as if they're less evolved than white people and that their salvation would be an integration," dos Santos said. "The problem is, during this integration, the Indigenous have to give up all that's essential to them, such as their cultures and their territories." 
What few resources do exist in the government for the Indigenous are dwindling. The Indigenous National Foundation, Funai, has one of the smallest budgets in the government, and it is stretched thin in handling all the Indigenous demarcation requests. Squatters, with the support of regional politicians and Bolsonaro's ruralist agenda, have taken advantage of Funai's small staff to move onto reservations. In the Yanomami lands in Brazil's northern region, for example, more than 20,000 garimpeiros (gold miners) have moved in.
Despite their small budget and staff, dos Santos says it's important that Indigenous land demarcation decisions remain in the hands of Funai.
"(Funai) has the know-how on demarcation processes, a technical staff with experience and a structure built over nearly 50 years," dos Santos said. 
Currently, there are about 100 Indigenous peoples living in isolation, without any sort of contact with Funai. They are now the ones under greatest threat, according to dos Santos. 
"These peoples are most fragile to processes of invasion and exploitation of natural goods present in their territory," dos Santos said. "With the weakening of Funai and the policy of protecting isolated Indigenous groups, they're at risk of genocide, whether it's by the presence of non-Indigenous people in their territories, such as garimpeiros (gold miners) and timber-men, whether it's by the possibilities of enterprises affecting them." 
Both Bolsonaro's and Temer's governments have garnered support from the ruralist bench, the largest one within the congress. Recently, during a breakfast with parliamentarians of the sector, Bolsonaro said to them, "This government here is yours." The influence of agribusiness in Bolsonaro's presidency has such strength that the general Franklimberg Ribeiro de Freitas, Funai's former president, had to leave his post on June 12, after the sector pressured the government. When asked what happened, de Freitas attributed his dismissal to Special Secretary of Land Affairs Nabhan Garcia, a ruralist who, according to de Freitas, "salivates hatred on the Indigenous."
Agribusiness currently makes up about 23% of the Brazilian GDP, while the country's production area is equivalent to 7.6% of the national territory. The government's support base argues that Indigenous lands are "unproductive" and demands the legalization of their lands' exploitation, which is now prohibited by law. Indigenous leaderships, however,  see ruralists' claims as a threat to their culture. 
"The view you (ruralists) have on land is very different from the (Indigenous) peoples' view," said Sônia Guajajara, an Indigenous activist, during a public hearing in Brazil's senate in April. "You cannot look at us, Indigenous peoples, and think we have the same understanding of territory as yours, which is of exploitation, destruction, visioning profit, visioning money. That is not our understanding." 
Most Indigenous reservations are located in the north, within the Legal Amazon area. The region has long been suffering from deforestation, mining and illegal logging. According to data collected by the National Institute of Space Research (Inpe), in comparison to last year, there has been an increase of 88% in deforestation rates in the Amazon. The Indigenous demarcations, which are essential for environmental preservation, also face these threats. About 19% of the Indigenous territory is at risk from infrastructure works announced by Bolsonaro's government, as well as hydroelectric power plants, mining, oil extraction and deforestation. 
In addition to land grabs and destruction of Indigenous territories, Bolsonaro's administration is also shuttering some social councils that work alongside the federal government, including the National Council of Indigenist Policies (CNPI) and the National Commission of Indigenous Scholar Education (CNEEI). These councils were created to help civil society dialogue with the government. The closings of 50 social councils was part of Decree 9.759, which Bolsonaro signed on April 11.
There are currently 17 pending bills in the Chamber of Deputies that seek to undo the effects of the Decree 9.759. One of them, presented by Wapichana, claims that the decree "represents a real attack on policies that protect mainly ethnic minorities, as well as the environment and human rights" and that it "must be understood as an authoritarian way of restricting the access of various sectors of society to the State itself, since it inhibits the citizen's participation." 
"The (Indigenous) peoples are not willing to give up their rights," dos Santos said. "Alongside with them, and within our limits and possibilities, we will continue denouncing, in and out of the country, the overindulgences of the current government."