Chilean workers at the site where the first miner was rescued.
First Chilean Miner Rescued Late Tuesday Night To Cheers From Crowd
October 13, 2010
By Staff
Today in Latin America
Top Story — Late on Tuesday evening, after 69 days stuck underground, Florencio Avalos became the first of the 33 Chilean trapped miners to make it to the surface.
Avalos emerged from the slim capsule that pulled him through the 28-inch-wide shaft to screams from the crowd and shouts of "Chi chi chi, le le le!" as hundreds of balloons were released into the sky at the rescue site, named Camp Hope.
A medical team began to assess Avalos, a foreman, in a triage area as rescue worker Robert Rios Seguel prepared to go down into the mine to begin the task of bringing up the second miner, Mario Sepulveda.
The rescue of Avalos marks the longest time anyone has ever been trapped underground and survived, after the miners became trapped on August 5 when the upper galleries of the San Jose copper and gold mine collapsed.
The mine site was already packed with the international media and the miner's families and friends, when Chilean President Sebastian Piñera arrived to watch the rescue efforts.
"I hope you bring us back the miners," Piñera said to rescue worker Manuel Gonzalez when he entered the "Phoenix" capsule to begin rescuing Avalos, according to Bloomberg.
If all goes according to plan, the remaining miners will be rescued at a rate of about one an hour, barring any obstacles or accidents during the capsule's ascents.
U.S. President Barack Obama issued statement of support for the miners and said his "thoughts and prayers" were with them.
"While that rescue is far from over and difficult work remains, we pray that by God's grace, the miners will be able to emerge safely and return to their families soon," Obama said, according to the statement.
Just Published at the Latin America News Dispatch
Headlines from the Western Hemisphere
North America
Caribbean
Central America
Andes
Southern Cone
Image: Globovisión @ Flickr.

Subscribe to Today in Latin America by Email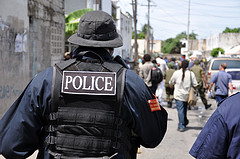 October 12, 2010
> Staff