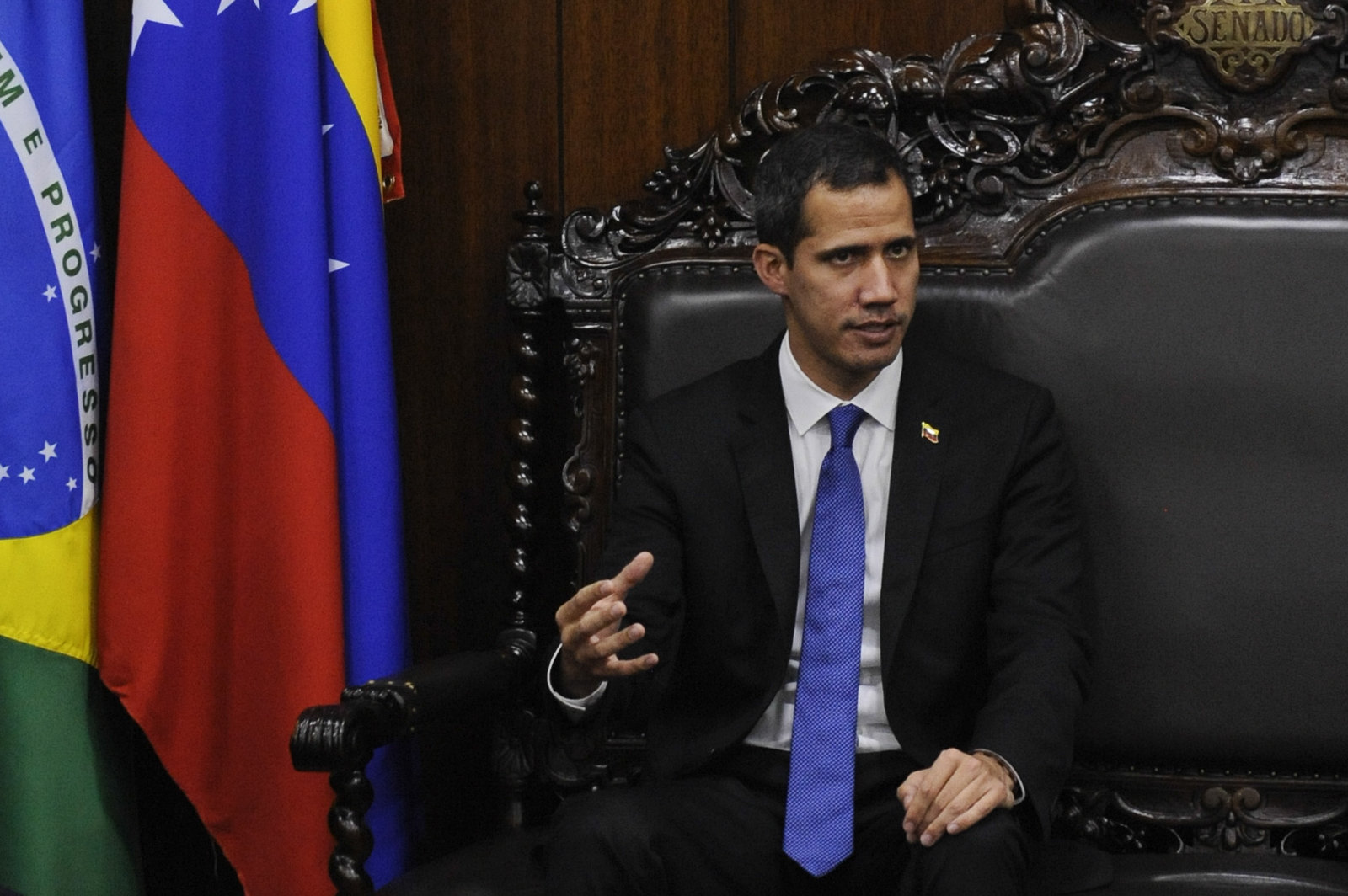 The Venezuelan legislature voted yesterday to replace Juan Guaidó as president of the National Assembly. (Photo courtesy of Senado Federal via Flickr.)
Juan Guaidó Voted Out as President of Venezuelan Legislature
January 6, 2020
By Staff
TODAY IN LATIN AMERICA
VENEZUELA: The National Assembly voted yesterday to replace Juan Guaidó as president of the legislative body. Luis Parra was voted in as the new president of the National Assembly in a session marred by delays and confrontations. Riot police blocked Guaidó from entering the building. Guaido called the election a "show" by a group of "traitors," invalid due to the lack of quorum. However, according to José Noriega, the second vice president of the National Assembly and Guaidó's fellow opposition party-member, there were enough votes to elect a new leadership. 
Countries in the region, including the United States, sent Guaidó messages of support and rejected the National Assembly leadership elections. Later in the day, congressional members met at an opposition newspaper's office to reelect Guaidó. At a separate event, President Nicolás Maduro voiced his support for the vote: "This is what I've been dreaming would happen. The entire country repudiates Juan Guaidó as a puppet of American imperialism."
Headlines from the western hemisphere
SOUTHERN CONE
CHILE: Unidad Social, one of the major protest organizers, broke off talks with the government of President Sebastian Piñera yesterday. At a press conference, representatives of the movement stated that the Piñera government hasn't listened and only offers "lies and brutal repression." According to Unidad Social, 38 days of dialogue have yielded no advancements in any of the protester's grievances and instead, seen the continued violations of human rights by security forces.
ANDES
BOLIVIA: The vice president of the Supreme Electoral Court announced that new elections will be held on May 3. Óscar Hassenteufel said that the full electoral calendar will be released today. On the first Sunday of May, voters will elect a new president, vice president, congress and senate. Evo Morales was forced to resign by the military in November after allegations of fraud in the October election leaving the government in the hands of interim president Jeanine Áñez. 
CARIBBEAN
JAMAICA: The Jamaica Gleaner reported yesterday that the government will spend $1.7 billion on security at public health institutions across the country. The Ministry of Health and Wellness  announced that it will spend the funds over three years to strengthen public health facilities and implement regulations such as 24-hour foot patrols, identification badges and regular spot checks of sterile areas. Health and Wellness Minister Christopher Tufton said "a public health institution is intended to provide a safe space for people who need help, not just safe in terms of infection control, but also in terms of physical safety." 
CUBA: Cuba will not participate in the Caribbean Baseball series, which will be held in Puerto Rico this year. The Caribbean Professional Baseball Confederation confirmed yesterday that the country won't be participating due to "conditions outside of their control," and Colombia will be invited in their place. Cuban players will not be allowed to step foot on Puerto Rican soil because of the country's political dispute with the United States. The tournament will take place February 1 to 7 in San Juan, Puerto Rico.
CENTRAL AMERICA
COSTA RICA: Costa Rican officials apprehended nearly one metric ton of cocaine in two coastal drug busts last week. Coast Guard and Public Security Ministry authorities collaborated to seize nearly 686 packets of cocaine, weighing one kilo each, in Golfo Dulce on Thursday. Later that day, the Coast Guard identified a vessel carrying 300 kilos of cocaine near Quepos, Puntarenas. The authorities arrested a man onshore in Golfo Dulce and three Ecuadorian men onboard the Quepos ship.
NORTH AMERICA
MEXICO: Zacatecas Governor Alejandro Tello announced that the director of a Zacatecas state prison will be replaced after two riots broke out last week, resulting in the deaths of seventeen inmates and five others injured. The first of two riots broke out in the Cieneguillas prison on Tuesday evening and lasted two and a half hours, after which authorities confiscated four guns and escorted 16 inmates to the hospital. A second riot occurred on Thursday, resulting in the death of another inmate. Tello said the prison was a "time bomb" with frequent conflicts between five different cartels housed in overcrowded conditions. Mexico's National Human Rights Commission condemned the events on Friday. 
MEXICO: Mexico's former security chief, Genaro García Luna, pled not guilty on Friday to charges that he accepted bribes from Joaquin "El Chapo" Guzman. García Luna was detained in the United States last month after being accused of accepting "tens of millions of dollars in bribes," according to prosecutors. At the time, García Luna was considered the "point man" for President Felipe Calderón's "War on Drugs." Prosecutors also allege that under García Luna, El Chapo's cartel was able to ship millions of dollars worth of drugs into the United States without interference from the Mexican government. García Luna appeared before a Brooklyn court after being indicted on three counts of cocaine trafficking conspiracy and a false statements charge. 
UNITED STATES: Authorities expanded the "Remain in Mexico" program to include a base in Nogales, Arizona, which will house as many as 400 asylum seekers being sent back to Mexico to await their hearings. On Thursday, the first 30 asylum seekers were sent to the facility to await trials that would occur 350 miles away in Juárez, Mexico. Previously, these migrants were transported to the closest facility in El Paso, Texas before returning to neighboring Juárez. Critics say the policy will put migrants at greater risk of kidnapping and extortion as they travel through dangerous border towns. Nogales is the seventh border crossing in the United States designated as part of the Migrant Protection Protocols process.