Former junta leader Jorge Videla.
Former Junta Leader of Argentina Jorge Rafael Videla Sentenced To Life In Prison
December 23, 2010
By Staff
Today in Latin America
Top Story — The former leader of the Argentine military dictatorship Jorge Rafael Videla was sentenced Wednesday to life in prison for crimes against humanity during the country's period of military rule between 1976 and 1983.
A court in the central Argentine city of Córdoba found the 85-year old Videla, who has been accused of being the main architect of Argentina's "Dirty War,"  guilty of the killing of dissidents during his rule.
"Videla … is a manifestation of state terrorism," Judge Maria Elba Martinez said, according to The Telegraph newspaper.
The Argentine court already has sentenced a group of former military members who served Videla's government to life in prison for crimes against humanity. They were convicted for kidnapping, torturing and murdering more than 180 people in three secret detention centers during the "Dirty War."
Videla ruled Argentina after the coup against Isabel Martinez de Perón in 1976 until 1981, when tens of thousands were killed or "disappeared."
A court had already sentenced and jailed Videla for crimes in the "Dirty War" after the country returned to democracy in 1985, but was pardoned and released by President Carlos Menem in 1990. Recently departed Argentine President Néstor Kirchner annulled the pardons against former junta members in 2007.
A large crowd of families and supporters of victims cheered on the streets in response to the sentencing.
Seeking justice "is the only thing we have left in life. Our children haven't appeared — we don't know anything about them," said Nair Amuedo of the Mothers of the Plaza de Mayo human rights group, according to The Associated Press. "At least these murderers were condemned for who they are."
Headlines from the Western Hemisphere
North America
Caribbean
Central America
Andes
Southern Cone
Image: WikiCommons
Subscribe to Today in Latin America by Email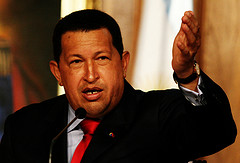 December 22, 2010
> Staff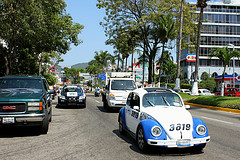 December 27, 2010
> Staff