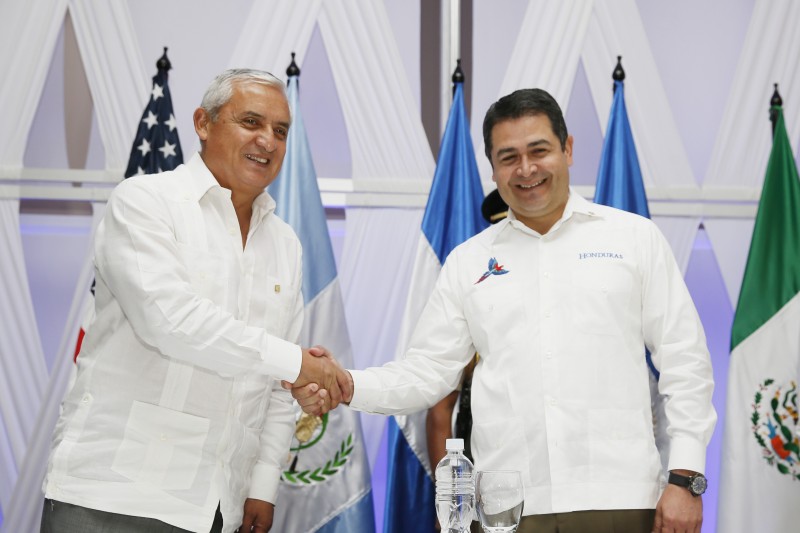 Guatemalan President Otto Pérez Molina (left) and Honduran President Juan Orlando Hernández, who have both faced calls to resign recently over corruption scandals. (Image:
Government of Honduras
)
Corruption Scandals Deepen in Honduras, Guatemala
June 18, 2015
By Staff
Top Story — Corruption scandals in Honduras and Guatemala continue to grow amid protest movements calling for the ouster of both countries' presidents. On Wednesday, Guatemalan prosecutors announced corruption claims against the lawmaker leading a probe of President Otto Pérez Molina — himself accused of corruption. In Honduras, President Juan Orlando Hernández announced that due of a massive corruption scandal at the country's Social Security Institute, soldiers will be taking over public hospitals and medicine storage facilities to ensure the supply of drugs to patients.
Guatemala's Supreme Court cleared the way last week for a congressional commission to consider revoking Pérez Molina's presidential immunity from prosecution, amid two corruption scandals that have unseated a number of Pérez Molina's closest allies.
The lawmaker at the head of that commission, opposition member Baudilio Hichos López, is now facing a challenge to his own immunity, a status enjoyed by all of Guatemala's elected officials. Hichos López is accused of inappropriate real estate dealings connected to the country's social security agency, which was at the center of one of the corruption scandals that has engulfed the current government.
Honduras has also faced a scandal at its social security agency, where investigators say corrupt officials siphoned off as much as $200 million. Hernández himself admitted that his 2013 re-election campaign took money from businesses involved in the corruption scandal, but has denied any involvement, promising instead a crackdown on corruption.
Wednesday's announcement that the Honduran army would be taking over medicine distributors is seen as part of Hernández's promised focus on corruption. The president has said that the move was intended to disband "the mafias that have controlled the system of storage, distribution, delivery and acquisition of medicines."
Both Hernández and Pérez Molina have maintained that they are in no way involved in their countries' respective corruption cases, but protesters have nevertheless called for both to resign.
Headlines from the Western Hemisphere
North America
Caribbean
Central America
Andes
Southern Cone