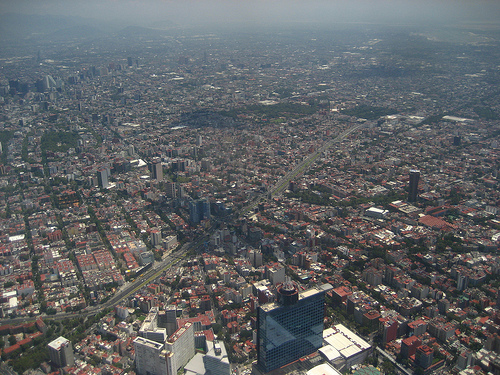 An aerial shot of Mexico City.
Mexico: Two Severed Heads Found Near Defense Ministry In Capital
The decapitated heads of two men were found near Mexico's Defense Ministry in Mexico City on Monday along with a note attributing the killings to the "Hand with Eyes" drug gang, a splinter group of the Beltran Leyva cartel, according to Mexico City's Attorney General Miguel Ángel Mancera.
The message suggested that the two victims were members of a group aligned with the Sinaloa Cartel, which is led by the billionaire-trafficker Joaquín "El Chapo" Guzmán. The heads were found near the border dividing the city from neighboring Mexico state along a busy road by the Defense Ministry that is home to a number of generals.
One head was on the roof of a pickup truck and the other was on a sidewalk, but police still have yet to find the bodies.
While Mexico's on-going drug war has made its way into other major cities – such as Monterrey and Guadalajara – Mexico City has been relatively spared from the more gruesome aspects of the conflict. Decapitating bodies, which is a scare tactic frequently employed by cartels in the drug-violence-plagued cities such as the Pacific coast resort of Acapulco and in northern Mexico, has not made an appearance in the capital since January 2008, when two heads were found near the city's international airport.
"Mexico City has been surprisingly calm in the midst of the turbulence of this conflict with organized crime, while other major cities are experiencing major upturns in violence," said Eric Olson, a security expert at the Woodrow Wilson Center for International Scholars' Mexico Institute in Washington. "It hasn't exploded the way it has (elsewhere). There's always that fear of that happening, because there's nothing to guarantee that it won't."
The Hand with Eyes gang, or "Mano con Ojos" in Spanish, is known to be active in the State of Mexico and in some southern districts of the capital. The gang is believed to have formed after the arrest of Edgar Valdez, aka "La Barbie," a top assassin for the Beltran Leyva cartel.
Mexican authorities arrested the group's alleged leader, Óscar Osvaldo García Montoya, in July and claim that he helped carry out or ordered more than 600 killings.
Mexico's drug war, which began in 2006 soon after President Felipe Calderón took office, has spread from Mexico's northern border to other major cities and resort towns throughout the country. While the government has captured or killed several top drug lords, other groups have formed to take their place and the violence is believed to have claimed more than 42,000 lives since 2006.
The discovery of the two heads in Mexico City comes a day after an Associated Press report said that the Mexican drug trade is dominated by two major cartels – Guzmán's Sinaloa Cartel and the paramilitary-style Zetas.
Photo:eeliuth @ Flickr.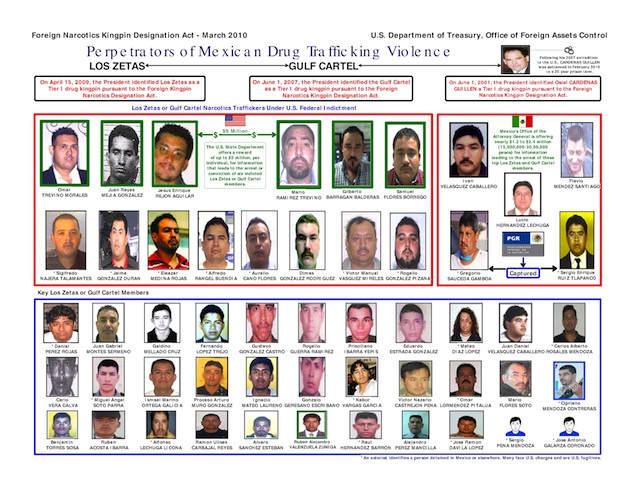 October 3, 2011
> Staff