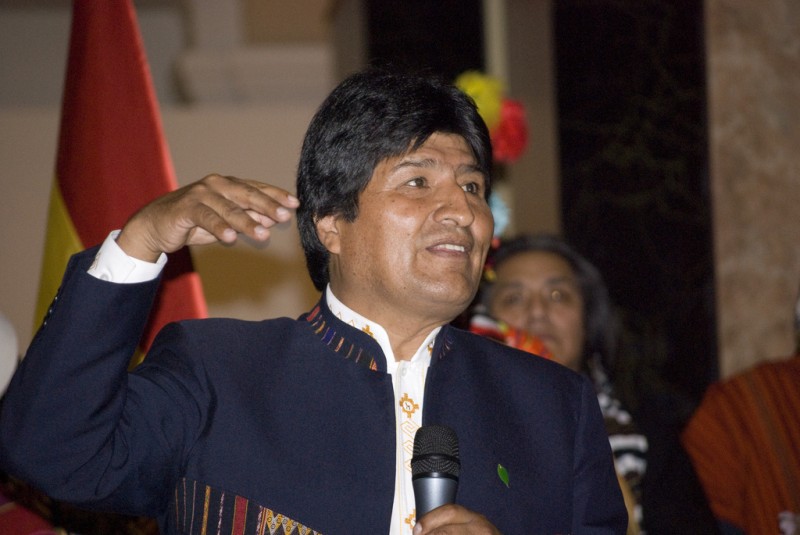 Bolivia Votes Against Fourth Term for Morales, Polls Suggest
February 22, 2016
By Staff
Top Story — Exit polls and early vote counting from a referendum in Bolivia show that President Evo Morales is likely to lose his bid to seek re-election for a fourth term by a narrow margin.
Government officials, however, have described the outcome as a tie, considering that the votes from several rural districts, where support for the president is high, have yet to be counted.
The referendum results reflect growing dissatisfaction with Morales, who has led the South American nation since 2006. Morales is Bolivia's first indigenous president and has enjoyed widespread popularity for much of his tenure, having presided over steady economic growth in the last ten years. But charges of corruption and a scandal involving a love child may have stretched his goodwill too thin.
"Today we have buried the project of converting our country into a single party, of converting our country into an authoritarian state," said Samuel Doria Medina, a member of the opposition who has twice run against Morales in presidential elections, referring to Morales' Movement for Socialism (MAS) coalition.
Early exit polls released Sunday indicated that between 51 and 52.3 percent of voters rejected the president's bid to amend the constitution so that he can run for re-election and possibly remain in office until 2025. His current term runs out in 2020.
Bolivia's constitution, ratified in 2009, limits presidents to two consecutive terms. Morales was able to seek re-election a second time in 2014 due to a ruling by the Constitutional Court, which determined that his first term didn't count because it preceded the new constitution.
Allegations of corruption have plagued Morales' administration and seen his popularity tumble since the start of his third term in January 2015. He suffered his biggest setback in March, when his party lost the governorship over the capital La Paz, as well as the mayor's seat in the capital's indigenous sister city of El Alto. One of the first acts by newly elected El Alto Mayor Soledad Chapetón was to open corruption proceedings against union leaders affiliated with MAS.
But the scandal that has most affected Morales involves conflict-of-interest charges concerning a government contract awarded to Chinese engineering company CAMC. The president's former lover, with whom he fathered a child, holds a high-ranking position in the company.
Just Published in the Latin America News Dispatch
A report claiming that the surge in microcephaly cases in Brazil was due to a pesticide and not the Zika virus set off a wave of panic across the country and prompted one state to cancel the chemical's use. But the report was lambasted as scientifically baseless by the international medical community and dismissed by Brazil's Ministry of Health. LAND's Cleuci de Oliveira spoke to Rio Grande do Sul Secretary of Health João Gabbardo dos Reis about his controversial decision to halt the use of a pesticide that is instrumental in the fight against the Aedes aegypti mosquito.
Headlines from the Western Hemisphere
North America
Caribbean
Central America
Andes
Southern Cone