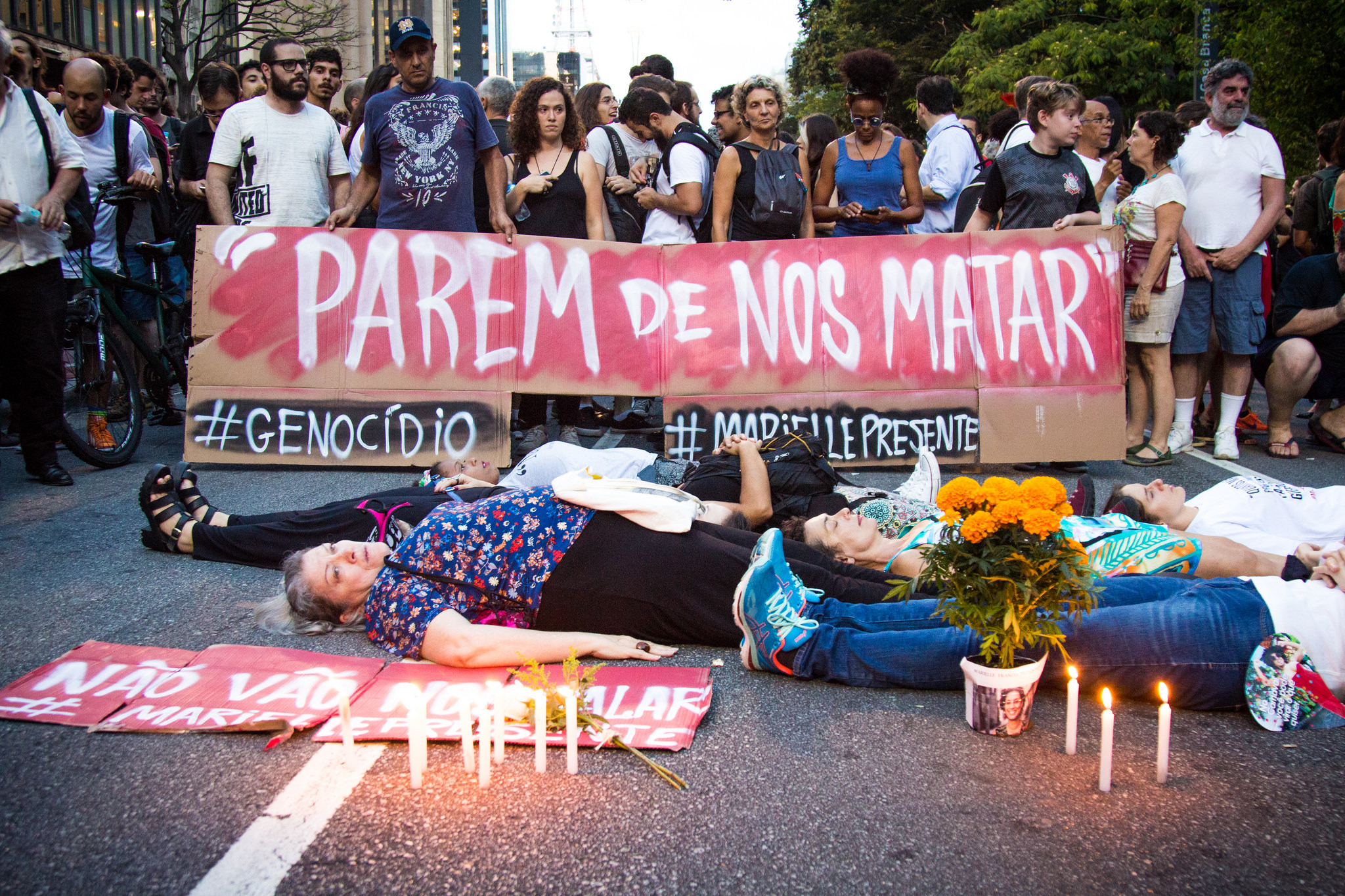 People protest Marielle Franco's death in Rio de Janeiro on March 15. Photo by Romerito Pontes.
Thousands of people marched in Rio de Janeiro to protest the murder of Marielle Franco
March 19, 2018
By Staff
TODAY IN LATIN AMERICA
On Sunday thousands of people marched in Rio de Janeiro to protest the murder of Marielle Franco, the former Brazilian councilwoman and human rights activist who was shot dead last week as she was leaving an event focused on the empowerment of young black women in Brazil.
President Michel Temer, human rights activists and European parliament deputies have denounced the killings and called for an investigation. Franco's murder was referred to as "an attack on democracy" by Brazil's prosecutor general, Raquel Dodge. The hashtags #JustiçaParaMarielle and #NãoVãoNosCalar have been trending on Twitter and Facebook. Franco, 38, was a feminist lesbian black woman and her murder is seen as a blow to Brazilian women's rights activists and LGBTQ activisits.   
Franco, who started her career as a human rights advocate before entering politics, was recently appointed by Rio's city legislature to monitor President Michel Temer's military intervention in the state of Rio de Janeiro.  Police involvement in her murder is suspected by the criminal coordinator of the Federal Public Prosecutor's Office in Rio de Janeiro and the bullets used to assassinate her and her driver last week have been identified as stolen from the Brazilian federal police. Rio state's police force is known to be one of the deadliest in the world, and in January 2018 alone 154 people were killed "in opposition to police intervention."
HEADLINES FROM THE WESTERN HEMISPHERE
NORTH AMERICA
Only one of the three independent candidates have appeared to fulfill the necessary requirements to compete in the Mexican presidential elections on July 1st, AP reports. The National Electorate Institute (INE) stated that conservative lawyer Margarita Zavala, two-term elected legislator and former First Lady during Felipe Calderón's administration, was able to gather more than 866,593 signatures, or 1% of the electoral register, across at least 17 Mexican regions. The other two candidates—Nuevo León state Gov. Jaime Rodríguez and Guerrero state Sen. Armando Ríos Piter—were unable to pass the signature threshold, an INE spokesperson stated. Expected to have four contenders, the final presidential ballot is set to be announced on March 29 by the INE.
Mexican presidential frontrunner Andrés Manuel López Obrador said on Sunday that, if elected on July 1st, he will ask outgoing President Enrique Peña Nieto to halt two upcoming oil auctions scheduled to occur before assuming office on Dec. 1st. Speaking in Mexico City on the 80th anniversary of Mexican nationalization of oil, the left-wing candidate of the National Regeneration Movement (Morena) spoke about the prospect of reducing the privatization of energy, enshrined in a 2014 reform that aimed to eliminate state-owned oil monopoly.
CARIBBEAN
A Kenyan embassy is set to start operating in Havana, after Kenyan President Uhuru Kenyatta met with his Cuban counterpart, Raúl Castro, on March 15th. The historic diplomatic trip aims to consolidate bilateral cooperation in terms of trade and health. Kenya will import 100 Cuban physicians and will send 50 to Havana for specialized training. Tallying 22,Havana is home to the most African embassies in Latin America.
Manuel Laboy, Puerto Rican Secretary of Economic Development and Commerce, announced on Thursday, March 15, that the local government will form an advisory council focused on the creation of new blockchain businesses in the island. Sec. Laboy revealed the new economic initiative during Blockchain Unbound, a 3-day sold-out conference on cryptocurrencies hosted in San Juan between March 14-16. Puerto Rico hopes to take advantage of blockchain's "transformative and disruptive components for business and forgovernment," Gov. Ricardo Roselló commented on the closing day of the conference.
CENTRAL AMERICA
A mayor was shot outside his home in Eastern Guatemala on Saturday evening. Julio Alberto Enrīquez Sánchez, the Mayor of Zacapa, is the fourth mayor to have been killed since Jan. 2016, the AP reports.
ANDES
On Friday the United Nations announced that 84 human rights activists were murdered in Colombia in 2017. The report hypothesizes that, although there has been an overall homicide decrease in Colombia since 2016, human rights activists have been targeted by rebel groups because of their support of the historic Peace Deal with the FARC. The report notes that former FARC members have also been targeted, and urges Colombia to provide greater government presence in rural areas.  
Peruvian President Pedro Pablo Kuczynski stated that he legally paid an offshore company to sidestep paying U.S. taxes, according to over seven hours of questioning conducted on Friday and overheard by Reuters on Sunday. The disclosure comes less than a week before Kuczynski's impeachment trial, which will be held this Thursday.  
SOUTHERN CONE
On Friday former Brazilian president Luiz Inacio Lula da Silva launched his book "Truth Will Triumph: The People Know Why I am Being Condemned" amongst crowds of supporters at the Chemical Workers Union in Sao Paulo. In the book Lula claims that he is "ready" to go to jail, implying that his corruption charge is unfounded and his arrest will render him a political prisoner.