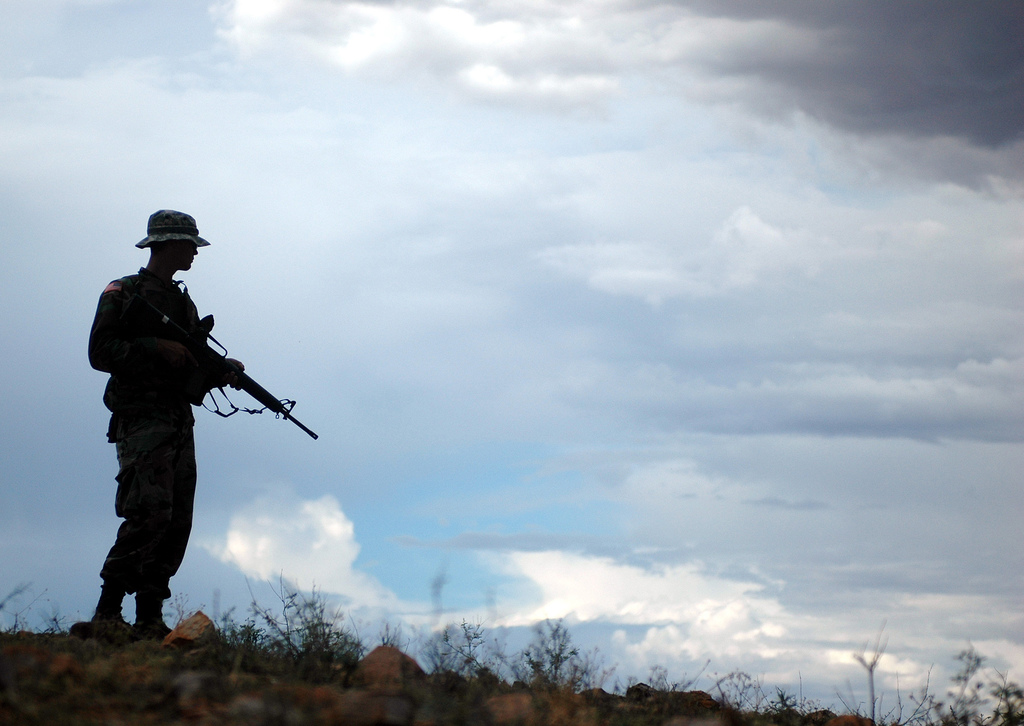 A National Guard Soldier assisting the U.S. Border Patrol on a ridge above Nogales, Arizona at the Mexico border. August 3, 2006. Photo by Sgt. Jim Greenhill. Creative Commons.
The murder trial of a U.S. Border Patrol agent accused of shooting across the Arizona-Mexico border begins today
March 21, 2018
By Staff
TODAY IN LATIN AMERICA
Opening statements for the murder trial of a U.S. Border Patrol agent accused of shooting across the Arizona-Mexico border and killing a Mexican teenager in 2012 will begin this morning. Murder trials of U.S border agents are extremely rare, and according to Lee Gelernt, a New York-based ACLU lawyer, this is the first time a border agent will be tried for a fatal shooting across an international border
Lonnie Swartz has pleaded not guilty in the murder of Jose Antonio Elena Rodriguez, who was 16 at the time of his death. According to an autopsy, Rodriguez's body was shot ten times while on a street in Nogales, Sonora which borders Nogales, Arizona. The trial is expected to last a month and U.S. immigrant rights activists plan to rally outside the Tucson, Arizona courthouse.  
This trial comes amidst escalating tensions between Mexico and the U.S. due to immigration policies and Trump's border wall plan. Trump's immigration policies have received pushback within the U.S. as well, and earlier this month the Trump Administration sued the State of California over the state's sanctuary laws. The state of Arizona is notorious for hard-line immigration policies, and last year former Maricopa County Sheriff Joe Arpaio was formally charged with criminal contempt of court for continuing to unlawfully detain Latino drivers in Phoenix based on racial profiling. Less than a month after the charge, Trump pardoned Arpaio–but activists argued that Trump's pardon was unconstitutional and a U.S. federal judge refused to void Arpaio's guilty ruling despite the pardon.     
HEADLINES FROM THE WESTERN HEMISPHERE
NORTH AMERICA
Andrés Manuel López Obrador, Mexico's leading presidential candidate, declared that if he wins the July 1 elections, his choice for head of NAFTA renegotiations will be Oxford economist Jesús Seade Helú. Seade Helú has worked as a senior advisor at the IMF, principal economist at the World Bank, ambassador to the GATT, and chief negotiator at the World Trade Organization. He is currently professor of economics at Lingnan University in Hong Kong.
The Trump administration will provide $2.5 million for emergency food and medical assistance to Venezuelans fleeing their country. Most of the aid will go to the Colombian border city of Cucuta, which has seen a large number of Venezuelan immigrants coming in the past months. This is the first action the US has taken to alleviate the ongoing humanitarian crisis in the region.
Mexican authorities said that Germany returned two 3,000-year-old Olmec sculptures that were being held at the Bavarian State Archaeological Collection after Mexican authorities claimed that the sculptures were illegally retrieved from the coast of Veracruz. In 2017, after a ten-year battle, a court ruled that they belonged to Mexico.
CARIBBEAN
Six months after Hurricane Maria hit Puerto Rico, the crisis in the U.S. territory is far from resolved. Water has been almost completely restored, but electricity still comes and goes, and more than 135,000 people have left the island since the storm landed in the Caribbean territory. New York Times writers from the Travel section spent time in smaller, lesser known destinations such as Vieques or St. Martin to report on their road to recovery.
After being hard-hit by hurricanes last year, the Caribbean is bracing for this year's storm season. The region's fisheries mechanism has been working with the U.N.'s Food and Agriculture Organization to approve protocols to protect fishing communities from climate change, TeleSur reported. Government representatives are also looking to strengthen relations with South American Brazil and Argentina to discuss how to stave off climate change and ensure food security in the region.
ANDES
Peruvian Congressman Kenji Fujimori announced yesterday his intentions to create his own political party "Cambio 21", which will recognize ex-president Alberto Fujimori as a "founding leader." Kenji resigned from his former party Fuerza Popular earlier this month after Odebrecht executive Jorge Barata testified that the company had given campaign funds to the Fujimori party in 2011. Kenji's new party announcement comes two days before Peruvian President Pedro Pablo Kuczynski's impeachment trial, which will be held this Thursday.
Approximately 600 Brazilian women from the Movement of Landless Workers protested the privatization of water utilities at Nestlé headquarters in São Lourenço yesterday. Earlier this year Brazilian President Michel Temer allegedly met with Nestlé's president Paul Bulcke to discuss the usage of the Guarani Reservoir. Nestlé is accused by the local population of São Lourenço of opening illegal water wells and contaminating the local water supply.  

SOUTHERN CONE
The debate over abortion legalization in Argentina began yesterday as a plenary of Congressmen and members of the executive branch gathered to determine the subjects to be covered in the debate and the parameters for participation. The proposal to legalize abortion, which has been presented in Congress on 7 different occasions over the last 12 years, has gathered the approval of 71 congressmen but still requires approximately 50 more members. The discussions are expected to last between two and three months.
New in land
Just up on the site: Isabel Caballero-Samper reporting on the dreadful situation of the Colombians who were wrongfully convicted as FARC members and the legal void the peace process threw them in.